This guide details how income assistance works in Nova Scotia, payment dates, eligibility requirements, and how much you can get in financial assistance.
Income Assistance (IA) programs, also known as "Welfare" exist in various forms in all provinces in Canada.
These financial support programs are designed to help individuals who are undergoing financial difficulties meet their basic needs.
Read on to learn about Nova Scotia's income assistance payment dates and how it works.
2022 Nova Scotia Income Assistance Payment Dates
| | |
| --- | --- |
| Income Assistance Date | Benefit Month |
| February 24, 25, 26 | March 2021 |
| March 29, 30, 31 | April 2021 |
| April 28, 29, 30 | May 2021 |
| May 27, 28, 31 | June 2021 |
| June 28, 29, 30 | July 2021 |
| July 28, 29, 30 | August 2021 |
| August 27, 30, 31 | September 2021 |
| September 28, 29, 30 | October 2021 |
| October 27, 28, 29 | November 2021 |
| November 26, 29, 30 | December 2021 |
| December 29, 30, 31 | January 2022 |
| January 27, 28, 31 | February 2022 |
Income Assistance payments are deposited in your bank account on these dates (typically the last 3 working days of the month).
If you are not set up for a direct deposit, a cheque is mailed to your address and may take longer to arrive.
You can find out how to register for direct deposit payments here.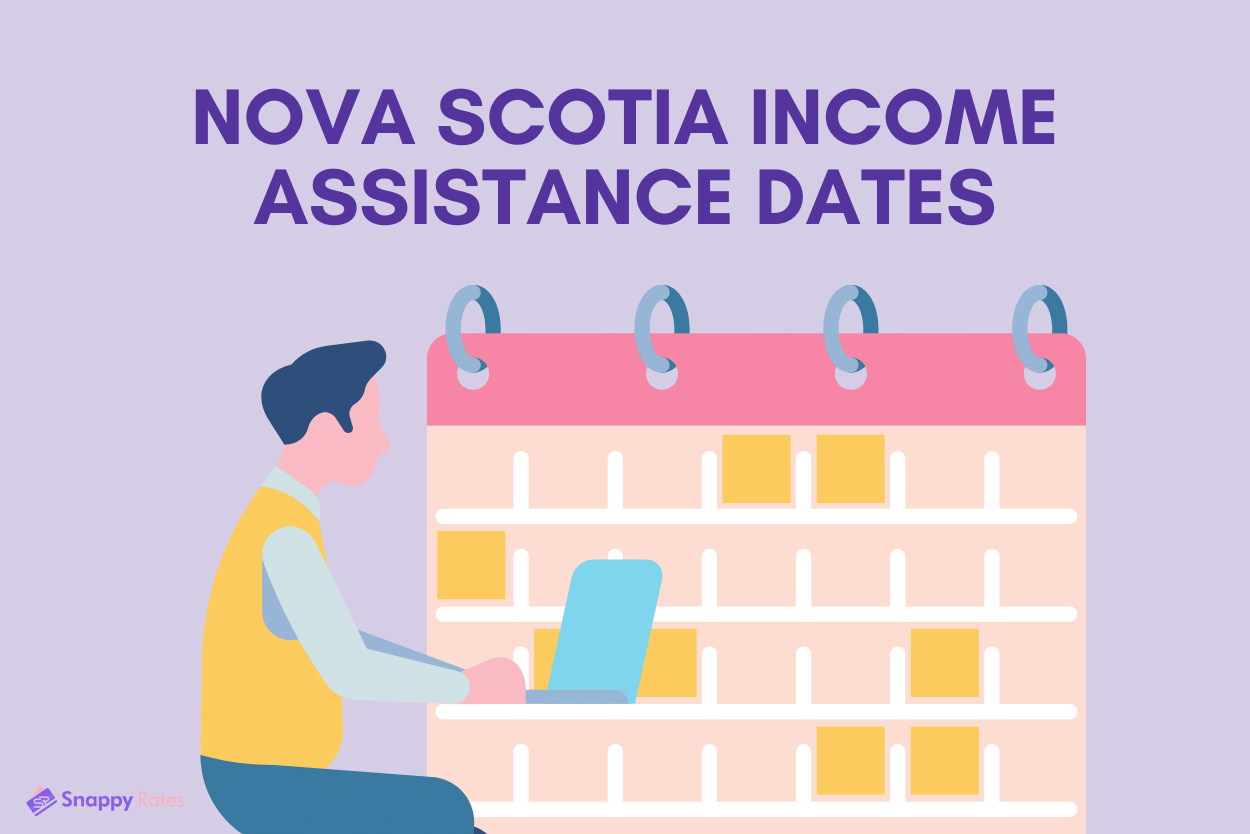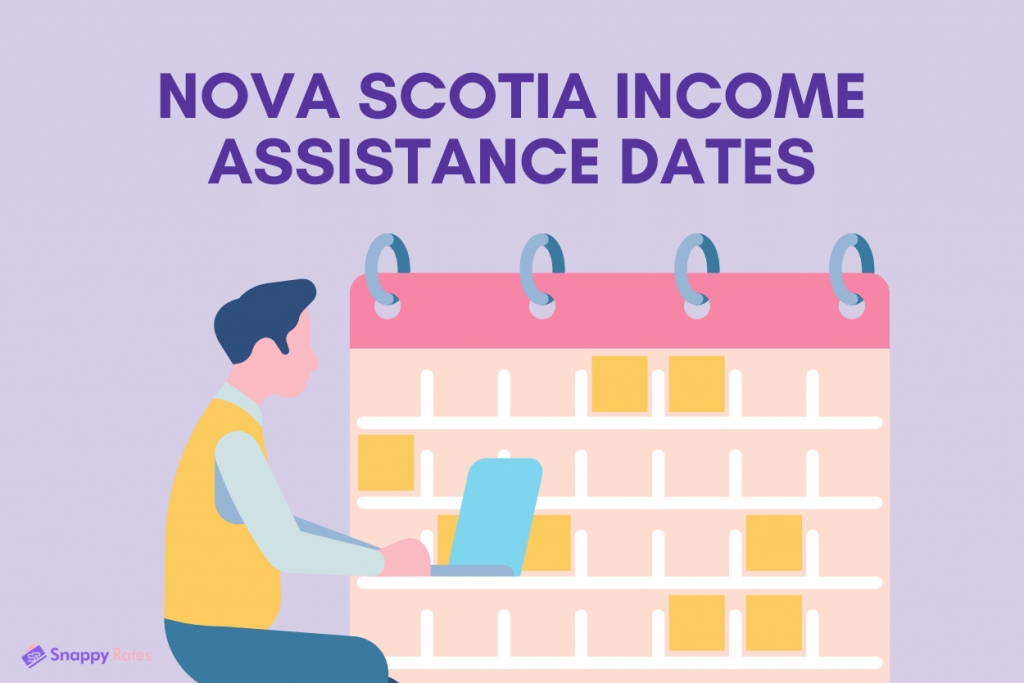 What is Income Assistance in Nova Scotia?
Like the Social Assistance Payments in other provinces, the income assistance program in Nova Scotia is aimed at helping residents who need financial support to pay for basic needs (food, clothing, and shelter).
In addition to basic needs assistance, recipients may also be eligible for "special needs assistance" which includes coverage for expenses like childcare, medical equipment, special diets, and more.
Eligibility for Nova Scotia Income Assistance
You may be eligible for income assistance if you can't afford food, clothing, shelter, or other necessities like childcare, transportation, and medical care.
Individuals who are also looking for training so they can find employment are also covered.
To apply, you must be a resident of Nova Scotia who is 19 years of age or older. In some situations, individuals who are 16-18 years of age may also be able to apply (e.g. you don't have a parent or guardian).
You must also show that you have tried or are trying to find work.
When considering your application, your caseworker will access whether you have enough income or assets to provide for yourself.
How Much is Nova Scotia Income Assistance in 2022
For Basic Needs Assistance, you receive a standard household rate which varies with the number of people in your household and whether you rent, board, or own a home.
The standard household rate is currently:
| | | | |
| --- | --- | --- | --- |
| Number of Recipients | Number of Dependents | Monthly Rate (Rent/Own) | Monthly Rate (Board) |
| 1 | 0 | $686 | $608 |
| 1 | 1 | $962 | $627 |
| 1 | 2+ | $1,013 | $658 |
| 2 | 0 | $1,342 | $1,008 |
| 2 | 1+ | $1,393 | $1,049 |
If you have dependents between ages 18 and 20 living with you, or a family member has a physical disability or illness, you may qualify for additional funds.
There are two other "Standard Household" rates: Enhanced and Essentials.
The Enhanced rate is $950 per month, and it is for eligible single recipients who either:
Has a disability or chronic mental, cognitive, or physical condition that limits their inability to work
55 years of age or older
16 to 18 years of age
Fleeing an abusive situation
The Essential rate is applicable if you do not board, rent, or own a home, and are temporarily residing in a homeless shelter, hospital, transition house, or rehabilitation program.
This rate pays $380 per month to each adult in the household.
You can continue to receive income assistance while working and earning income.
The more you earn, the less IA you receive, but overall, you can end up with more money each month by working.
| | |
| --- | --- |
| Net Monthly Earnings | Total Amount You Keep |
| $0 – $250 | 100% |
| $250 – $750 | $250 + 75% of any money earned over $250 |
| $500 – $750 | $437.50 + 50% of any money earned over $500 |
| Over $750 | $562.50 + 25% of any money earned over $750 |
If your employment is "supported" (i.e. due to physical, mental, or cognitive abilities), you get to keep a higher amount every month.
When you take part in employment-related training that includes an allowance, you keep the first $150 of that allowance each month.
Nova Scotia IA Special Need Assistance
Special need assistance is available to help recipients find work and manage their health and safety.
Coverage is provided for various needs including:
Ambulance costs
Unpaid debts (mortgage, rent, property tax, utilities)
Childcare
Dental and vision care
Employment support
Guide or service dogs
Home repairs
Prescription drugs
Special diets, and more
You can view the full list of special needs covered here.
Nova Scotia Low Income Benefits
In addition to income assistance, low-income individuals and families in Nova Scotia may qualify for other benefits:
Heating Assistance Rebate Program (HARP)
Nova Scotia Affordable Living Tax Credit (NSALTC)
Nova Scotia Child Benefit (NSCB)
Poverty Reduction Credit (PRC)
Recipients of Income assistance may also be able to keep up to $3,000 of income they earn working as seasonal harvesters each fiscal year (April 1 to March 31 of the following year).
This benefit is available through the Harvest Connection Program.
How To Apply For Nova Scotia Income Assistance
You can apply for Income Assistance in Nova Scotia by calling 1-877-424-1177 from 8:30 am to 7 pm (Monday to Friday) or 10 am to 2 pm on Saturdays.
Applications can also be submitted in person at a Community Services office.
You should bring along your SIN, government-issued photo ID, bank account statements, tax return documents, bills showing your expenses, and other documents that will help a caseworker understand your financial situation.
If your application is not approved, you can request a decision review within 30 business days. This is then followed by an appeal hearing.
Will Nova Scotia Income Assistance Increase in 2022?
Income Assistance was increased in Nova Scotia in 2021 by $100. The standard household rate was boosted by $100 for each adult in a household.
There is currently no information on whether the rates are going to increase in 2022 as well.
Related:
Snappy Rates is your go-to for credit card comparisons and the best banking, investing, insurance, loans, mortgages, and personal finance guides in Canada.