Have you ever wondered how many working days there are in Canada in 2022? This guide will tell you everything you need to know about working days in Canada, including the number of working days per week, month, and year.
It will also outline in which situations employees may work fewer or greater days than the standard. Finally, it will answer some of the most commonly asked questions about Canada's work weeks.
How Many Working Days Are There in 2022?
So, just how many working days are there in Canada in 2022? To start, there are 365 days in the year, as 2022 is not a leap year. 105 of those days are weekend days, which are not generally considered working days. That brings working days down to 260. There are also 13 federal holidays in 2022.
Of these 13 holidays, only two are on the weekend. New Year's Day is on a Saturday, and Christmas Day is on a Sunday. The remaining 11 are on weekdays. If the 11 federal holidays that fall on weekdays are subtracted from the 260 weekdays in the year, it leaves 249.
This is the number of working days in Canada in 2022 for those who work a standard Monday through Friday schedule, with holidays off.
Employees who work 249 days a year, at eight hours a day, will work a total of 1,992 hours a year.
The exact number of days and hours worked per year may vary slightly depending on factors such as:
Regular work schedule
Industry
Overtime hours
Provincial and company holidays
Each of these factors has the potential to change the number of workdays in an employee's schedule and will be explored later in this guide.
How Many Working Days in a Month?
The actual number of working days each month will vary month by month. Here is a look at the number of working days during each month of 2022, as well as the number of hours worked, assuming a typical eight-hour workday.
| | | |
| --- | --- | --- |
| Month | Workdays | Work Hours |
| January | 21 | 168 |
| February | 20 | 160 |
| March | 23 | 184 |
| April | 19 | 152 |
| May | 21 | 168 |
| June | 22 | 176 |
| July | 20 | 160 |
| August | 22 | 176 |
| September | 19 | 152 |
| October | 20 | 160 |
| November | 21 | 168 |
| December | 21 | 168 |
March has the most working days with 23. April and September tie for the fewest working days with 19, largely due to multiple holidays falling within each month.
Holidays in Canada in 2022
Holidays have an impact on the number of working days per month and year. Canada has 13 federal holidays in 2022. They are as follows:
| | |
| --- | --- |
| New Year's Day | January 1 |
| Good Friday | April 15 |
| Easter Monday | April 18 |
| Victoria Day | May 23 |
| Canada Day | July 1 |
| Civic Holiday | August 1 |
| Labour Day | September 5 |
| Day of Mourning for Queen Elizabeth II | September 19 |
| National Day for Truth and Reconciliation | September 30 |
| Thanksgiving | October 10 |
| Remembrance Day | November 11 |
| Christmas Day | December 25 |
| Boxing Day | December 26 |
September 19 was an unexpected holiday in 2022, as it was declared in response to the death of Queen Elizabeth II. It was a day for Canadians to remember and honour the late queen. The day was marked by a national ceremony and parade.
Federal employees in Canada are granted all federal holidays off from work when possible. Some examples of federal workplaces in Canada are:
Radio and television broadcasting
Parliament
Postal service
Telecommunication
Road and air transportation
Federal Crown corporations
Employees who are not employed by federal workplaces are subject to the employment standards of their province. Each province has their own regulations that must meet federal standards. Each province's regulations can be found by following the links below:
The holiday schedules followed by provincially regulated companies may differ slightly from those that follow the federal holiday schedule. In addition, companies may provide employees with additional paid holidays that are not federal or provincial holidays.
The number of holidays an employee receives off annually will affect the total number of days worked.
Working Hours Exceptions in Canada
There are exceptions to the 249-day work year in Canada. Federally regulated workplaces in Canada adhere to 40-hour work weeks, divided into eight-hour days when possible.
However, managers and supervisors are exempted from these guidelines. In addition, employees in the following fields are not held to the same standard workweeks:
Architectural
Dental
Engineering
Legal
Medical
Trucking
Ship Transportation
Railway
Broadcasting
Commission-paid Banking
Each of these fields has its own standards, so employees working in them may not work the standard 249 workdays in 2022.
For example, motor vehicle operators follow the Motor Vehicle Operators Hours of Work Regulations of the Canada Labour Code.
Under these regulations, city vehicle operators may work up to nine hours a day and 45 hours a week. Highway vehicle operators may work up to 60 hours a week.
Motor vehicle operators may end up working many more hours per year than workers whose industries follow a standard 40-hour workweek.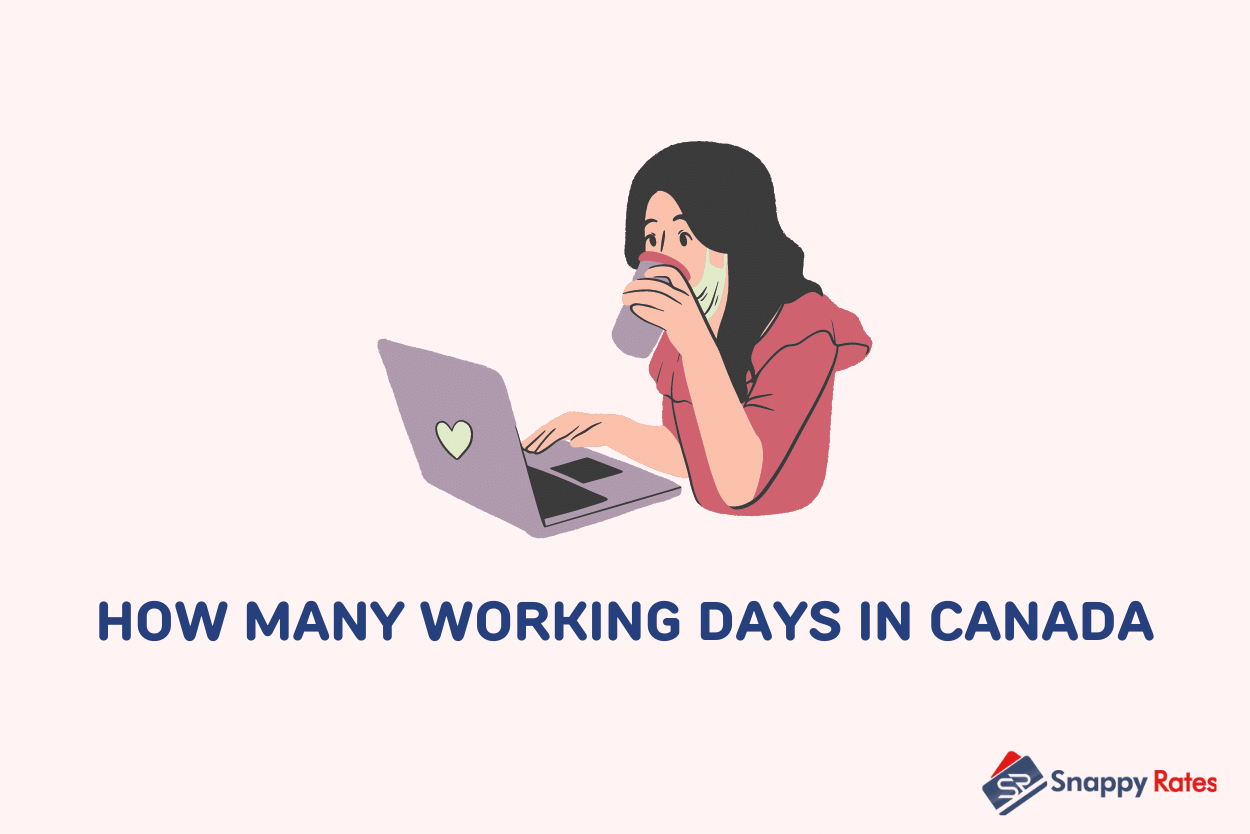 Overtime
Overtime is another variable in the number of days and hours individual employees will work in 2022. Overtime is allowed by Canadian law. However, the employee must either be paid at 1.5 times their regular wage for all overtime hours worked or be granted paid time off equal to 1.5 times the number of overtime hours worked.
Whether the employee is paid overtime wages or granted compensatory time off will significantly affect how many days are worked throughout the year.
For most employees, under regular circumstances, the total hours worked per week may not exceed 48. There are exceptions to this, however, in certain industries and in cases of emergencies and other exceptional circumstances.
Even assuming an employee never works more than 48 hours in a week, one extra workday a week can drastically change the number of days and hours worked in a year. If a person works one extra day every other week, for instance, the total days worked in 2022 would increase from 249 to 275. Working one extra day every week would bring the total to 301.
Averaging and Modified Schedules
Some employers may use averaging or modified schedules for their employees. With an averaged schedule, work hours may vary greatly from week to week. Scheduled hours may vary week to week or an employee may have no hours scheduled at all.
Hours are averaged over a two week period. This is most common in industries that are affected by seasonal ups and downs.
A modified schedule may be requested by an employee to provide a better home-work balance or by an employer when scheduling needs require greater flexibility.
Standard work hours must average 40 per week over a two-week period and may not exceed 48 per week averaged over the same two week period. Overtime regulations still apply when averages exceed 40 hours a week.
Final Thoughts
While the standard number of workdays in Canada in 2022 is 249, many factors may affect this total. Actual days worked may be more or less than 249 depending upon the industry the employee works in, overtime hours worked and other special scheduling arrangements, and additional holidays offered by individual companies.
Employees working for federally regulated versus provincially regulated employers may experience a slightly different number of days worked as well. This is due mostly to differing holiday schedules.
FAQ
How Many Working Days Are There in a Week in Canada?
For federally regulated workplaces that are not in the exempted industries outlined above, standard workweeks consist of five days. These days are most often Monday through Friday but may differ depending on industry and employer needs.

Employees who work averaged or modified schedules may work a different number of days from week to week. The average number of days worked per week will equal five, but actual days worked may vary.
Can You Work 7 Days a Week in Canada?
According to the Canada Labour Code, employees are entitled to one full day off each week. When possible, the scheduled day off should be Sunday, although this is not possible in many fields of work.

There may be exceptions to this regulation in certain industries and exceptional circumstances, but generally, employees of federally regulated Canadian companies can only work six days per week.
Do People Work on Saturdays in Canada?
Yes, some people do work on Saturdays in Canada. The standard work week runs from Monday through Friday, but in many industries, such as medical and retail, employees are needed to keep operations running every day of the week. In these cases, employees who work Saturdays are usually given a day off during the week.

In cases of overtime work, employees may work on Saturday in addition to their regular Monday through Friday schedule. As much as possible, employers should try to give their workers Sundays off as a day of rest.
Also Read: TrustedHousesitters Review.