This article summarizes British Columbia's PWD payment dates, how to apply, and the disability benefits you can expect.
Residents of B.C. who are undergoing financial difficulties may be eligible for social assistance and welfare payments every month.
In addition, if you have been designated as a Person with Disabilities (PWD), you could qualify for disability assistance.
PWD Benefit Dates 2022
BC PWD benefits are paid monthly in 2022 on these dates:
January 19, 2022
February 16, 2022
March 23, 2022
April 27, 2022
May 25, 2022
June 22, 2022
July 20, 2022
August 24, 2022
September 21, 2022
October 26, 2022
November 23, 2022
December 21, 2022
If you have set up direct deposits, the payment should hit your bank account on these dates.
If you collect cheques instead, they are usually delivered to your Service BC location a couple of days before direct deposits are completed.
What is the B.C. PWD Benefit?
PWD benefits are designed to help individuals who have significant disabilities and are in need of financial and health supports.
The financial assistance you receive is dependent on the size of your family and how many family members are designated as Persons with Disabilities.
Supplemental benefits are also available including general and health supplements.
If you qualify for general PWD supplements, you could get extra money to pay for bus passes, camp fees, clothing, service dogs, Christmas expenses, travel security deposits, and more.
Health supplements are also available.
Learn more about the general health supplements available.
B.C. PWD Benefit Eligibility
In order to get PWD benefits, you must meet the following criteria:
Be at least 18 years old
Meet the income and asset threshold
Have a severe physical or mental impairment that is expected to last more than 2 years
Be significantly restricted in your ability to perform daily living activities
Require assistance (from another person, assistance animal, or assistive device) to complete daily living activities
PWD Income and Asset Eligibility
PWD recipients can work while receiving benefits. When they exceed specific thresholds, PWD benefits may be deducted.
The annual earning exemption is as follows:
| | |
| --- | --- |
| Scenario | Earnings Exemption (Annual) |
| Single adult recipient | $15,000 |
| Couple with one PWD recipient | $18,000 |
| Couple (both PWD recipients) | $30,000 |
Some assets such as cash and personal property are exempt as follows:
| | |
| --- | --- |
| Scenario | Exemption Limit |
| Single PWD recipient | $100,000 |
| Couple or family with one PWD recipient | $100,000 |
| Couple (both PWD recipients) | $200,000 |
Some assets are allowed and do not count towards your eligibility for PWD benefits, including:
One vehicle used for day-to-day transportation
Place of residence
Tax refund
Canada Child Benefit
BC Child Opportunities Benefit
BC basic family bonus
Clothing, and more
View the list of exempt assets here.
How Much is PWD Benefit in 2022?
The PWD benefit amount you receive is based on your family size and the number of people with PWD designation.
The current rate table for 2022 is below: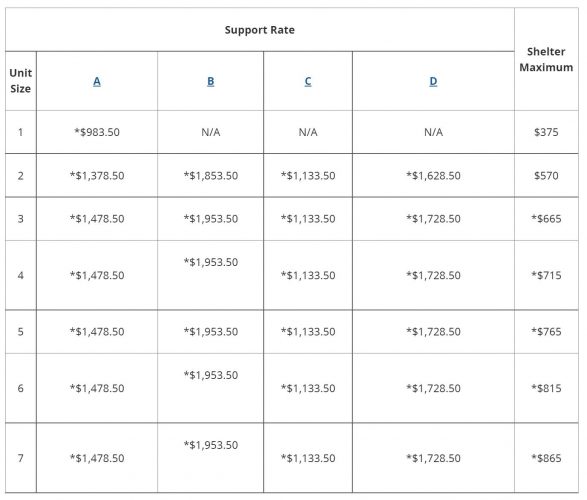 For example, you could get up to $1,358.50 monthly if you are single ($983.50 + $375) or up to $2,423.50 for a couple that are both designated as PWD and have no children ($1,853.50 + $570).
How To Apply For PWD Benefits in 2022
My Self Serve can be used to apply for income assistance and disability assistance.
If you need help with navigating the online platform, you can contact the Ministry at 1-866-866-0800. You also need to complete the Persons with Disabilities Designation Application.
Call the toll-free number or visit a Service BC office to request an application form.
The form is filled out by:
The applicant
Doctor or nurse practitioner (medical report section)
A prescribed professional (assessor report section)
Some applicants can apply for PWD benefits using a simplified application process.
You may qualify for the simplified PWD process if you already receive benefits from:
Community Living BC
The Ministry of Children and Family Development At Home Program
Canada Pension Plan Disability Benefit
BC PharmaCare Plan P-Palliative Care Benefits
Related:
Snappy Rates is your go-to for credit card comparisons and the best banking, investing, insurance, loans, mortgages, and personal finance guides in Canada.