LegalWills.ca has simplified the Will writing and estate planning process for millions of Canadians through its online Wills services.
Traditionally, if you wanted to document your last wishes, you either visited a lawyer or prepared one from scratch yourself.
While these two options work, a visit to a lawyer can easily set you back $1,000 or more. And preparing a Will using a free Will kit or blank template can lead to errors or significant omissions.
The best online Will writing services like LegalWills and Willful make it easier to DIY your estate planning. You also get access to lawyer-approved templates and step-by-step guidance along the way.
In this LegalWills Canada review, I cover how it works, the cost of a Will, whether online Wills are legal in Canada, and how to get a 20% discount off your Will plan.
What is LegalWills.ca?
LegalWills.ca is "Canada's #1 provider of online Wills, Power of Attorney, and Living Wills".
It was founded in 2000 and operates under PartingWishes Inc., a company based in Ottawa, Ontario.
LegalWills online estate planning platform is available throughout Canada, including Ontario, British Columbia, Alberta, Quebec, Manitoba, Saskatchewan, The Maritimes, and the Territories.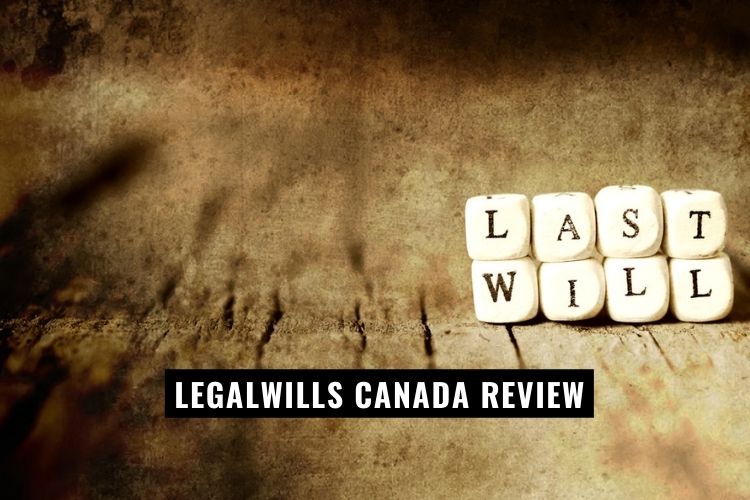 How LegalWills Canada Works
LegalWills.ca is a one-stop shop for most estate planning documents, including Last Will and Testament, Attorney, Living Will, and Expatriate Will services.
Creating your Will is easy and can be completed within 20 minutes.
You can create an account here and get a 20% discount on the $39.95 fee for a Last Will and Testament.
Complete the forms by providing your personal details and information about beneficiaries, guardians, how you want to distribute assets, trusts, and your executor.
Instructions are provided on what to look for and how to complete each section.
After completing your legal Will, you need to print it and sign it in the presence of at least two witnesses. The witnesses also sign the Will in the presence of each other.
After the Will is signed, you should keep the original copy in a safe place and inform your executor of its location.
LegalWills.ca also offers a secure Vault where you can upload and keep your estate planning documents for free.
Alternatively, you can use its MyLifeLocker service to keep all your important personal information in one place.
Wills created using the LegalWills platforms can be updated at any time.
After updating your Will, you need to properly sign it before at least two witnesses to make it valid.
If your estate is a bit complicated and you would prefer to have it reviewed by a legal professional, LegalWills also offers that service for a fee.
Subscribe to our Newsletter!
Subscribe to get the latest personal finance news, offers, and our weekly newsletter. You can unsubscribe at any time.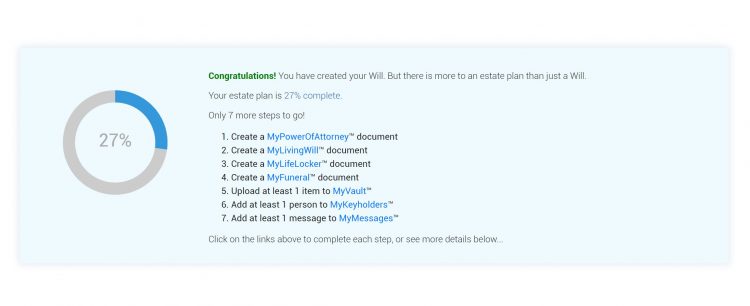 LegalWills Estate Planning Documents
You can use LegalWills.ca to prepare the following legal documents:
Last Will and Testament (MyWill): This document details your last wishes regarding what happens to your possessions (estate), who takes care of your minor children, and who executes your wishes after your death.
When a person dies without a Will in Canada, they are said to have died "intestate". In this case, the distribution of their assets is subject to the Succession Act of the respective province.
Expatriate Will (MyExpatWill): You can create a specific Will to cover assets located outside of Canada. This is also useful for assets in Quebec, which uses a legal system that's different from other provinces (Québec Civil Code).
Power of Attorney: Use the LegalWills platform to document your wishes regarding how your finances are managed if you become incapacitated.
Living Will: Also known as Power of Attorney for Health Care, a Living Will is a personal or advance directive that specifies your wishes for end-of-life medical care.
LifeLocker: You can use MyLifeLocker to store all your important personal information so your executor can access them easily when needed. This information may include bank account details, assets, passwords, and more.
MyVault: This free service can be used to store documents, photos, videos, and other files. You can designate one or more people who get access to these documents after your passing.
MyFuneral: Here's where you document your funeral wishes.
MyMessages: If you have special messages you'd like to communicate to friends and family after your passing, you can use this free service to do so.
Cost of a LegalWills.ca Will
LegalWills.ca offers one of the cheapest online Wills services in Canada.
When you sign up and use our promo code SNAPPY20, you can get a legal Will for as low as $31.96 CAD!
The regular costs for the estate planning documents are:
Last Will Testament: $39.95
Minor Will for a spouse or partner: $23.97 (40% discount)
Power of Attorney: $29.95
Living Will: $19.95
Expatriate Will: $39.95
LifeLocker: $29.95
MyVault, MyFuneral, and MyMessages: Free
You can report that a lawyer reviews your completed estate planning document before finalizing it. This service costs $69.
All your documents can be updated as many times as you wish for 1 year. If you'd like to continue to store and update your legal Will using LegalWills after one year, you can purchase add-ons as follows:
Extra 1 year: $11.95
Extra 5 years: $24.95
Extra 10 years: $34.95
Extra 25 years: $74.95
Lifetime: $124.95
Is LegalWills.ca Legit?
LegalWills Canada has been in business for over 21 years and has thousands of reviews from real users on Google (4.9/5), TrustScore (4.7/5), and Facebook (4.9/5).
It is accredited by the Better Business Bureau (BBB) and has an A+ rating.
Yes, LegalWills is safe and legit.
Pros of LegalWills
Benefits of LegalWills online Will services are:
1. One-Stop-Shop Service: You can access various types of estate planning documents in one place.
2. Versatile Online Platform: Legal online Wills can be completed right from the comfort of your home in as little as 20 minutes.
3. Clear Guidance: Step-by-Step instructions are provided along the way so you know what you are doing and can feel confident with the end product.
4. Unlimited Updates: You can update your Will as often as needed. After the first year, there is an option to pay for lifetime storage and unlimited updates.
5. Lawyer Assistance Available: For a small fee, a lawyer can review your Will to check it for "consistency and completeness".
6. Reputable Company: LegalWills has been operating for over 21 years.
7. Available Across Canada: It is available in all Canadian provinces and territories.
Cons of LegalWills
The main downside of LegalWills is that it may not be suitable if you have a complicated estate.
Also, if you plan on storing your Will with the company so you can easily update it later, there's an add-on fee.
LegalWills.ca Promo Code
When you create an account on LegalWills and enter a valid promo or reference code, you receive a 10% to 20% discount.
New customers who use our exclusive promo code SNAPPY20 get 20% off.
As a customer, you can also refer friends by sending them email invites from your dashboard or by sharing your personal referral code.
When they make a purchase, you get a $20 Amazon gift card, and they get 10% off their order.
LegalWills FAQs
Are online Wills legal in Canada?
For an online Will to be valid, it must be printed and signed in the presence of two witnesses. The two witnesses must also sign and initial the Will in the presence of each other. A witness must not be a beneficiary of the Will, a spouse of a beneficiary, or a minor. There are some additional requirements for an Online Will to be valid in Quebec.
Do you need a lawyer to write a valid Will in Canada?
No, a lawyer is not required to prepare your Will for it to be valid. That said, if your estate is complicated, you may benefit from getting legal advice.
What are the other online Wills in Canada?
Other online Will kits you can use are Willful and Epilogue.
Related: