Online wills are steadily growing in popularity in Canada. Online will creation platforms have turned a tedious and expensive process that took days into a twenty-minute online-only process.
Today, thanks to online will websites, anyone can create a legally enforceable will quickly and affordably. This applies to those wishing to organize their estate and establish how their loved ones are cared for.
A will is vital for couples with young children to ensure that suitable guardians are appointed, and the children's education and upbringing are planned.
One of the best online will generators in Canada is Epilogue Wills. Here's all you need to know about it.
What is Epilogue Wills?
Epilogue Wills is an online will generator that allows you to create a legally-binding will and power of attorney without requiring the services of a lawyer.
Founded by two estate planning lawyers, the website wizard walks you through each step of the will creation process, finally generating a will that, once signed, becomes a legally recognized document.
With Epilogue Wills, you can create documents for nine Canadian provinces, including Ontario, B.C., Saskatchewan, Alberta, Manitoba, New Brunswick, Nova Scotia, Newfoundland and Labrador, and Prince Edward Island.
Once created, you can download and digitally sign the documents or print and physically sign them. You also can request Epilogue Wills to mail you the documents for signing physically.
Types of Wills Offered
Epilogue Wills offers the option to create a will only or a will and incapacity documents (also called power of attorney). The website also allows you to create a will for yourself or your partner/spouse.
Will-only option
The will-only option allows you to create a will and provide your funeral and burial wishes. The alternative, which is more affordable than the option with power of attorney, also allows you to update your will at any time for free.
Once your will is ready, you also get a registration code to register your will with the Canada Will Registry.
Will plus incapacity documents option
If you become incapacitated, your will might not come into effect, but you may need someone to make financial and health decisions for you.
This option allows you to add incapacity documents (or power of attorney) to your will, so your wishes are clearly expressed if you are incapacitated.
Wills for couples
Another option you have when creating a will with Epilogue Wills is to create a couple's will. With this option, you can create a combined will for you and your spouse/partner. You can also appoint each other as executors or assign power of attorney to each other.
The website handles all the details and generates a will that reflects your wishes.
How to Create a Will with Epilogue Wills
Creating a document with Epilogue Wills is straightforward.
Here are the steps:
1. Sign up
On the homepage, click the 'Start my will' link, which will take you to the will creation wizard.
2. Click continue
This page highlights the benefits of creating a will with Epilogue. Click continue to proceed.
3. Choose your province
In this step, you'll need to pick your province of residence or where you want the will to come into effect.
Subscribe to our Newsletter!
Subscribe to get the latest personal finance news, offers, and our weekly newsletter. You can unsubscribe at any time.
Choosing the correct jurisdiction is crucial because not all wills are enforceable in all regions. A good rule of thumb is picking where most of your assets are, like your family's primary residence.
4. Answer a few questions
After this stage, you'll get questions like whether you are single or married, have children or not, and if anyone in your immediate family receives government disability benefits under Alberta's Assured Income for the Severely Handicapped (AISH) programs.
5. Create an account
After answering these questions, you'll be prompted to create an account. Fill in your email address and password and confirm your account.
6. Choose the package
You'll then be prompted to choose between a will only or a will plus incapacitation documents.
7. Fill in the details
Next, the wizard takes you through filling in details about what you want to leave to whom, and how you want your estate distributed or disposed of.
8. Confirm and generate
Once everything is filled, you'll get a chance to review the final document before generating the final copy.
9. Print and sign
This is the most crucial step. After the document is generated, it will not come into force until you sign it as per the signing instructions Epilogue provides.
10. Request physical documents (optional)
If you'd rather have Epilogue print the documents and send them to you, you can request this at this stage.
11. Store the document safely
Epilogue does not review wills, so once you have signed the document, it becomes legally binding, and you can store it safely.
How Much Does Epilogue Wills Cost?
Epilogue Wills has two pricing options:
Pricing for singles:
Will only – $139
Will plus incapacity documents – $179
Pricing for couples:
Will only – $229
Will plus incapacity documents – $289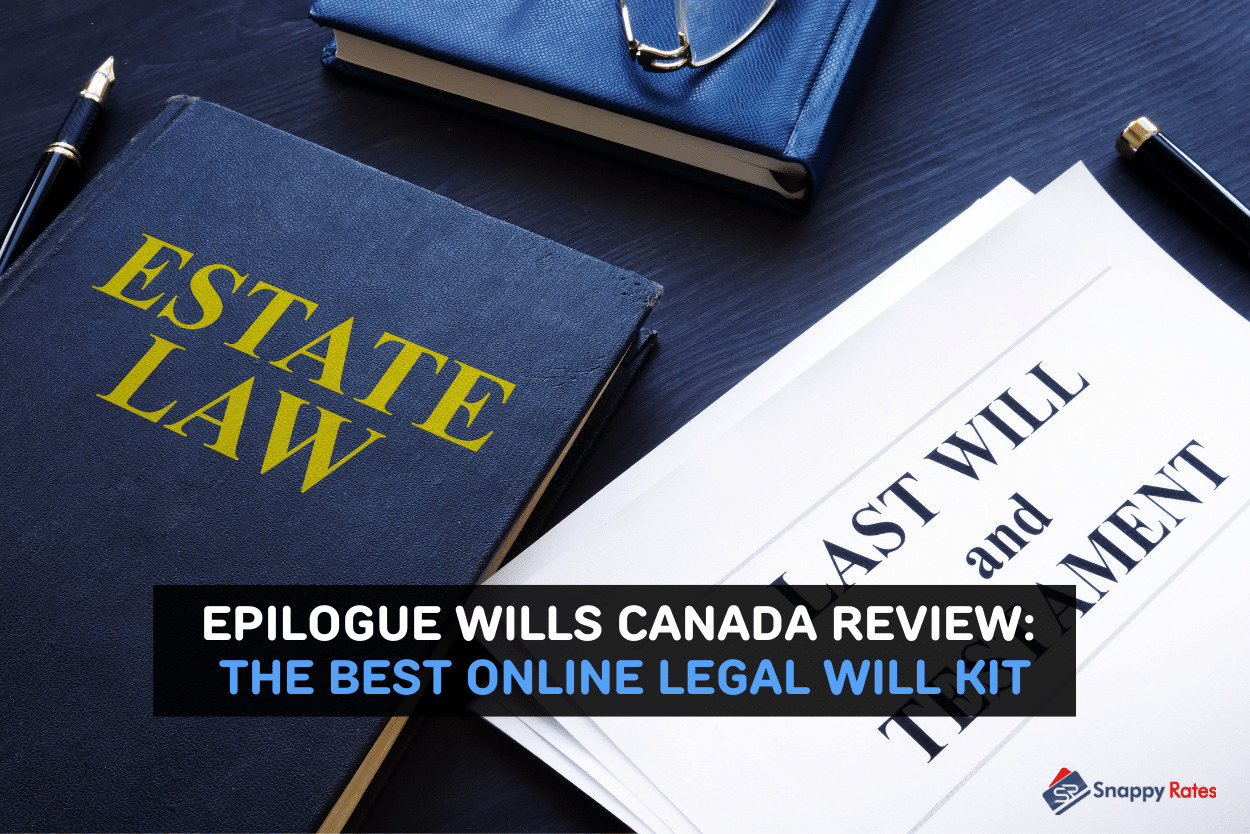 Pros and Cons of Epilogue Wills
Pros
100% online will creator
Clean and straightforward will-creation wizard
More affordable than hiring a lawyer
Unlimited free updates to your documents
Will plus power of attorney options
RESP option
Perpetual access to your documents in the cloud
Comprehensive help center articles
Chat support
Cons
The automated process is not suited for complex estates
You don't get legal advice when filling in the form
Once complete, the document isn't reviewed by a legal professional, and any errors could affect its execution later
Some areas in Canada are not covered
You need to hire a lawyer separately if you want to appoint them executors or give them the power of attorney
Alternatives to Epilogue Wills
Epilogue Wills is one of several online will kit templates in Canada. While most do the same thing, they differ in pricing, types of products offered, and the process of generating a will online.
Epilogue Wills vs. Willful
Willful Wills is well known for its affordability and simplicity. Starting at just $99, it is cheaper than Epilogue Wills. However, its other options are $189 and $329, respectively.
Another distinction is that Willful provides three options: a will only, a will with power of attorney, and a household will. In the last option, you can add up to six individuals to one account and create documents for all of them.
If choosing between Epilogue and Willful, the former is better for detailed wills, while the latter works better for simple wills. You can also pick Willful if you would like to pay less.
Epilogue Wills vs. LegalWills
LegalWills Canada is one of the country's oldest online will providers, having operated for twenty-two years. It is also the only online will provider covering all of Canada, including Québec and B.C. Coverage is one of the main advantages of LegalWills vs. Epilogue Wills.
Regarding pricing, LegalWills charges significantly less than Epilogue, ranging from $39.65 to $199.95. You also get an option to build your own documents, which offers more flexibility than the predefined wizard that Epilogue Wills has.
Related: Here's our detailed review of LegalWills.
Conclusion: Is Epilogue Wills worth it?
Epilogue Wills is a competent online will creator that does exactly what you expect it to do: create a legally enforceable will online. Epilogue stands out from others because estate planning lawyers started it.
However, all online will websites draw input from estate planning lawyers, so technically, they all generate the same quality of documents.
Epilogue Wills is worth it if you care more about the user experience and the fact that estate lawyers founded and ran the website.
FAQs
Who is legally entitled to see a will?
Not everyone is legally entitled to see a will, including close family and friends. Typically, only the executor and estate trustee are legally entitled to see the document.
Who is entitled to see a copy of a will in Canada?
If a probate application is made, anyone can request a copy of the will from the court. In Ontario, everyone named in a will is notified of what they have inherited, although they will not get a copy of the document.
How long after someone dies is the will read in Canada?
The executor is typically given one year to read and execute the will. There is no fixed time within this year that they are required to read the will.
How do you find out if someone has a will in Canada?
All wills registered with the Canada Wills Registry are searchable. Once you submit a search query, CWR will issue you a certificate indicating whether there is a will registered under those details. It's worth noting that CWR does not give you access to the document unless you are legally entitled to see it.
Related: Learn about retirement savings by age in Canada.