PolicyMe is a top life insurance provider in Canada.
Looking for the best life insurance in Canada is not an easy task. So many factors need to be considered, including the insurance coverage you want, your health status, occupation, lifestyle, and more.
While thinking about the possibility of your death is not a fun exercise, planning ahead and getting suitable life insurance is important for your family and beneficiaries.
This PolicyMe review summarizes its product offerings, how to save on life insurance quotes, and some of the best life insurance companies in Canada.
What is PolicyMe?
PolicyMe is an online life insurance platform founded in 2018 by Andrew Ostro, Laura McKay, and Jeff McKay.
The company has since grown from being an insurance broker to offering life insurance policies directly to customers.
PolicyMe is backed by Canadian Premier Life Insurance Company, an A-rated federally regulated company operating in the insurance space for over 60 years.
The company also offers life insurance policies issued by top insurance providers like Canada Protection Plan, BMO Life Assurance Company, Manufacturers Life Insurance Company, and Wawanesa Life Insurance Company.
PolicyMe is available across Canada except in Quebec, New Brunswick, and Newfoundland.
With its online onboarding process that eliminates unnecessary paperwork and intermediaries, PolicyMe customers can save on premium costs.
What is Life Insurance?
Life insurance is a contract between you and an insurance provider. When you purchase life insurance coverage, the insurer promises to pay a specified amount of money to your beneficiaries if you die while the contract is in force, or until a certain age.
You are required to pay the insurer a premium on a monthly or annual basis.
The payout your beneficiaries receive is referred to as a death benefit, and it is non-taxable.
Types of Life Insurance
The two main types of life insurance are: term life insurance and permanent life insurance.
Term life insurance provides coverage for a specified length of time, such as 10-30 years. Your premiums are fixed during the coverage period. If you renew your term life insurance policy, the premiums generally increase.
A term life insurance is generally more affordable than permanent life insurance.
Permanent life insurance provides coverage for life, i.e. your beneficiaries receive a death benefit whenever it is that you pass away. This type of policy is more expensive and requires you to continue paying premiums throughout your lifetime.
Permanent life insurance policies build up a cash value you can access while alive.
How To Buy Life Insurance with PolicyMe.
If you have ever tried applying for life insurance coverage from traditional insurance, you may already be aware that the process is complicated and often takes weeks to complete.
There are lots of paperwork to complete and several meetings or phone calls.
Subscribe to our Newsletter!
Subscribe to get the latest personal finance news, offers, and our weekly newsletter. You can unsubscribe at any time.
With PolicyMe, the application process is streamlined, and your application may even be approved instantly.
Below is what the process entails:
1. Visit PolicyMe and provide your basic personal information, including marital status, number of children, age, sex, health status, etc. This step takes only a few minutes.
The online tool gives you personalized coverage recommendations and rates based on the answers you provide.
PolicyMe offers life insurance coverage of up to $5 million.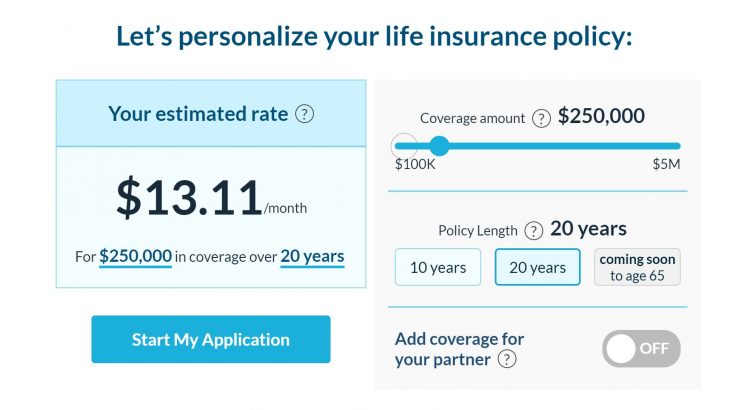 You can tweak the coverage amount and the policy length to suit your needs.
If you'd like to get a quote for a partner at the same time, simply toggle the option to "ON".
2. Complete the full application form online when you are satisfied with the options you have selected. The application form takes about 15 minutes to fill out.
During this step, you will be asked for more in-depth information about your medical history, occupation, resident, smoking habits, and more. This step takes about 15 minutes.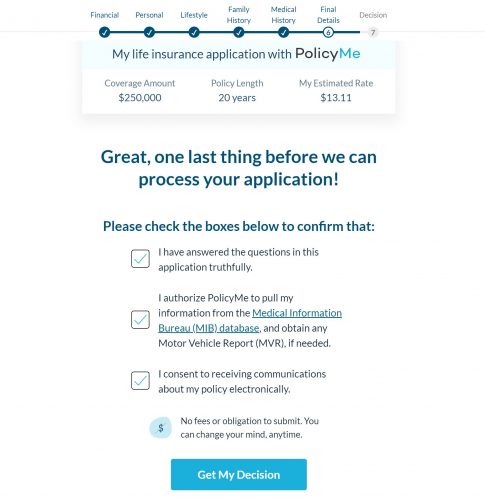 PolicyMe assesses the information you have provided, and you may be approved right away.
In some situations, a medical exam may be required, and they provide instructions on the next steps you need to take.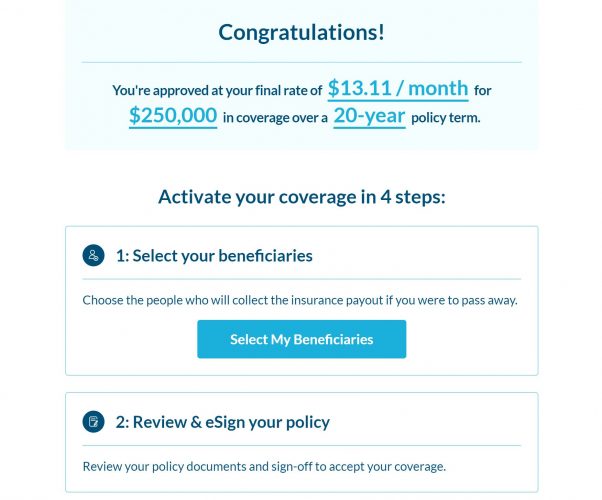 Pros and Cons of PolicyMe
PolicyMe aims to have your application completed and approved within 20 minutes. This is compared to the 4-6 weeks it takes some traditional life insurance companies to finalize applications.
By streamlining the process, PolicyMe can cut rates by up to 40%, and these savings are passed on to customers through low life insurance premiums.
The company's advice tool does a good job of assessing your circumstances and making personalized recommendations. This gives you a good idea of the appropriate coverage and term length.
PolicyMe's application process is 100% online, saving you the hassle of in-person meetings and high-pressure sales tactics.
One downside to this platform worth noting is that it is not available to residents of New Brunswick, Newfoundland, and Quebec.
What Does a PolicyMe Life Insurance Cost?
The company advertises itself as offering the "lowest rates in Canada."
I submitted a sample application on PolicyMe for a 27-year-old female who is married with no kids and who is non-smoking. For a 20-year term and $250,000 benefit, her monthly premiums were $13.11, which is great.
The premiums you pay vary depending on your:
Sex
Age
Personal health status
Family medical history
Lifestyle
Tobacco and Marijuana use
Occupation
Drinking habits
Weight
Driving record
Criminal record (if applicable)
Type of life insurance (permanent or term)
Optional add-ons
Coverage length
Is PolicyMe Legit?
PolicyMe is a legitimate company, and it is backed by one of Canada's top-rated insurance company's, Canadian Premier.
Its founders have a combined 17+ years experience of working in the insurance industry.
Looking at user reviews of the platform on review.io, it has a 4.8/5 rating from 650 reviews.
Best Life Insurance Companies in Canada
The best life insurance companies in Canada include:
PolicyMe
Canada Life
Canada Protection Plan
RBC Insurance
Sun Life
Manulife
Wawanesa
BMO Life Insurance
Industrial Alliance
Humania Assurance
Related: