Tangerine is a digital bank, and this means you can close your Tangerine bank account without needing to meet in person.
There are many reasons why Canadians close their bank accounts every year.
Some of the more popular ones include:
Switching to a free chequing account at another bank
Poor customer service
To take advantage of a bank promotional offer
Following the death of the accountholder
To consolidate your financial accounts in one place
Below, we show you how to close your Tangerine account, the fees to watch out for, and more.
How To Close Tangerine Accounts
The two main options are:
1. Contact Tangerine support by phone at 1-888-826-4374
You can close your account for any reason and this process should only take a few minutes.
The representative will ask a number of questions to confirm that you own the account.
Tangerine's phone service is available 24 hours a day and 7 days a week.
2. Close the account via online banking.
This method works if you are only closing one of your Tangerine accounts, but plan on staying with the bank.
Follow these steps:
Click the account you would like to close.
Go the 'Account Details' and click 'Edit' under 'Account Info'
Click on the 'Close Account' button.
Sometimes, you may need to still call their customer service if you can't find the 'Close Account' button.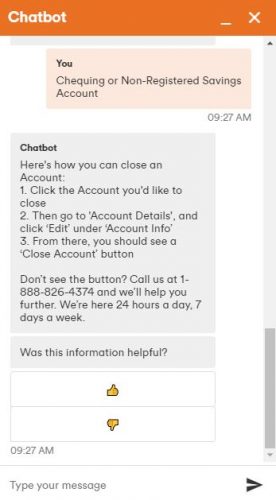 Fees To Close Tangerine Account
There are no fees for closing your Tangerine chequing and savings accounts.
A Tangerine inactivity fee of $10 applies if your account has been inactive for 1 year.
If you forget to move your pre-authorized debits, the Non-Sufficient Funds (NSF) fee is $45.
When transferring your Tangerine TFSA or RRSP to another financial institution, a $50 transfer fee applies.
Dormant accounts that haven't been closed result in a $20 fee per year (in years 2-9), and $40 when the account has been dormant for 10 years.
Related: Interac e-Transfer Limits in Canada.
Things To Do Before Closing Tangerine Bank Account
Don't just close your bank account and hope everything works out.
You should take the following steps:
Find a New Bank
Get yourself a new bank with the account packages or services you are looking for.
Here are some free chequing accounts. If you want to earn real returns on your savings, take a look at the high interest savings accounts in Canada.
Confirm that your new bank does not have similar downsides to the bank you just left.
Update Your Debit and Payment Information
Go through your bank statements to find those transactions that occur automatically.
For example, your loan, phone bill, utilities, subscription, childcare, and mortgage payments.
You want to update your payments details with these providers to reflect your new bank account.
If you have outstanding cheques from your old bank that haven't been cashed, you should wait until they clear to avoid NSF fees.
Update your bank details for your paycheque and government benefit programs.
Transfer Funds
Move your funds out of Tangerine into your new bank accounts.
Registered investments may take some time, so give yourself enough wiggle room to ensure things go smoothly.
About Tangerine
Tangerine Bank was originally established in 1997 as ING DIRECT Canada.
It was acquired by Scotiabank in 2012 and rebranded.
The bank offers a wide selection of financial products and services including chequing, savings, mortgages, credit cards, investments, line of credit, and business accounts.
How To Close Tangerine Account FAQs
How do I close my Tangerine chequing account?
You can close your Tangerine bank account by calling 1-888-826-4374. After verifying your identity, let the customer representative know you want to close your account.
What is Tangerine's inactivity fee?
Tangerine charges a $10 inactivity fee if you haven't conducted any transactions on your account within 1 year. After 2 years or more of inactivity, the fee increases to $20 per year.
Related:
Snappy Rates is your go-to for credit card comparisons and the best banking, investing, insurance, loans, mortgages, and personal finance guides in Canada.