Borrowell is a leading financial technology company in Canada that's popular for being the first to offer free credit scores.
Accessing your credit score a few years back meant you paid $19.99 or so every time you pulled it.
Today, you can access free credit scores in Canada through Borrowell, Credit Karma, and several other financial institutions.
This Borrowell Canada review covers how it works and whether it is legit.
What is Borrowell?
Borrowell is a hub for comparing various financial products, including:
Mortgages
Personal loans
Credit cards
Bank accounts, and
Insurance
It was founded in 2014 and has more than 1 million members.
In addition to providing a portal for comparing the best rates available, Borrowell also offers free credit scores and a free bill-tracking service.
You can access all these products via its website or the Borrowell mobile app.
Borrowell Free Credit Score
A credit score is a three-digit number that represents your creditworthiness. It tells lenders how well you manage credit and whether you pay your bills on time.
Borrowell provides free access to your Equifax credit score.
To get started, sign up here (takes 3 minutes or less).
Your credit score is updated weekly, and you can check it as often as you want without hurting it.
The ability to access your score routinely means you also get free credit monitoring and can quickly flag errors or report fraudulent activity.
Borrowell Free Bill Tracking
Borrowell members can track the bills using the app.
Bill tracking automatically forecasts your upcoming bills and alerts you when they are due.
If you have a low balance, an alert is sent to avoid hefty NSF fees.
Borrowell Personal Loans
Borrowell has partnerships with over 50 financial institutions in Canada that offer loans.
Using the platform, you can compare lenders and the interest rates they offer.
These personal loans can be used for different things, including debt consolidation, home improvement, car loans, etc.
Borrowell Credit Cards
While it does not have its own credit card, Borrowell can help you find the best credit cards in different categories.
Subscribe to our Newsletter!
Subscribe to get the latest personal finance news, offers, and our weekly newsletter. You can unsubscribe at any time.
You can compare cards for travel, cash back, low interest, and general rewards.
Other products you can compare on Borrowell include:
Mortgage rates
Bank accounts
Insurance
Borrowell Free Credit Reports
Along with free credit scores, Borrowell also offers free credit report updates.
Like credit scores, the credit reports you get are from Equifax and are updated weekly.
Checking your credit report regularly is great for detecting errors, and you can dispute these errors directly with the credit bureau.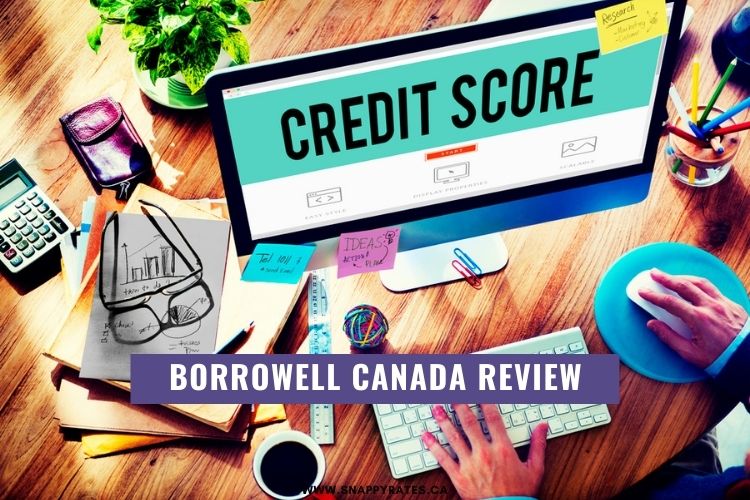 Is Borrowell Legit?
Borrowell is a legitimate company with more than a million users.
It is accredited by the Better Business Bureau and has an A+ rating on the platform.
As per its website, it uses "bank level 256-bit encryption security" to protect your personal information.
Borrowell vs. Credit Karma
Like Borrowell, Credit Karma is a personal finance company that offers free credit scores.
It is also a comparison site where you can compare rates for personal loans, credit cards, and mortgages.
The credit score and report you get from Credit Karma is your TransUnion score.
Credit Karma operates in Canada and the United States.
Borrowell vs. Mogo
Mogo is a publicly-traded company with offices in Vancouver, Surrey, and Winnipeg.
Like Borrowell, it offers free Equifax credit score updates every month when you sign up for its free prepaid card.
In addition, Mogo offers:
Mortgage and personal loans
Identity fraud protection
Investing via Moka
Bitcoin trading
Borrowell FAQs
Is Borrowell credit score accurate?
The credit score offered by Borrowell is based on Equifax's proprietary algorithm. This score may differ from what third parties use when assessing your credit application.
Does using Borrowell affect your credit score?
When you check your own credit score, it qualifies as a "soft check" and does not hurt your credit.
Related: