Neo Financial is a newer financial technology company in Canada offering a high-interest savings account and a credit card.
Similar to fintech companies like Wealthsimple and KOHO, which have shaken the banking space in recent years, Neo Financial aims to provide cheaper and better financial services to Canadians.
In this Neo Financial review, we cover its main financial services and whether it is legit.
Who Owns Neo Financial?
Neo Financial was founded by Andrew Chau, Jeff Adamson, and Kris Read in 2020.
Both Andrew Chau and Jeff Adamson were also co-founders of Skip The Dishes, a food delivery service that was acquired by Just East for $200 million in 2016.
The company is based in Calgary and recently raised $50 million in Series A funding.
Some of its investors include Peter Thiel (Valur Ventures), TobiaLutke (Shopify), Inovia Capital, and ATB Financial.
Neo Financial Accounts and Services
Neo Financial currently offers two main products: savings accounts and credit cards.
It also has a partnership with Hudson's Bay to offer the Hudson's Bay Mastercard.
Neo Financial Credit Card
The Neo Financial Credit Card (Neo Card) is a cash back card that pays users when they make purchases anywhere.
Its top features include:
No annual fees for the regular credit card
Minimum 1% cash back earned on all purchases
Compatible with Google Pay and Apple Pay
Purchase APR: 19.99% to 24.99%
Cash Advance APR: 21.99% to 26.99%
Average of 5% cash back at select partners.
Cardholders can upgrade their subscription to earn even more cashback when they shop at specific stores.
Neo Financial's cashback rewards plans are:
| | | | |
| --- | --- | --- | --- |
| | Standard | Plus | Ultra |
| General cashback | 1% minimum | 1% minimum | 1% minimum |
| Average cash back at partner stores | 4% average | 5% average | 6% average |
| Monthly fee | $0 | $2.99 | $8.99 |
The 1% top-up minimum cash back applies to maximum spending of up to $5,000 per month at non-partner locations.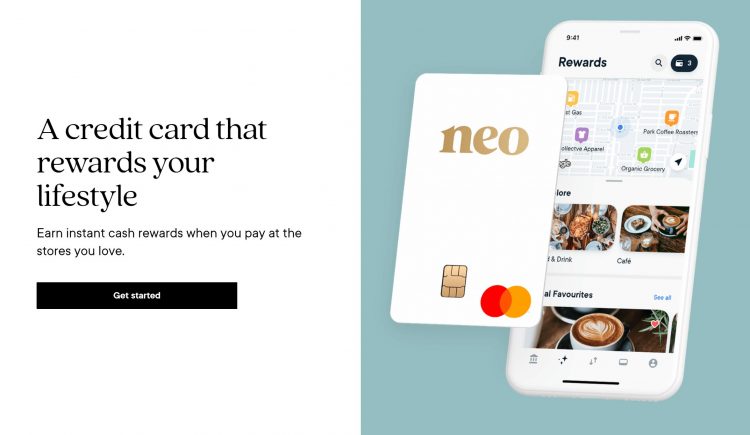 Neo Money Account
The Neo Money Account (savings account) offers one of the best savings rates in Canada at 1.80%.
Considering that many big bank savings rates are in the 0.01% to 0.05% range, Neo Money pays up to 180x more than a traditional bank.
A Neo Savings Account offers these features:
1.80% interest rate
No monthly account fees
Free Interac e-Transfers and bill payments
No minimum deposit requirement
CDIC insurance through Concentra Bank
Neo Financial Hudson's Bay Card
Capital One ended its relationship with Hudson's Bay, the company teamed up with Neo Financial to offer a new store credit card: The Hudson's Bay Mastercard – powered by Neo.
If you are a regular customer at Hudson's Bay, this card pays you up to 4 points per $1 spent in-store and at thebay.com. You also earn 2 points per $1 for most purchases elsewhere.
You can apply for this card in person at any Hudson's Bay store or online.
Pros and Cons of Neo Financial
Neo Financial's savings account has one of the highest rates in Canada as of this writing.
If you are looking for decent returns on your deposits, it is worth checking out.
The Neo Savings Account also offers extra perks such as free e-Transfers and bill payments which are great features to save money on a traditional chequing account.
Depending on where you shop, the Neo card can fetch you up to 5% cash back which is excellent.
Downsides
You can't deposit mobile cheques into a Neo Money Account, so it can't replace your chequing account just yet. Also, it does not offer Neo-to-Neo transfers which is something you get with KOHO.
The higher tier cash back rates are only available when you shop at participating stores, and this changes from time to time.
There is a monthly fee of up to $8.99 to increase your cash back rewards to the maximum level.
Is Neo Financial Legit?
Neo Financial is a legitimate company based in Calgary.
With regards to the safety of your savings deposits, the Neo Money account is offered through Concentra Bank.
Concentra Bank is a member of the Canada Deposit Insurance Corporation, and your deposits at both financial institutions are protected (up to $100,000 combined) per category, per depositor.
Neo Financial FAQs
Is Neo Financial safe?
Yes, a Neo Money account is safe and is protected by CDIC for up to $100,000 (combined with deposits at Concentra Bank if applicable).
How do I contact Neo Financial?
You can reach the support reps at Neo by calling 1-855-636-2265 or emailing [email protected].
Is the Neo Card a secured credit card?
The Neo Credit Card is not a secured card. It is an unsecured credit card and does not require you to provide collateral. However, Neo also offers a Neo Secured Credit Card.
Is Neo Financial a bank?
No. Neo Financial is not a bank. It is a financial technology company that has partnered with Concentra Bank to offer a high-interest savings account.
Related:
Snappy Rates is your go-to for credit card comparisons and the best banking, investing, insurance, loans, mortgages, and personal finance guides in Canada.