If you're applying for a credit card for the first time, there are several factors to consider, from the type of card to the rewards, interest rate, fees, and more.
Here's a look at some main factors to find the right card, including key considerations like your credit score.
Things to Consider When Choosing a Credit Card
There is a lot to consider when you first choose a credit card. Let's take a look at some of the things to keep in mind.
1. Your Credit Score
Whether your application is accepted or not depends largely on your credit score. Therefore, it's a good idea to determine your credit score first because this will give you a good indication of whether your application will be successful.
Remember, when you apply for a credit card, the card issuer usually carries out a hard credit check, which can lower your score. So, ideally, you don't want to apply for several cards in a short period.
By checking your score, you get a better idea of whether you will be successful before you apply for your chosen card.
To check your credit score, go to one of the two main credit bureaus: TransUnion or Equifax. Checking your score is free.
Alternatively, you can sign up for free with a service like Borrowell or Credit Karma and access your credit score for free.
If your credit score is above 660, this is usually considered a good score. The higher it is, up to a maximum of 900, the better.
If it is lower than 660, you may still have options for credit cards. Some cards are designed to help you build your credit, and you may also be able to apply for a secured credit card.
2. Eligibility
In addition to the interest rate, there may be other eligibility requirements. These include age, residential status, and personal income. Again, every card has different requirements, so check before applying.
3. Your Personal Goals
There are several types of credit cards:
Rewards cards, which provide perks for spending on your card.
Low-interest cards have lower rates of interest on purchases but fewer perks.
Balance transfer cards allow you to transfer a balance from another credit card and pay little or no interest.
We'll look at these in more detail, but keep your personal goals in mind. Think about what you want from your credit card and why you are applying for one in the first place.
4. Fees
Your credit card may have an annual fee, but remember that card with a higher annual fee may offer lower interest rates or better rewards.
Calculate how much it will cost over a year based on your spending habits and balance. Then, you have to decide whether it is worth it based on how you will use it.
5. Compare Credit Card Features and Rewards
One of the key factors to consider when choosing a credit card is whether it gives you any rewards. Many credit cards tempt customers by offering rewards, features, and perks, so carry out a credit card comparison to decide which rewards appeal most to you.
Here are some of the most common rewards you can find:
Travel Benefits
These typically include perks like travel insurance, access to airport VIP lounges, car rental insurance, and savings when you rent a car. They can be a tempting proposition for people who travel a lot.
Point Programs
Cards often have point programs where you earn points for spending on the card. You can then use those points to get discounts on purchases.
Cash Back
Cashback is one of the most popular rewards. Cashback is usually expressed as a percentage, like 2% or 10%, and you may get a higher cashback rate if you shop at certain stores.
Subscribe to our Newsletter!
Subscribe to get the latest personal finance news, offers, and our weekly newsletter. You can unsubscribe at any time.
Extended Warranties
Warranties can be useful when you make a large purchase, giving you peace of mind that it is covered for longer.
Welcome Offers
Don't forget the welcome offers. These are especially important when you are applying for a new credit card.
For example, a card may offer 3% cash back in general but offer 10% cash back for the first three months.
Some welcome bonuses focus on interest rates. For example, as mentioned previously, balance transfer cards may offer 0% interest for the first 12 months.
In addition, low-interest credit cards may have a lower interest rate on your purchases for the first six months.
Welcome offers may simply offer extra points. For example, many credit cards have their points programs, and you may get a big welcome bonus when you sign up, like 20,000 extra points or 50,000 points when you get the new card.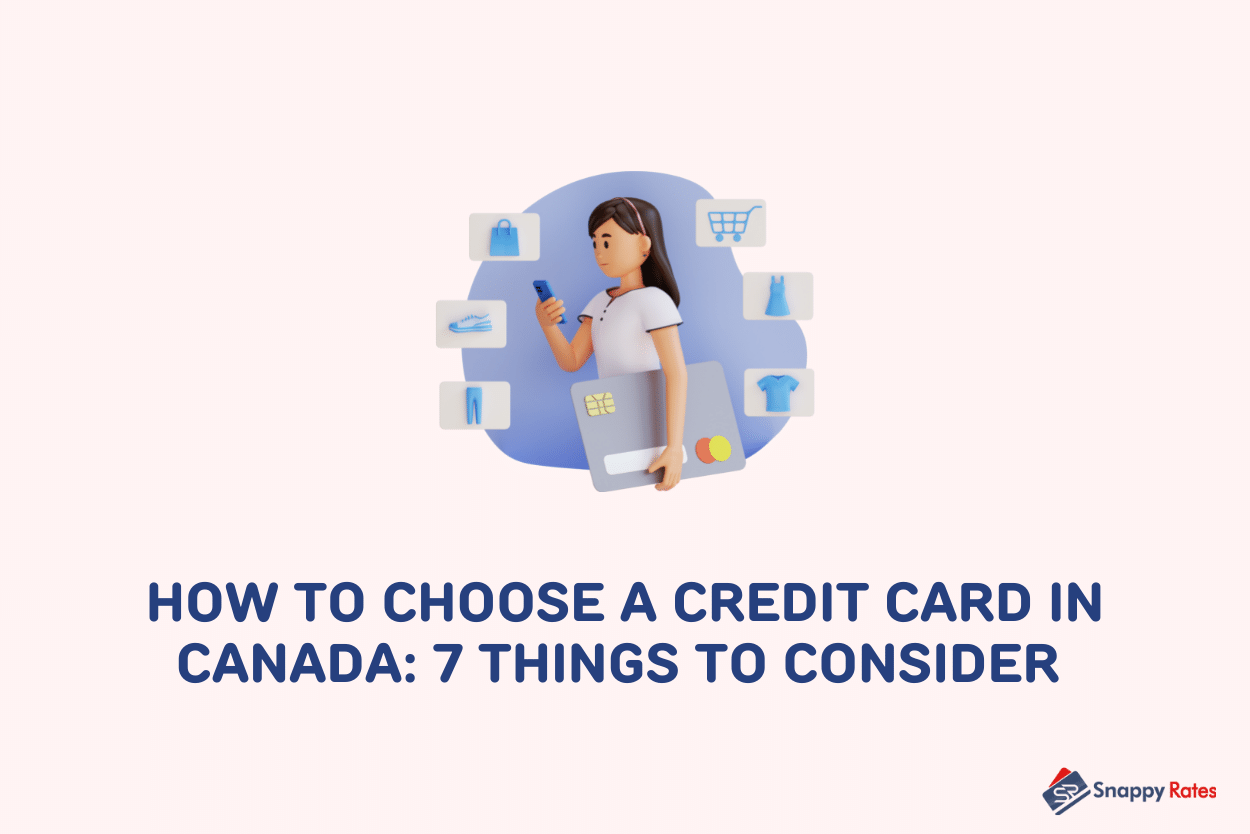 6. Compare Interest Rates
Interest rates are a key consideration when choosing a new credit card. The interest rate is expressed as an annual percentage rate (APR). This is the easiest way to compare interest rates across different credit cards.
Just remember that it can be a bit misleading. You get charged interest daily, which is expressed as an annual rate. However, the lower the interest rate, the better.
Also, the card may have an APR for standard purchases and a different APR for cash advances.
If you pay back the amount you borrow each month, you will not be charged any interest. So, you could take advantage of all the rewards without paying any interest.
One exception is that cash advances are often charged interest from the day you make them, so you will normally pay interest on them even if you pay the full amount each month.
If you currently have a credit card with a high interest rate and you want to reduce your interest payments, you may want to consider switching to a low-interest credit card.
Several cards specifically focus on lower interest rates. They often have fewer additional perks, but they can help you to save money.
You may also find that some cards have a welcome bonus that includes a lower interest rate for the first six months or so.
7. Do You Carry a Balance?
If you have a balance on an existing credit card, you may be paying it off with a high interest rate. If this is the case, you may want to look into a balance transfer credit card.
These cards often have a period like the first ten months where you do not pay interest or a very low rate on your balance. So, you can transfer your balance from your old card and then make your monthly payments as normal but without incurring interest.
This can make it quicker and cheaper to pay off your balance. If paying off your balance is your main concern, consider these.
Just remember that if you make purchases on the balance transfer credit card, you will be charged the normal interest rate for that card.
Your repayments will also pay off your interest-free balance first, so you may start to build up debt again.
Therefore, these cards are best if you plan to pay off your balance before using them for general spending.
Choose a Credit Card with the Best Value
It's important to choose a credit card that offers value. But the best value means different things to different people, so you'll have to think carefully about what this means for you.
For example:
You may want a rewards card that offers cash back.
But one card may offer you 10% cash back for the first six months and 5% after this.
Another may offer you 15% cash back for the first six months and 5% afterwards, but it charges a larger annual fee.
Depending on your circumstances, you must work out which is best for you.
For example, you may have a large purchase planned for the next month, in which case you might be tempted by the card with a higher cash back for the first six months.
Focus on the specific type of rewards you want from your card. For example, if you travel a lot, there are cards with great rewards focused on airlines, hotels, car rentals, travel insurance, and more.
Think about how you will spend on the card. Where do you do your spending? Some rewards may give you extra points for spending on certain categories like pharmacies or in specific stores.
Once you have determined the type of card you want, research the available cards. For example, there are lots of competing low-interest credit cards and balance-transfer cards, and you want to find the best for your situation.
If your goal is to pay off your balance, look for the card that will allow you to do this quickly and cheaply. You may have to do some calculations to help you work this out.
If you have a bad credit score, your primary purpose may be to build your score, so choose a card designed for your situation and will report your payments to the credit bureaus.
You must calculate which card is best for you based on the fees, interest rate, rewards, and spending habits.
Choosing a Credit Card FAQs
What should you avoid when choosing a credit card?
You should avoid applying for a credit card for which you are unlikely to get approved. You should also avoid applying for too many cards too quickly because this can affect your score. Also, avoid applying for a card because it has good rewards without checking all the other details, such as fees and interest rates.
What type of credit card is good for beginners?
If you are applying for your first credit card, you may not have yet built up a credit history. When it comes to how to get a credit card for the first time, you might want to apply for a card targeted at people with a low credit score without worrying too much about the rewards. You may also want a low-interest credit card to avoid building up expensive debt.
How much does it cost to own a credit card?
The cost of a credit card depends on the annual fee, interest rate, rewards like cash back, and your balance. Therefore, it's important to determine how much the card will cost you based on your specific situation before applying for one.
How long does it take to build credit?
You will start building credit as soon as you have a credit card and the card starts reporting your payments to the credit bureaus.
What is the most important factor when choosing a credit card?
No single factor is more important than others, and it depends on your situation. However, the interest rate and the rewards offered are probably the first you will look at.
Conclusion
Applying for a credit card is something you should not rush into. As you can see, there are many factors to consider before you apply for one.
Choosing the right card can help you to save money on interest, pay off your balance sooner, or earn useful rewards.
Avoid applying to a card without analyzing your options carefully. If you are refused and apply to several credit cards in a short period, this can be detrimental to your credit score.
Look carefully at your lifestyle and spending habits, and think about what you want from a credit card. Then use the information in this guide to help you choose the best card for your situation.