Canadians live on credit, and the average person in the country owns at least two credit cards. Yet, many people don't know how to manage one responsibly. Credit card debt in the country has reached $2,121 per person, the highest in years.
This imbalance usually happens due to credit card mistakes that can cause you to pay more or watch your credit score suffer. In this article, we'll highlight 12 such mistakes and also tell you how to avoid them.
Let's get started:
Credit Card Mistakes to Avoid
Here are the 12 most common credit card mistakes to avoid:
#1 Not Doing Your Research On the Type of Card
The most important thing is to know exactly what you want and look at all important factors when choosing a card. Some people only compare annual charges and APRs when comparing credit cards and neglect features like balance transfer fees, grace periods, and loyalty programs.
Also, some people choose a card only because the rewards sound excellent, yet they ignore the fine print. There are often conditions attached to rewards, such as minimum spending and a limited number of ways to redeem points.
How to Avoid This Problem
Know exactly why you want a card and compare all important factors, including how applying for a new card will impact your credit score.
#2 Not Paying Your Balance
Never make the mistake of not paying your balance. Your payment history is of huge importance, and it can impact your credit score.
Plus, you will have to bear penalties and a higher interest rate. Moreover, your account may go to collections if your unpaid balance lingers for a very long period of time, resulting in legal issues.
How to Avoid This Problem
The best way to solve this problem is to set up auto pay and payment reminders. Moreover, consider requesting your bank to change your due date if you are out of cash and have several bills to take care of.
#3 Only Paying the Minimum Amount
Don't just make the minimum payment, and always try to pay your bill in full so you can avoid unnecessary interest charges and reduce the risk of falling into debt.
Paying the minimum will cost you more in the long run as you will continue to accrue interest on your balance. Also, it will take you longer to get rid of debt.
How to Avoid This Problem
The key lies in paying more than the minimum. You can make several small payments as well or consider going for a balance transfer card to better manage current credit card debt while paying lower interest.
#4 Not Tracking Your Spending
Do not spend money just because you can. Keep a track of your spending and know where your money goes. This will allow you to create and stick to a budget and ensure you stay within your financial means.
How to Avoid This Problem
Consider using a budgeting tool like You Need a Budget (YNAB) and Mint to track your spending.
#5 Not Looking at Your Statements
Make sure not to neglect your statements. This is important because identity theft is common, and you will not be able to identify 'surprising' transactions if you don't take a look at your transactions.
Subscribe to our Newsletter!
Subscribe to get the latest personal finance news, offers, and our weekly newsletter. You can unsubscribe at any time.
Also, doing so will let you know if you're spending wastefully. For example, on subscriptions, you don't need anymore.
How to Avoid This Problem
Check your monthly statements and verify all transactions and make sure to get in touch with your credit card provider if you see incorrect information.
#6 Not Checking Your Credit Score
An interesting thing about credit score is that it changes regularly. Just because you have a good credit score today doesn't mean it will remain the same tomorrow.
How you spend and manage money can have a negative or positive impact on your credit score, so make sure to keep an eye on it.
How to Avoid This Problem
Check your credit score every month. Credit scores can be accessed online for free. Pay attention to any changes and contact the bureau if you see surprising figures.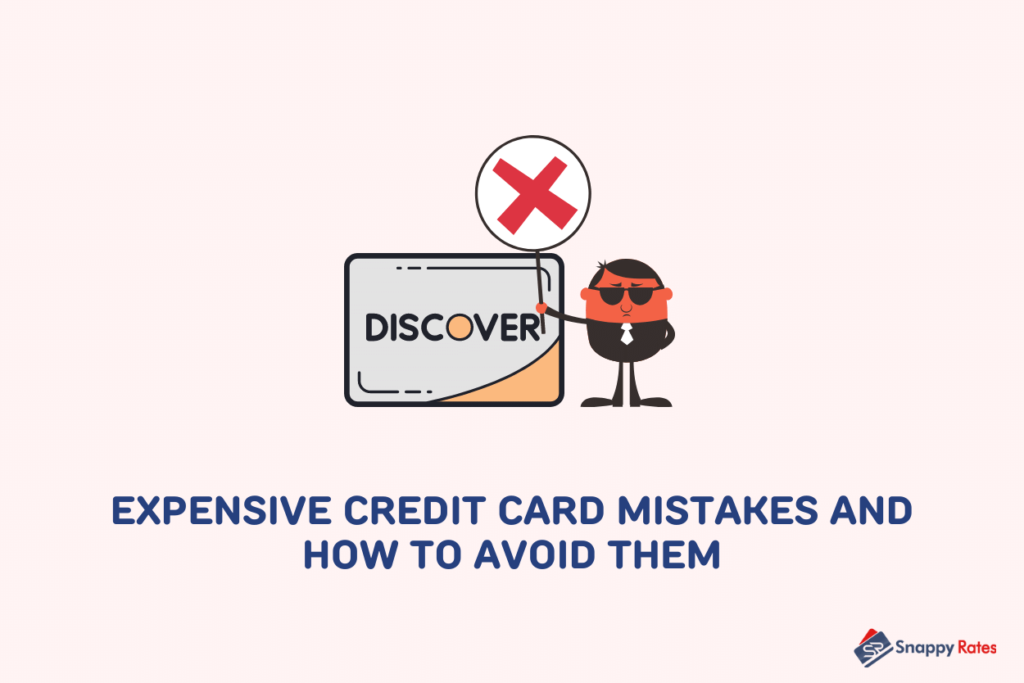 #7 Forgetting to Use Your Credit Card Rewards
Credit card rewards can be a great way to enjoy perks such as discounts and access to special offers. However, a lot of times, people end up forgetting to use rewards.
How to Avoid This Problem
Know which card to use and when especially if you have multiple cards. Branded cards are usually best for specific brands.
Also, make a list of all perks and check for bonuses from time to time. If possible, check card reviews and sign up for newsletters so that you don't miss out on a good opportunity.
#8 Not Taking Advantage of Credit Card Insurance
Credit cards, especially platinum and travel cards, come with insurance coverage, including travel insurance, accidental insurance, and more. This means you will be covered in case of a mishap.
However, unfortunately, not everyone is aware of insurance or what it covers; hence very few individuals can benefit from this feature.
How to Avoid This Problem
Read the documentation that comes with your credit card to know what it offers for insurance and other perks.
#9 Paying an Annual Fee or High-Interest Rate
Though some credit cards are free to get, most come with an annual fee in the range of $30 to $700; however, some companies offer waivers on annual fees for the first year to entice new customers.
Compare various credit cards and their fees and interest rates to see which one gives you the most bang for your buck.
How to Avoid This Problem
Look for cards with introductory offers to save money. Try and pay off your credit card balance each month to avoid interest fees.
#10 Taking Out Cash Advances
Cash advances are expensive and not worth it as the interest for cash advances is usually higher – going as high as 30 percent. Also, you'll have to continue paying interest until you pay the amount back in full.
How to Avoid This Problem
Avoid cash advances by better managing your money and looking for other sources of funds, such as personal loans.
#11 Making Late Payments
It is common for people to make late payments without realizing the impact it can have on their financial situation.
We understand you get busy, or you may not always have money in hand to pay the bill, but remember that being late can turn out to be very costly as you will have to pay late charges.
How to Avoid This Problem
Set up reminders or automate paying off your credit card balance each month.
#12 Owning Too Many Credit Cards
The opinion on this factor differs as some people believe that owning too many cards can be beneficial, especially if you know how to manage them.
They can help boost your credit score and improve your creditworthiness; however, more cards may result in more fees and issues, especially if you don't know how to manage them.
How to Avoid This Problem
Unfortunately, there is no straight answer to how many credit cards one should have. Of course, it is beneficial to have multiple cards as it could help you keep your utilization ratio per card lower than 30 percent.
Still, don't go for more cards than you can handle, and cancel cards once you don't need them anymore.
How Do You Use a Credit Card Responsibly?
Here's all you need to know about using a credit card responsibly:
Understand what type of credit card you should shop for and only go for cards that support your agenda.
Read your agreement carefully and know all your terms and conditions.
Always make payments on time.
Try to pay more than the minimum amount.
Keep an eye on your statements.
Try to keep credit utilization under 30 percent.
Be quick to report a lost or stolen card.
Work to improve your credit score.
FAQs
What is the biggest mistake you can make when using a credit card?
Taking out a cash advance can be one of the biggest mistakes when using a card as cash advances are very expensive and can be hard to pay back.
Should I pay off my credit card after every purchase?
Yes, if possible, consider paying off your credit card after every purchase. It will keep your debt low and help you save money. Hence, go through some tricks to paying off credit cards and know how to keep your finances strong.
Is making multiple payments on credit cards bad?
No, in fact, making multiple payments on credit cards can help keep your balance low.
Should I pay off my credit card in full or leave a small balance?
It is a good idea to pay your credit card in full.
How can I avoid credit card errors?
The best way to avoid credit card errors is to check your statement regularly. Also, contact the issuer if you come across any issues with your statement.
What are the most expensive credit cards in Canada?
The Amex Black Card is the most expensive and prestigious credit card in Canada. This invitation-only card costs $10,000 to initiate and has very high-income requirements.
Related: Student loan debt statistics in Canada.