There are many reasons to get a credit card. They can help you build credit history, making it easier to secure loans and mortgages in the future.
They are also a convenient payment method that usually protects against fraudulent activity better than debit cards.
And a credit card can be a lifesaver in a financial emergency.
You may be wondering how to apply for a credit card in Canada so you can take advantage of these benefits.
This article will tell you everything you need to know, including which credit cards to apply for in Canada for instant approval.
What Are the Basic Requirements to Apply for a Credit Card in Canada?
There are some basic requirements that you will need to meet in order to get a credit card in Canada.
Residency: To apply for a Canadian credit card, you will need to be a permanent resident of Canada.
Age: One of the basic requirements to get a credit card in Canada is being the age of the majority. This will vary by province but is either 18 or 19.
Social Insurance Number: Most credit card companies will require you to have a social security number. When you share your SIN with a credit card company, it allows them to check your credit history and ensure you meet the other basic requirements.
Current employment status: You will need to provide your employer's information, including their contact number. Your gross annual income details are also required.
Steps to Apply for a Credit Card
1. Find the Right Card
Before you start applying for a credit card, you will need to determine which one is right for you.
This will be discussed in more detail later, but it is important that you don't start applying for a bunch of cards without doing some research first.
When you apply for a credit card, it has a minor effect on your credit score. One application will cause a small and temporary dip in your score.
Applying for too many cards in a row will have a much more significant negative impact.
This is why it is important to know which card you really want before you fill out any applications.
Find out how many credit cards should you have in Canada.
2. Gather the Necessary Materials
Once you have identified the card you want to apply for, make sure you have everything you need on hand.
You may need to provide the company with a bunch of information so it is helpful to have everything you might need on hand. Here is the information you may need:
Your name, address, and date of birth
Permanent Canadian address
Social insurance number
Mother's maiden name
Amount of housing payments, if any
Annual income information
Once you have all of this information together, it is time to fill out the application.
3. Fill Out the Application
You can find the application on the website of the company offering the credit card you want to apply for.
This may be a bank, retail business, or major credit card company website.
You can also apply on the phone or in person, but online applications are generally the most convenient, allowing you to provide any proof required at the time of application.
Be sure to fill out the application completely. If you leave out any required information, it could cause your application to be denied or delay your approval.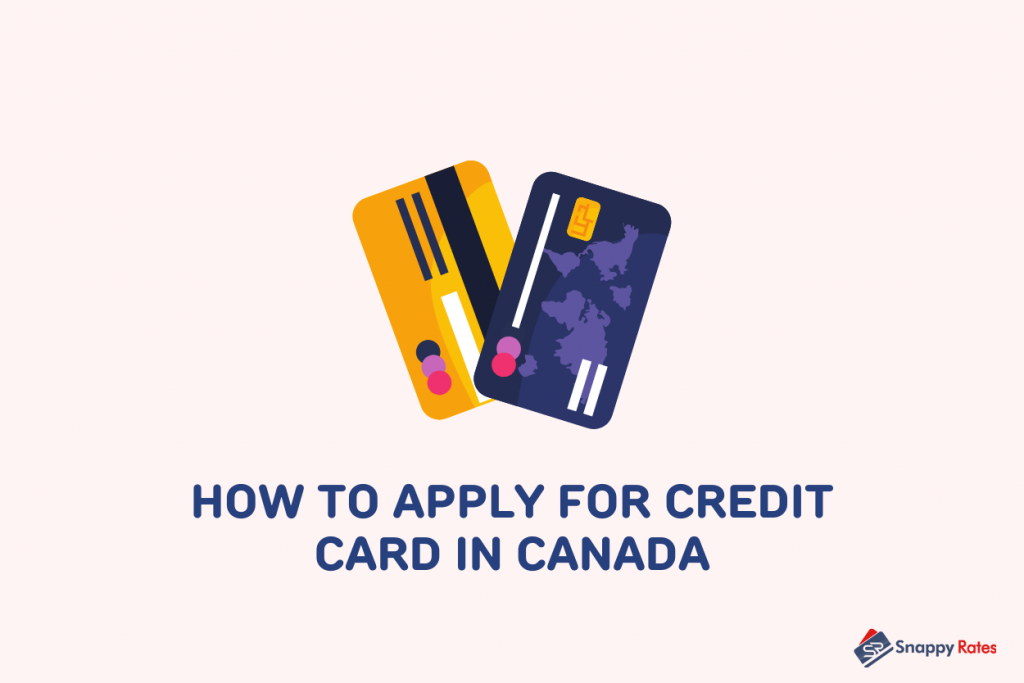 How to Choose a Credit Card
There are some things you want to consider when searching for the perfect credit card to meet your needs. Here are some characteristics to look for.
Subscribe to our Newsletter!
Subscribe to get the latest personal finance news, offers, and our weekly newsletter. You can unsubscribe at any time.
Eligibility Requirements: Pick a card with credit score and income requirements that match yours.
Rewards: Many cards offer rewards or cash back.
Fees and Interest Rate: Some cards have annual fees that you may want to avoid. Also, be sure to check the card's interest rate. If there is any chance you may not pay your entire balance each month, you will definitely want a card with a low rate.
Approval Time: If it is important to you to know if you are approved right away, you will want a card that offers instant approval.
To find the perfect card, be sure to look around before making any decisions.
You can check the websites of major credit card companies, like Visa and Mastercard to start.
If you do most of your shopping at one store, you may want a card through that company, if it is offered.
If you fly often, you'll want to look for travel perks offered by each credit card you're considering. Don't forget to look at the cards offered by different banks as well.
Credit Cards in Canada with Instant Approval
If you would like to know whether you are approved at the time of application, you will need to apply for a card that offers instant approval. Here are a few of the top instant approval cards you can look into.
Tangerine Money-Back Credit Card
Tangerine Money-Back Credit Card offers unlimited cash back with no annual fees and great approval odds.
American Express Simply Cash Card
The Simply Cash Card from Amex has no annual fees. You can earn cash back and statement credits with all purchases.
With this card, you can earn cash back with no annual fees, and credit score requirements are low.
Final Thoughts
Applying for a credit card in Canada is simple, and if you meet the eligibility requirements, chances of approval are high.
Be sure to find the right card for your needs and keep balances low to improve your credit.
FAQ
Which is the Easiest Credit Card to Get in Canada?
Most secured credit cards have no income requirements and no or very low credit score requirements. You will need to prepay, but these cards are a great way to build credit. The Neo Mastercard has great approval odds and also offers a secured option.
Can I Get a Credit Card with No Job?
There are ways to get a credit card without a job, but you will want to be sure you have the means to pay your monthly balance. Many secured credit cards do not have income requirements. You may also be able to get a joint credit card with someone else if you have no credit.
Can I Get a Credit Card with Poor Credit?
Some credit cards, such as the Tangerine Card and the Neo Mastercard have credit score requirements of only 600. Secured cards are also a good way to obtain a credit card with poor credit.
Related: