Credit cards in Canada often have several fees attached. Some of these fees must be paid by every user (e.g. annual fee), while you only pay other fees for certain types of transactions (e.g. FX conversion fees).
But how do credit card fees work? Do all credit card users pay fees? And can merchants charge a credit card fee in Canada?
This guide will look at the most common types of credit card fees in Canada, along with the new fees that came into effect in October 2022.
This will give you a clear idea of the fees you can expect to pay when using a credit card.
Common Credit Card Fees in Canada
Below, you'll find information on Canada's most common types of credit card fees. However, be aware that not every card will charge these fees:
Annual Fee
This is the annual fee that the credit card issuer charges every user. Premium rewards cards often come with high annual fees, while more basic cards are often free to use.
Cash Advance Fee
This is a very common fee you might have to pay if you withdraw cash from an ATM.
Foreign Currency Conversion Fee
You will often be charged a conversion fee if you buy something in another currency using your credit card.
While most cards charge this fee, some cards provide free FX conversion fees as a premium perk for travellers.
Balance Transfer fees
You will often be charged a fee if you transfer a balance from one credit card to another. This is usually a percentage of the total amount you transfer rather than a fixed amount.
Over-the-Limit Fees
All credit card users have a maximum credit limit. You will likely be charged an over-the-limit fee if you go over this limit.
Late Payment Fee
You will often pay a fee if you make a payment after the specified date. This can also hurt your credit score, so it should be avoided.
Paper Statement Fee
You may be charged a fee if you receive a paper statement instead of an electronic one.
Interest Charges
Every credit card will charge interest. However, this is not a fee as such because you only pay interest if you don't pay back your balance in full each month.
Interest rates often differ for purchases, cash advances, and balance transfers.
What Is the New Credit Card Convenience Fee in Canada?
The above fees are the most important fees that users of credit cards in Canada can expect to pay. However, merchants also pay fees when processing payments.
Until recently, merchants in Canada were not allowed to pass on these fees to consumers. However, starting in October 2022, credit card users in Canada began to see a new fee: the credit card convenience fee.
Stores must pay fees to the credit card providers a percentage of every transaction, which is called interchange fees.
Consumers like using credit cards for convenience. But for retailers, they are expensive. So they can now pass on some of the fees to consumers to make up for this.
How much will credit card users have to pay?
Subscribe to our Newsletter!
Subscribe to get the latest personal finance news, offers, and our weekly newsletter. You can unsubscribe at any time.
The fee is capped at 2.4%, and the store should make it clear at the point of purchase if you will be charged this fee.
You may also pay this fee when you pay a bill with your credit card. Again, the amount that you will be charged should be made clear.
However, this fee will not apply in Quebec, where the Consumer Protection Act is in force.
Credit Card Surcharge Fees for Merchants in Canada
Merchants should be aware of the different credit card processing fees they can be charged in Canada.
Fees typically go to the card issuer, the network, and the processing company. However, these fees are not always obvious. In addition, there are several fees to be aware of, which can be confusing.
Below, we'll look at the main types of fees merchants can expect when customers pay using credit cards.
Interchange Fees
This is the largest part of the fee and is usually a percentage of the transaction rather than a set amount.
The network determines the amount, and the fee varies based on factors, including the type of transaction, the merchant, the card type, and the network.
The issuer and the network split the interchange fee. Most of the fee goes to the issuer, which uses the fee to pay for the rewards. This is why premium credit cards with lots of perks often have higher interchange fees.
Assessment Fees
Assessment fees are typically very small fees paid to the credit card brand. They are often about 0.08% of the total transaction.
Rather than paying an assessment fee for every transaction, merchants will often pay a monthly fee based on monthly sales.
Terminal Fees
Stores that use physical terminals to process payments must pay for the equipment. Some stores choose to buy the terminals outright.
However, this involves a higher cost, and terminals can get damaged and require fixing.
Instead, many store owners prefer to lease terminals and pay a monthly terminal fee. They can benefit from always having the latest terminals available and avoiding buying new terminals if a fault occurs.
Incidental Fees
Incidental fees are usually charged when problems occur on the merchant's part. For example, a merchant may not have sufficient funds, leading to fees.
Payment Gateway Fees
Payment gateway fees are applicable for online stores where people pay for goods or services using credit cards.
These gateways make payment easier for consumers, but they charge a fee. The fee might be applied for every transaction or a monthly fee, depending on the payment gateway.
Average Credit Card Interest Rates in Canada
All credit cards in Canada charge interest rates, but the amount of interest charged depends on the card.
Generally, the average Annual Percentage Rate (APR) is about 19.99% for purchases in Canada. However, the interest rate can be higher, and some credit cards may charge more.
Cash advance interest rates are normally higher. This is not always the case, but it is standard practice for credit cards in Canada. The average APR for cash advances is about 22%-24%.
You also have low-interest credit cards in Canada, which appeal to people who carry a balance and want to reduce the amount of interest they pay each month. These often have an APR of about 12%, but the interest rate can be even lower.
Remember, you only pay interest on your credit card purchases if you don't pay off the balance each month because of the grace period.
However, you often pay interest on cash advances even if you pay off your balance.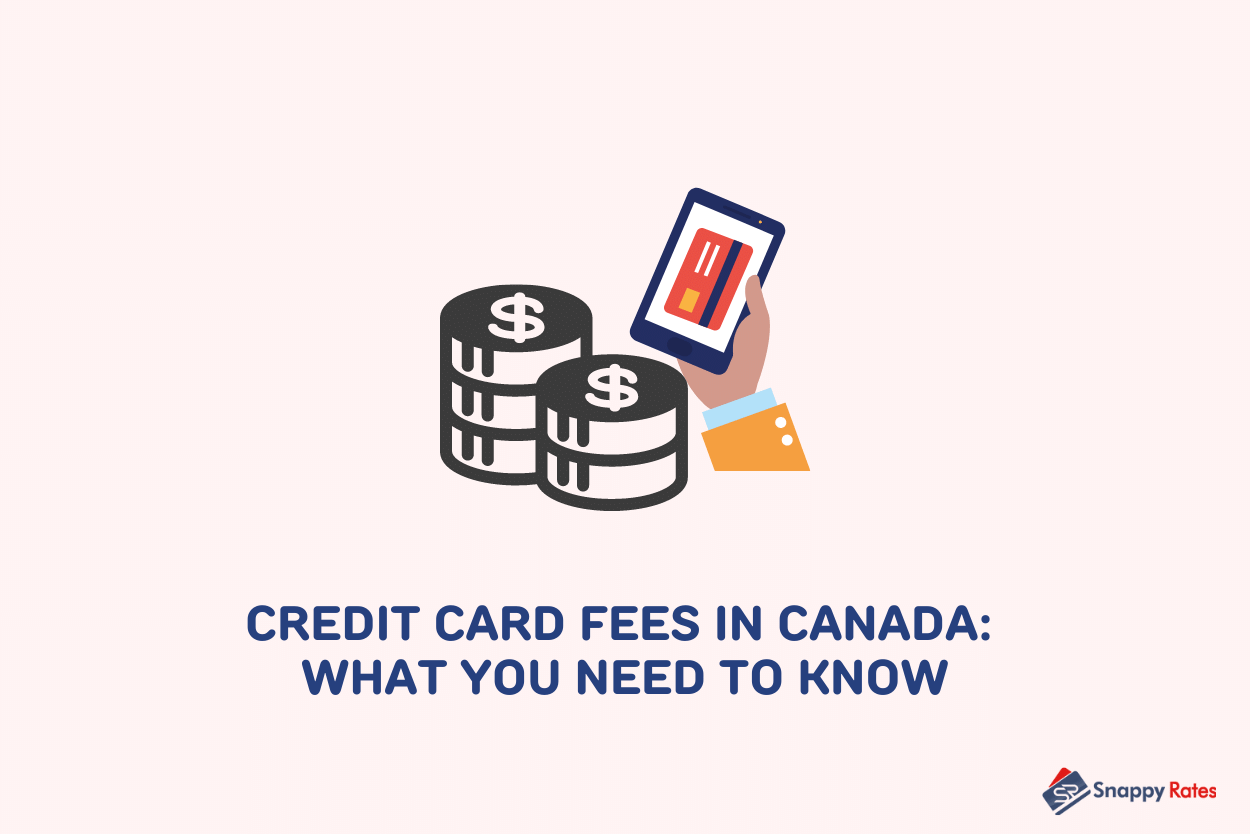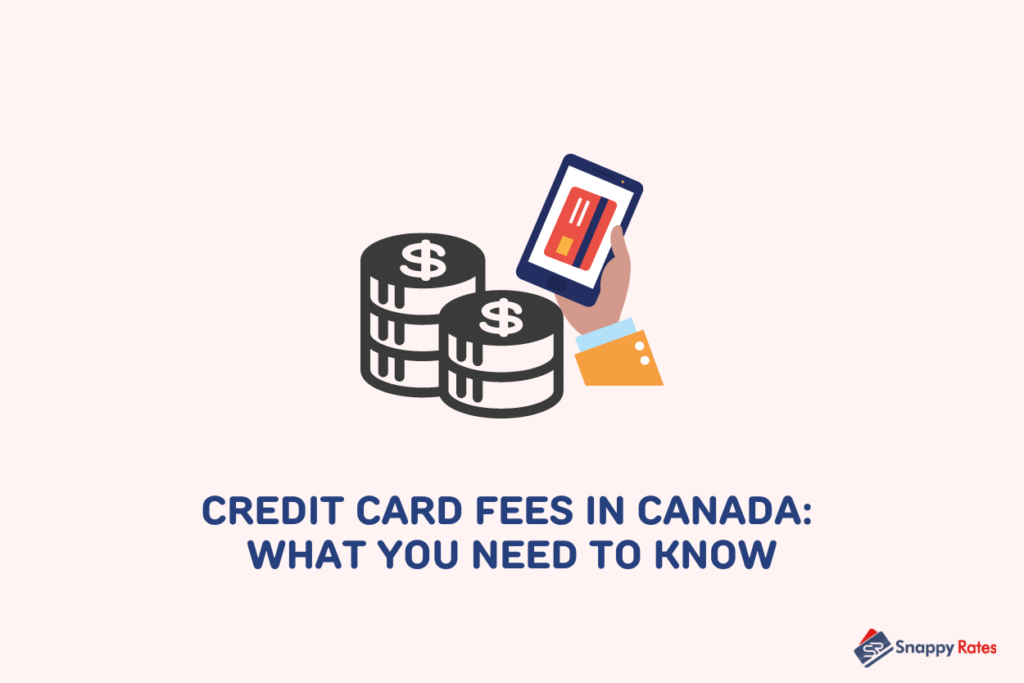 Fees for Using a Credit Card vs Debit Card vs Cash
As we've seen, credit cards come with several fees in Canada. But what about debit cards and cash?
Paying with cash does not involve any fees. Merchants may have to pay money to store cash, transfer it and deposit it in their bank accounts, but users do not pay any fees.
On the other hand, debit cards often come with several fees, though they often have fewer fees than credit cards.
For example, you may be charged a fee when you withdraw cash from an ATM using your debit card.
This is often the case when you use an ATM that belongs to a different bank. In addition, the ATM operator may also charge you a convenience fee.
You may pay a fee when you use your debit card, but this depends on the issuer.
Many debit cards have foreign currency conversion fees, like credit cards, which can sometimes be quite high.
Depending on your card issuer, you may have to pay an annual or monthly fee. This is more common where the card comes with a bank account or premium perks like cashback.
Merchants also pay fees for processing debit card payments in much the same way as they do for credit cards, but debit card fees are typically lower.
FAQs
Are credit card fees legal?
Yes, credit card fees are legal. Many credit card companies charge fees, including those mentioned in this guide. However, some cards do not charge fees.
What is the average credit card processing fee in 2022?
The average credit card processing fee in 2022 is 1.4% in Canada. However, they can be less or more than this amount.
How can I avoid paying credit card fees?
Choose a credit card with low or no fees, like no annual fee. Also, avoid going over your limit or making late payments, which can incur fees. You may also want to avoid making cash advances and purchases in foreign currency.
How much does Visa charge merchants in Canada?
Visa typically charges merchants 1.25% for standard credit card processing, but this can go up to 2% or 3% for premium cards.
Conclusion
As you can see from this guide, credit card users and merchants must pay several fees when using credit cards in Canada.
While some of these are inescapable, others can be avoided depending on how you use your card.
Being aware of the fees can not only help you choose the right credit card for your situation, but it can also affect how you use your card. So it's always a good idea to clearly understand the fees you can expect to pay.
Related: Credit Card Statistics for Canada.