If you want to build, rebuild, or repair your credit, the Capital One Guaranteed Secured Mastercard can help.
This secured credit card is unlike many others in that you are almost certain to be approved if you meet some minimum requirements.
Individuals with bad credit or no credit score find it extremely challenging to qualify for a regular credit card.
This is sort of a double whammy as it also makes it difficult to repair your credit rating when you can't access credit.
It is in these types of scenarios that secured credit cards come to play. They require you to provide a collateral or security deposit and, in turn, report your transactions to credit bureaus such as Equifax and TransUnion.
This Capital One Guaranteed Secured Mastercard review covers its eligibility requirements, how to apply, and what it costs.
Capital One Guaranteed Secured Mastercard
The main features of this card are:
$59 annual fee
19.80% interest rate for purchases and balance transfers
21.90% interest rate for cash advances
Guaranteed credit card approval when you meet four conditions
Zero liability for unauthorized use of your card
Credit limit up to $2,500
A security deposit between $75 and $300
When you apply for the Capital One Guaranteed Secured Mastercard, your credit card activity is reported to the credit reporting agencies every month.
If you consistently pay your bills on time, your credit score can improve in as little as one month.
The amount of security deposit you provide determines your credit limit.
The point of making a down payment on a secured credit card is that the card issuer can limit their risk if you default on payments.
When you decide to close your account, your security deposit is returned if your account is in good standing.
How To Apply
You can apply for this card directly on the Capital One website.
The minimum requirements are that:
You must be at least the age of the majority in your province (i.e. 18 or 19 years old).
You must not have applied for a Capital One account more than once in the last 30 days or had a Capital One account that was not in good standing in the last year.
You must not have an existing Capital One account or a pending application for one.
You must be able to provide security funds (up to $300)
Secured Credit Card Options in Canada
Some of the best secured credit cards in Canada include:
1. Neo Secured Card
Neo Secured Mastercard
Rewards: Earn up to 15% cash back at thousands of Neo partners and never fall below 0.5% average cash back.
Welcome offer: Get an extra 15% cash back on your first purchases at participating merchants.
Interest rates: 19.99% to 24.99%
Annual fee: $0
Recommended credit score: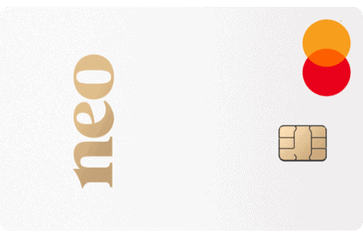 On Neo's website
This Neo Card is the best credit card for bad credit in Canada. It has no annual fees and offers guaranteed approval.
Unlike the other cards on this list, it also offers cash back rewards of up to 5% when you shop at more than 10,000 locations in the country.
Lastly, you only need a $50 security deposit to start.
2. Home Trust Secured Visa
The no-fee Home Trust Secured Visa card offers a credit limit ranging from $500 to $10,000. It has a 19.99% interest rate for purchases and cash advances.
Like Capital One's secured card, the Home Trust Secured Visa does not offer rewards.
Subscribe to our Newsletter!
Subscribe to get the latest personal finance news, offers, and our weekly newsletter. You can unsubscribe at any time.
You can also apply for the low-rate version of this card which has a 14.90% purchase interest rate.
3. Plastk Secured Credit Card
The Plastk Secured Credit Card has a $48 annual fee, and you also pay a $6 monthly maintenance fee.
This card also offers the following:
Cash back rewards when you pay for purchases using your card
25-day interest-free period
Monthly access to your updated credit score
Instant approvals
$300 to $10,000 credit limit (equivalent to your security deposit)
FAQs
Does Capital One build your credit?
The Guaranteed Secured Mastercard can help you establish or repair your credit. To achieve this, you should pay your credit card balance on time and keep your account in good standing.
What credit score do you need for a Capital One secured card?
You can qualify for the Capital One Guaranteed Secured Mastercard even if you have a poor or bad credit score that is below 659.
How fast will a secured card build credit?
It depends. You may start seeing improvements within a month, or it may take longer, depending on your credit history and other factors.
Related: