Purchasing a used car in Canada has now become easier with reputable online platforms to narrow down your choices. However, with the many used car websites in Canada now available, which is best to use?
Read on to find out what reliable websites you can go to when you want to buy used cars for sale in Canada.
Best Used Car Websites in Canada
There are many benefits to investing in a used car, such as upfront savings on price, cheaper insurance, and varied choices. You'll just need to make sure you perform your due diligence before purchasing a car, starting with choosing a used car website.
1. CarGurus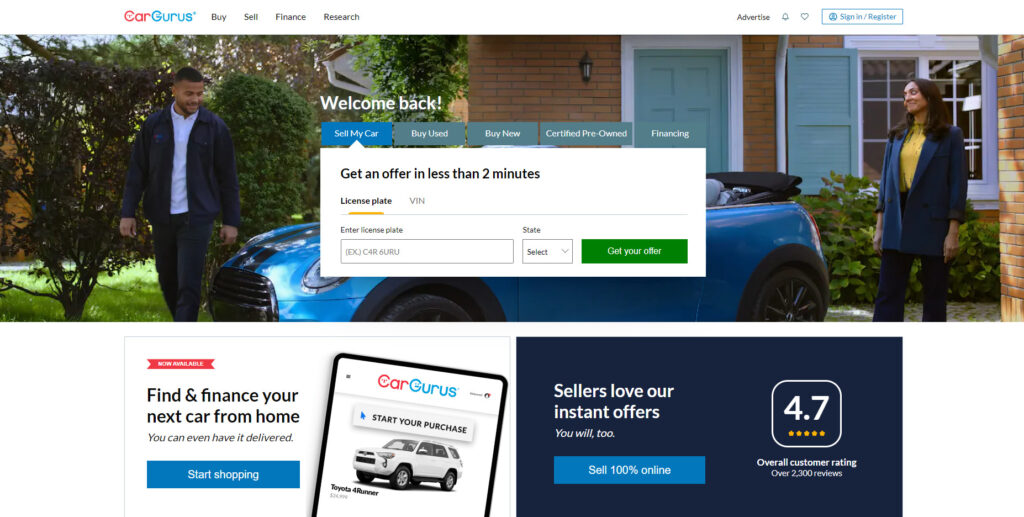 CarGurus Canada deserves recognition for its easy-to-use website, lessening the hassle of finding a used car that meets your specific needs. You can find a variety of new, used, and certified pre-owned cars with price ratings to know whether the listing is a fair deal or overpriced.
While the platform is available to use across Canada, its only drawbacks are a smaller inventory and a handful of unresponsive dealers.
2. AutoTrader
AutoTrader Canada is one of the most popular (and free) online automotive marketplaces where you can save money. The used car site in Canada rates the prices of its listings, indicating whether the car is priced below or above market value.
AutoTrader is available across Canada and is a good option for those who appreciate the extra help in finding used cars at fair prices. However, the website has sponsored ads and congested pages, which may make it challenging to navigate.
3. Kijiji Auto
You can find private sale vehicles and some dealerships advertising on Kijiji Auto. Most of the necessary information is provided on thumbnails, which makes it easier to compare your options and narrow down your options.
Unfortunately, Kijiji Auto's website design needs a bit of improvement, and the sponsored ads can be irritating.
4. Facebook Marketplace
Facebook Marketplace is an all-around platform where you can find private sale vehicles across Canada.
Other than its user-friendly interface, you can easily sift through car listings and check the private seller's reputation. That way, you can rest assured you are transacting with a legit and validated seller with great feedback.
5. CarDoor
CarDoor is an excellent platform where you can take advantage of various features, including an exchange program, a free 90-day warranty, and a 14-day money-back guarantee.
However, it is only available in the Greater Toronto area and will have a smaller inventory compared to other sites selling used cars for sale in Canada by owners.
6. Craigslist
Craigslist is another well-known website that sells more than just used cars, but a variety of products and services from private sellers. It is available across Canada and has a user-friendly interface, along with great car deals.
That said, there are hundreds to thousands of listings, many of them posted by unverified sellers. This can increase the risk of dealing with fraudulent sellers if you aren't careful.
7. Carpages
Carpages.ca works primarily with dealerships in big cities. Besides being an intuitive platform, you can enjoy a hassle-free purchasing process with "Buy from home" options and the ability to apply for financing online.
Despite Carpages being available to use across Canada, do note that there is limited inventory in more remote areas or smaller cities, so it isn't best for everyone.
8. Go Auto
Go Auto is a recommended used car site in Canada for its minimal to no fees, offering bad credit financing and 30-day exchanges on their vehicles.
However, it is limited to specific locations, including Alberta, British Columbia, Manitoba, Ontario, and the Northwest Territories.
9. Drive Axis
Drive Axis is a subsidiary of Axis Auto Finance, which is available in Ontario. The car-buying process is less of a hassle with this platform, as you can get pre-approved for financing and receive a 7-day return or exchange policy upon purchasing a vehicle.
Subscribe to our Newsletter!
Subscribe to get the latest personal finance news, offers, and our weekly newsletter. You can unsubscribe at any time.
Note that there are no private sales, and it is limited to the dealership network and those living in Ontario.
10. CarMonk
As the name suggests, Car Monk advertises itself as a platform where you can experience a "Zen-like" buying process with a customer-first approach within Ontario.
The platform uses a 172-point inspection on every vehicle it sells, so buyers are assured a vehicle that passes expectations. Moreover, CarMonk offers a 90-day warranty and a 7-day money-back guarantee if you are unsatisfied.
11. UsedCars Canada
This is an excellent used car website in Canada where you can find a wide selection of vehicles ranging from SUVs to heavy trucks.
Almost 2,000 dealers use the platform, with all listings including complete information and a calculator to determine your expected monthly payments over a specific period. You can also avail of financing via Trans Canada Finance once you're sure of purchasing a vehicle.
12. Clutch
Clutch is a popular used car site available only in Ontario and Nova Scotia, where you can finance and purchase cars online with ease. They are an online dealer that offers transparency when it comes to the vehicle's actual state and will offer financing for good credit.
The online dealer will deliver the used car to your home and allow you to test it for ten days, with the option to return it if you're unsatisfied. The drawbacks are a pricier warranty coverage and a prep fee for Halifax residents.
How Much Does a Used Car Cost in Canada?
According to the Price Index Report of New Vehicles by AutoTrader, the average used car price in Canada as of June 2023 is about $39,645. 
This is a 4.1% increase compared to last year, which means prices of both new and used vehicles continue to rise. The price increase may be due to low inventory levels and higher demand.
How to Buy a Car on a Used Car Website
Because purchasing a used car requires a substantial financial commitment, you need to make sure you are getting a great deal. Here are useful steps to buy a car online in Canada:
Consider important factors such as the purpose of purchasing a car, your budget, family size, the car's safety rating, mileage, fuel consumption, and other features you may want or need.
Determine your financing options. Do you plan on paying cash or getting a loan? Both have their pros and cons,
Choose the right used car website that fits your needs, such as those that offer useful buyer guides, finance and insurance tools, numerous listings, and ease of use.
When you've narrowed down your options, make sure you ask for a vehicle history report, warranty, and vehicle inspection. This will help you determine whether it's worth investing in the used car or if there is room for negotiation.
How to Sell a Used Car
Similar to purchasing your car, selling your car in Canada is a multi-step process. Here are basic steps to make things easier:
Determine your vehicle's value through the Kelley Blue Book. This is what will help you decide on an ideal selling price.
Prepare your vehicle before posting it. Clean your car, resolve any repair needs, and organize your vehicle's documents, such as its registration permit, service records, and a history report to present to potential buyers.
People selling their used cars in Ontario must order a Used Vehicle Information Package (UVIP), which is required for a smooth transaction.
Decide where to sell your vehicle, choosing to post listings on any of the used car websites in Canada mentioned above.
Post your listing. Make sure you use high-quality photos of your vehicle and include all necessary information like its make and model, kilometres, vehicle identification number, colour, engine size, transmission type, and driveline format.
Keep your phone lines open and answer potential buyers' queries promptly. You may need to arrange in-person visits and test drives as well.
Go through the negotiation process and close the deal.
FAQs
Does AutoTrader work in Canada?
Yes, AutoTrader works in Canada with its website and mobile app for car buyers and sellers.
What is the most reliable used car value site?
The most popular and reliable website to determine your car value is the Kelley Blue Book, which is used by those buying and selling cars.
What is the most used car buying site?
AutoTrader prides itself on being one of the largest used car marketplaces since 1997.
What is the best time to buy a second-hand car? 
The best time to buy a used car would be anywhere during the last four months of the year.