Everyone loves to save money at the grocery store, and with the current rising costs of food and commercial goods, it's no wonder why this is.
While it's easy to shop at the nearest store, sometimes saving money means searching for the cheapest stores (even if they are a bit further away). But you may wonder, what are the cheapest grocery stores in Calgary, AB?
In today's article, we're going over the top 7 cheapest grocery stores you can shop at in Calgary this year.
Cheapest Grocery Stores in Calgary
1. Giant Tiger
With 260 stores spanning every province besides BC and NL, Giant Tiger is one of Canada's leading discount grocery stores. Giant Tiger offers great deals and affordable everyday prices on everything from clothing to produce.
Giant Tiger offers price matching and sends out weekly flyers to those who want them. In addition, the chain also has a loyalty program that can help customers save money outside of the store.
The program is called GT VIP, and it gives members the ability to save money at restaurants and sporting events, as well as the opportunity to enter exclusive contests and sweepstakes.
2. Real Canadian Superstore
Real Canadian Superstore, also known as "Superstore" by many store-goers, has 121 locations across the country.
Like the other Superstores around the country, Superstore Calgary is known for its frequent deals and savings opportunities, as well as its popular loyalty program, PC Optimum.
While RCS offers different deals every week to the general population, it takes it a step further when it offers PC Optimum members personalized deals.
Using the deals via the app earns members points, which can then be redeemed for free groceries.
RCS is partnered with Shoppers Drug Mart and Esso, which means that, at those stores, every purchase earns the cardholder points that go toward the total points balance.
3. Walmart
Walmart is one of the most well-known discount retailers in Calgary and Canada as a whole. The chain is especially popular during the holiday season when Christmas deals are abundant.
Day to day, though, Walmart is a popular choice for those on a budget because it has frequent 2-for-$5, 3-for-$6, or 4-for-$10 deals.
Most of these deals are on items that are available in different flavours, which makes for easy mix-and-matching.
Walmart shoppers can sign up for the Walmart Rewards Mastercard to earn Walmart Rewards dollars. These can be redeemed for discounts and free Walmart products.
4. No Frills
No Frills can be found in every province (including Alberta) other than Quebec. Compared to other discount grocery stores, No Frills carries significantly fewer products — but what it lacks in number, it makes up for in terms of cost.
The products offered here tend to be much lower in price than they are at other stores.
No Frills shoppers can earn points using the same system as those who shop at Real Canadian Superstore, the PC Optimum card.
No Frills is loved by many due to its fair prices and extensive seasonal deals, with PC Optimum points members earning portions of their grocery bill back in points.
5. Save On Foods
Save On Foods is a great place to shop when it comes to buying fresh produce and bakery items in Calgary. The chain offers its store-baked breads and sweets for unbeatable prices.
Subscribe to our Newsletter!
Subscribe to get the latest personal finance news, offers, and our weekly newsletter. You can unsubscribe at any time.
In addition, Save On Foods has its own loyalty program, known as the More Rewards system.
Through this, members can earn points on each purchase that they can later redeem for money off of their grocery bill.
Points cardholders also have the benefit of saving while shopping, even without redeeming, since the store often has special offers for cardholders.
Offers might include something like "Save $2" or "2-for-$5".
6. The Grocery People
The Grocery People is a dual-purpose store that serves individuals and their families, other grocery retailers, and various businesses.
Founded in Alberta, this subsidiary of Federated Co-operatives Limited supplies produce to Co-ops in Alberta, Saskatchewan, Manitoba, and Northern Ontario.
At The Grocery People (TGP), you can purchase a single bottle of ketchup to take home, 4 crates of 6-packs of ketchup for your retail store, or a 1L container of ketchup for a function.
There are no membership fees to shop here, and the savings add up quickly.
TGP offers weekly flyers that advertise special sales on meat, produce, canned and dried goods, and various other useful products.
7. Costco
Paid membership-based and proudly serving every Canadian province, Costco is many Canadians' go-to retailer for bulk deals and big savings.
It is, perhaps, one of the best grocery stores in Calgary for buying wholesale products.
Upfront costs can be slightly higher at Costco, with most products costing anywhere from $12 to $20.
Though most of the more expensive products come in packs with multiple items, which translates to saving quite a bit of money in the long run.
Costco is an ideal place to shop if you're in the market for common medicines such as Tylenol, Advil, and Benadryl since they come in multipacks.
Although Costco does require shoppers to pay a membership fee, this cost is offset at the end of every year, when the store often sends members a rebate cheque.
This check can be applied to the next year's membership or be taken out as cash.
Related: How to earn cash back with a prepaid card.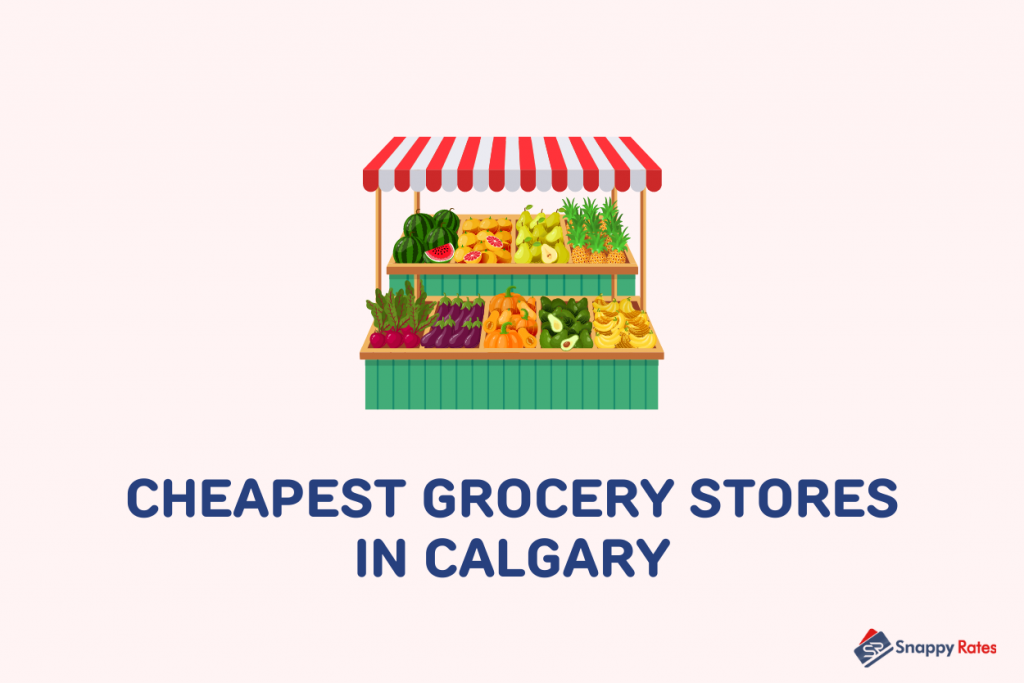 How To Save Money On Groceries
Although groceries can be expensive, there are several ways that you can cut a few dollars from your bill.
The suggestions we're about to give you are as simple as conducting some research or downloading a simple app onto your phone.
Coupons
Coupons are an old-school way of saving money. Today, you can find coupons online, at the store, and in the mailbox sometimes!
Coupons can cut anywhere from a few cents to a few dollars from your end total at the register.
When it comes to coupons, you may be tempted to attempt coupon stacking — that is, using more than one coupon at a time.
But unfortunately, coupon stacking isn't always possible in Canada, as most coupons specifically state that they can't be combined with other offers.
Loyalty Programs
Most loyalty programs have a system that allows their members to earn points or receive cash back.
It's because of this benefit that we'd highly recommend signing up for loyalty programs whenever you can.
With paid loyalty programs, you may think that paying the membership fee renders the savings you receive useless.
However, in the long run, paying a once per year membership fee can actually still prove to be incredibly beneficial — especially at wholesale box stores like Costco.
Cashback Apps
Cashback apps are external applications that can be downloaded onto your smartphone and allow you to earn money back when you go shopping.
Some apps like Checkout 51 or Caddle will give you offers and if you purchase the item in the offer, send you a portion of the cost back through points or real cash.
Other apps will reward you for sending photos of any and all receipts you may receive, rewarding you with a small amount of cash or points (which can then be redeemed for cash) each time.
There are various cash back apps available on both Android and iPhone devices — and the best part is that they are free to use.
FAQs
Which grocery store app is the cheapest?
Each grocery store with an app, has its app prices almost exactly matching its in-store prices. This means that what the cheapest grocery store app is will depend on what you're purchasing and at what store. 
What store has the cheapest food prices?
It's hard to say definitely which store has the best prices because each of the stores we discussed offers great deals on different products.  
Is Superstore cheaper than Walmart?
For items like seasonal produce, Superstore is cheaper than Walmart. For meat and office/school supplies, however, Walmart tends to be cheaper on average. 
Is it cheaper to have groceries delivered?
It is generally not cheaper to have groceries delivered. When you use a shopping center's home delivery service or a third-party service like Instacart, you're required to pay service fees.
The service fees go towards paying the store employees who have to gather your order when you use the in-store delivery service, and the individual who shops for your order when you use a third-party service. 
Which grocery store is most expensive?
The grocery store that is most expensive out of the stores we've covered is Save On Foods. While Save On Foods has a great rewards program and frequent deals, many of its products cost a bit more than the other stores.