Are you searching for ways to save while shopping in Canada?
Look no further than cash-back apps. They are designed to put money back in your pocket every time you make a purchase.
In this guide, we'll introduce you to the best cash back apps in Canada, covering everything from grocery cash back apps like Caddle to those that integrate savings like KOHO.
Best Grocery Cash Back Apps in Canada
1. Caddle
Caddle is a free app that offers cash back to Canadians for everyday purchases. After downloading the app and creating an account, users can begin earning cash back immediately.
They also offer a variety of activities, like completing surveys and watching videos, to help you increase your earning potential. This model allows you to tailor your experience to fit your lifestyle and make the most of your free time.
2. Checkout51
Checkout51 simplifies the cash back process by letting you simply upload their receipts through the mobile app or website.
Once verified, you will receive the corresponding cashback reward directly into their account. This seamless process saves you time and effort so that you can focus on enjoying your purchases.
3. PC Optimum
The PC Optimum is tailored specifically to the user. You can load offers, earn and redeem points, and manage your account all through the convenience of the PC Optimum app.
Also, by shopping with a PC® Mastercard® card, you can get up to 10% back in points in combination with the PC Optimum™ program. You can also redeem your PC Optimum™ points at special Spend Your Points events to get even more value.
4. Receipt Hog
Receipt Hog allows users to earn rewards by scanning their receipts while offering free membership. To accumulate points, simply scan your receipts after making a purchase from one of its partner stores.
There are three ways to earn rewards on the platform: spin-and-win games, surveys, and uploading receipts. This process encourages consistent participation, as every receipt becomes a potential source of rewards.
Best Canadian Cash Back Apps
5. KOHO
KOHO is a digital wallet offering instant cash back and a user-friendly app for managing personal finances. It combines cash back with a reloadable prepaid card and is available for download in minutes.
Features include a reloadable prepaid Mastercard, customizable spending and saving plans, and transparent pricing without hidden fees. By integrating these features, KOHO aims to enhance both savings and shopping experiences.
KOHO Prepaid Mastercard
Rewards: Earn 1% cash back on all grocery and gas purchases and up to 5% cash back at KOHO partners.
Welcome offer: Get a $20 welcome bonus after your first purchase.
Interest rates: N/A
Annual fee: $0
Recommended credit score:
On KOHO's website
6. Neo Financial
Neo Financial offers a mobile app for managing your finances. The app includes a reloadable prepaid Mastercard, allowing you to easily track your spending and save money.
You have the ability to earn cashback at participating merchants and earn interest on your savings at the same time. No monthly or annual fees apply to the card, which makes it an attractive choice.
Get a $25 bonus when you sign up.
Neo Financial Mastercard
Rewards: Earn up to 15% cash back at Neo partners and never fall below 0.5% average cash back.
Welcome offer: Get an extra 15% cash back on your first purchases at many Neo partners.
Interest rates: 19.99% to 26.99% for purchases, 22.99% to 28.99% for cash advances.
Annual fee: $0
Recommended credit score: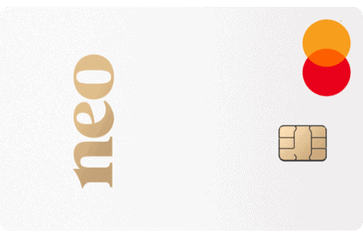 On Neo's website
7. Rakuten
Rakuten is a cashback platform that partners with online retailers to generate revenue. Members earn cash back by clicking through to retailers' sites from Rakuten.ca, and a portion of the commissions goes towards sharing cash back with members.
Additionally, members can earn referral bonuses by inviting others to join Rakuten. All of this is free to join and can be done through Rakuten's affiliate links while shopping.
New Rakuten members get a $30 bonus after making their first purchase of $30 or more.
8. Great Canadian Rebates
Great Canadian Rebates is a cashback shopping website that allows you to earn cashback on your purchases from over 900 well-known merchants. Simply visit Great Canadian Rebates first and proceed to your favourite retailers to earn cashback. 
Subscribe to our Newsletter!
Subscribe to get the latest personal finance news, offers, and our weekly newsletter. You can unsubscribe at any time.
You also earn cash for referring friends and family and receive payments of 25% of the cash back rebate that each of your referrals receives. Rewards are credited via direct deposit, PayPal, or e-gift cards.
9. Swagbucks
Swagbucks is an online platform where users can earn cashback on their purchases from over 1,500 retailers. They offer a variety of ways to earn cashback, including searching the web, watching videos, taking surveys, and making purchases. 
You can redeem your earned cashback via PayPal or gift cards. It is a great option for those looking to earn some extra cash passively while doing things they already enjoy.
Get a $5 sign up bonus.
10. My Points
MyPoints is a cashback shopping website that allows users to earn cashback on their purchases from over 1900 retailers. You can earn up to 40% cashback and get paid via gift cards, cash via Paypal, or travel miles.
It also offers other ways to earn points, like answering surveys and watching videos, giving you more options to save.
11. Capital One Shopping
Capital One Shopping is a browser extension and mobile app that helps users save money while shopping online. The tool searches for and applies available coupon codes to orders and compares prices across different retailers, helping you find the best deals to maximize your earnings.
Additionally, the service offers a rewards program that allows you to earn credits for each purchase made at participating retailers, which can be redeemed for gift cards.
12. Ampli
Ampli is a free cashback app that enables its users to earn cashback on their purchases from participating merchants just by linking their debit and credit cards to the app.
Additionally, Ampli has exclusive offers that enable you to accumulate even more cashback. But in order to redeem, you must accumulate at least $15 in cash back points before you can transfer it via Interac e-transfer into your bank account.
13. Drop
The Drop app simplifies earning rewards while you shop. By linking your bank cards and selecting from over 300 popular brands, you earn cash rewards with no receipt scanning required.
Additional points come from special offers and other earning programs. Accumulated points, each worth $1 per 1,000 points, can be redeemed for gift cards, including Amazon, Starbucks, and more. Rewards are delivered promptly, enhancing your shopping experience.
14. Brim
Brim is a cash back rewards program that offers cash back points on purchases made at participating merchants. Simply link your eligible credit or debit card to your Brim account to start.
Also, with the Brim Portal and App, users have control over their spending habits. They can monitor their monthly expenses, establish realistic budgets, and enjoy the convenience of browsing the extensive Brim Marketplace.
15. TopCashBack
TopCashback is an online rewards platform offering cashback on purchases from over 4,400 retailers. It is available both as an app and as a browser extension.
TopCashBack makes it easy to earn cash back on your purchases. Just sign up for an account, find the "Get Cashback Now" button when shopping, and get paid quickly via PayPal or bank transfer.
Some benefits of using this app include earning cash back on a wide variety of purchases, getting paid quickly, and having the ability to track your earnings and redemptions easily.
16. Mr. Rebates
Sign up for a Mr. Rebates account and browse the website to discover thousands of online retailers offering cashback bonuses. Simply search for the store you wish to shop from, click through, and make your purchase.
Mr. Rebates offers instant cashback on online purchases, allowing you to access your earnings right after each transaction. By quickly converting your rebate total into a payment, you can promptly enjoy your earned cashback for personal treats or to support your preferred lifestyle.
17. Sleek
Sleek is a free Google Chrome browser extension that offers cash back rewards and a one-click checkout experience while shopping online. You can earn up to 25% cash back at over 1,500 online stores with it. All you need to do is download the browser extension, sign up for an account, and start shopping. Sleek will automatically apply the cash back rewards to your purchase.
With Sleek, you can enjoy a seamless and hassle-free shopping experience while earning cash back rewards, all from the comfort of your own home.
18. Paymi
Paymi is a Canadian mobile app that offers cashback rewards for online and in-store purchases. By linking your debit and credit cards to the Paymi app, you can earn cashback on your purchases.
Once you make an eligible purchase, the cashback amount will be credited to your Paymi account. You can then choose to redeem your cashback as a statement credit, direct deposit, check, gift card, or merchandise. This flexibility ensures that you can choose the option that best suits your needs.
19. GasBuddy
GasBuddy is an app that provides real-time gas prices and coupons to help drivers save money. The app also offers a free Pay with GasBuddy program that allows members to save up to 25 cents per gallon on every fill-up.
Additionally, members can earn cash back in points that can be used towards gift cards. The Pay with GasBuddy card is linked to your checking account and will pull funds to cover your purchase every time you pump gas. Overall, GasBuddy is a useful tool for anyone looking to save money on gas.
20. Shopper Army
Shopper Army is a cashback rebate platform that operates in both Canada and the US since 2014. But cash back rewards were discontinued on August 31, 2022.
Despite this change, members can still earn rewards through alternative methods like testing products, writing reviews, taking surveys, and watching videos. Additionally, some members may receive free products or rebates for their purchases, making Shopper Army a valuable resource for budget-conscious shoppers.
Stores That Give Cash Back in Canada
Some Canadian stores do offer cash back on certain purchases. For example:
Costco: Customers who shop at Costco using the CIBC Costco Mastercard can earn 3% cash back on restaurant purchases and at Costco gas stations.
Walmart: While they don't offer traditional cash back, they do have their own rewards program that allows customers to earn points that can be used towards future purchases.
Staples: Offers 3.3% cash back on eligible purchases.
Best Buy: Provides 2.2% cash back on eligible purchases.
TopCashback: Partners with over 5,000 retailers in Canada, including big names like Amazon, Best Buy, Walmart, and Sephora, to provide cash back rewards to customers.
It's important to note that the availability and specifics of cash back offers may change over time, so it's always a good idea to check the store's website or mobile app for the most up-to-date information.
Additionally, some stores may require you to enroll in their loyalty program or sign up for a credit card to access cash back rewards.
FAQs
Does the Fetch app work in Canada?
Unfortunately, the Fetch app is currently available only in the United States.
Which app gives the best cash back? 
The answer varies based on your preferences and needs. Each app offers its unique benefits and deals.
Is there Venmo in Canada? 
No, Venmo is not available in Canada. However, alternatives like Interac e-Transfer are popular in Canada.
Where can I get unlimited cash back? 
While there's no app offering unlimited cash back, strategically using multiple apps can help you maximize your earnings.
Related: