Over the past few years, cryptocurrencies have emerged as a legitimate investment asset for your portfolio. Major tokens like Bitcoin and Ethereum have market capitalizations that are comparable to Fortune 500 companies.
If you want to start investing in cryptocurrencies in Canada, you'll need to sign up for a crypto trading platform. These crypto exchanges allow you to deposit fiat currencies or other cryptos and directly buy and sell crypto assets, similar to how we trade stocks.
When looking for a crypto trading exchange, it is important to find one that offers plenty of different tradable assets. It is also important to have lower trading fees and different options for depositing and withdrawing funds. Finally, due to the volatile and digital nature of the crypto market, it is also important to have strong site security to know your investments are protected.
In this article, we will walk you through the basics of choosing a Canadian crypto exchange to trade with. We will also review a list of the 15 best cryptocurrency exchanges in Canada for 2023 and discuss things like fees, assets offered, deposit and withdrawal options, and site security.
Best Crypto Trading Platforms in Canada
Here is the list of the top 15 crypto exchanges covered below:
CoinSmart
Newton
Shakepay
Netcoins
WealthSimple Crypto
VirgoCX
Binance
Coinbase
Bitbuy
NDAX
Coinberry
Crypto.com
MogoCrypto
Coinsquare
Bitvo
Note that all facts and figures are accurate as of September 2022.
1. CoinSmart
Coinsmart ($50 sign-up bonus) is a full Canadian cryptocurrency exchange available for investors in Canada and Europe. It is currently in the process of expanding to other regions, including Australia and Latin America. The company is based in Canada and is a publicly traded firm.
The platform is extremely easy to use and has various account levels for beginners and advanced crypto traders. For beginners, Coinsmart Smart Trade is all you'll need for a basic account. Coinsmart Advanced Trade is for experts who can trade $25,000 or more. This account level comes with a dedicated customer service rep and discounted fees. Finally, there is an OTC market for crypto whales wishing to make larger trades.
Coinsmart supports trading 16 of the biggest cryptocurrencies, including BTC, ETH, Solana, and Cardano. It is one of the only Canadian crypto exchanges that offers 24/7 customer support via a Zendesk live chat feature. Coinsmart provides industry-leading security and stores nearly all of its digital assets in offline cold storage. It accepts bank wire transfers, crypto transfers, and Interac e Transfers for deposits into your account.
This crypto exchange even offers enterprise and entrepreneurial solutions. Coinsmart has a SmartPay technology that allows businesses to accept payments from customers using cryptocurrencies.
Trading fees are important for crypto exchanges, and Coinsmart has a 0.20% fee on a single trade and a 0.30% fee on a double trade. There are various deposit and withdrawal fees, and some of the more relevant ones include a 6% fee for credit cards and a 1% withdrawal fee for fiat currencies. As always, network gas fees apply for crypto transfers.
2. Newton
Newton is a well-known Canadian crypto trading platform that was founded in 2018 and is based out of Toronto, Ontario. Newton isn't a full crypto exchange as there aren't any crypto trading pairs, and conversion can only happen from fiat to cryptos and vice versa.
It is impressive that Newton supports the trading of over 70 of the largest cryptocurrencies, including BTC, ETH, SOL, and Cardano. You can trade through the desktop app or the mobile app for both Android and iOS operating systems.
The platform is extremely simple to use, and Newton is always making enhancements. Like Wealthsimple Crypto, Newton has no fees for transactions, deposits, or withdrawals. However, it uses the bid-ask spread to take fractions off each trade made (up to 2%). One nice feature about Newton is that it will cover up to $5.00 in gas fees for any crypto network transfers.
Newton has some solid site security as it runs daily offsite backups and holds its crypto assets in institutional-grade offline cold storage vaults. The customer support is a little lacking compared to some of its rivals. Newton offers an AI-based chatbot as well as an FAQ guide, or you can find some help in the community on social media. Other than that, it's not the easiest site to speak with a live agent for support.
3. Shakepay
Shakepay ($5 bonus) is one of Canada's more established crypto platforms, having been founded in 2015 in Montreal. Shakepay has over 1 million Canadian users that have made over $7 billion in crypto transactions. This is a rather unique crypto platform in that it only offers the ability to convert fiat currency into Bitcoin and Ethereum.
This app is building more of a digital finance platform than a full crypto exchange. You can subscribe to the Shakepay Visa Debit card and even send cryptos or fiat to other Shakepay users via their @Shaketag. Shakepay also allows you to accumulate additional Bitcoin satoshis by logging into the app daily and 'shaking it'.
As with Newton and Wealthsimple, Shakepay does not have any trading fees or deposit or withdrawal fees. Instead, it also uses the bid-ask spread to earn revenues from trades (up to 3%). Regarding security, Shakepay stores its crypto assets in offline cold storage that is fully insured.
The app has decent customer support as long as you request help during Canadian business hours. You can use the chatbot, send a direct email, or reach out through social media platforms.
4. Netcoins
Netcoins ($25 bonus) is a Canadian-based cryptocurrency platform with new crypto traders as its primary audience. The company has a unique story as it started as a Bitcoin ATM company back in 2014. Since then, the platform has expanded to include 36 of the largest cryptocurrencies for trading, including BTC, ETH, DOGE, and SOL.
Subscribe to our Newsletter!
Subscribe to get the latest personal finance news, offers, and our weekly newsletter. You can unsubscribe at any time.
It was recently acquired by the publicly traded company BIGG Digital Assets (CSE:BIGG), which is dual-listed on both the Canadian Securities Exchange and the American OTC markets. Netcoins remains a simple crypto trading platform without advanced strategies like staking or NFTs.
This platform allows all of the best deposit and withdrawal methods, and its fee system is rather straightforward. Rather than a bid-ask spread, users will only pay a flat 0.5% transaction fee for every trade. There are no other fees for deposits or withdrawals of crypto or fiat currencies besides network gas fees.
Netcoins does provide some nice site support, including an AI-powered chatbot and an email address for direct support. Finally, Netcoins is secure as it holds crypto assets in offline cold storage and is insured by Bitgo. The site is also registered with FINTRAC to meet financial regulatory checks in Canada.
5. Wealthsimple Crypto
Wealthsimple ($25 sign-up bonus with $200 deposit) is a popular Canadian discount investing brokerage owned by the Power Corporation of Canada. Recently, the platform introduced its Wealthsimple Crypto division, which has been integrated directly into the Wealthsimple ecosystem. This app has been popular among younger and new investors as it boasts zero-commission trading fees for equities and crypto coins.
The platform is available on desktop and mobile apps and has been highly rated due to its simple and user-friendly interface. As of this writing, Wealthsimple Crypto offers up to 57 of the largest cryptos for trading, including BTC, ETH, SHIB, and MATIC.
Wealthsimple Crypto holds most of its assets in offline cold storage, as with most centralized crypto exchanges. This storage is held by GeminiTrust Company LLC and is insured for up to $200 million.
Wealthsimple prides itself on not having any explicit fees for deposits, withdrawals, or transactions. What it does do is take a bit off of each trade using the bid–ask spread. While this spread is only 1.5%-2.0%, it can end up being more than a fixed transaction fee if you are trading in higher amounts.
You can also read our review of the Wealthsimple Invest platform.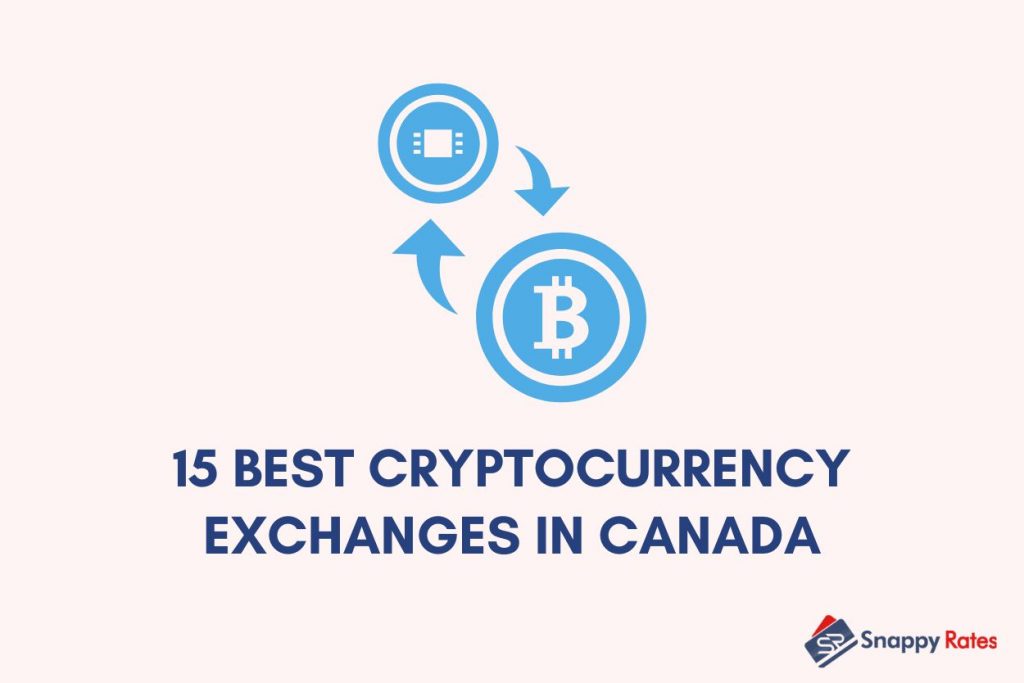 6. VirgoCX
VirgoCX ($30 bonus) is a Toronto-based exchange for Canadian crypto investors founded in 2018. While it might not be as well known as other crypto exchanges, VirgoCX offers a selection of 60 of the largest crypto tokens to trade, including BTC, ETH, SOL, and ADA.
The site offers plenty of options for different levels of crypto trading, from beginners to advanced traders. This includes lower fees, higher limits for advanced traders, and Virgo CX Wealth accounts for OTC traders and Crypto Whales. This service comes with your own personal account manager and a list of other exclusive features.
In terms of regulation and security, VirgoCX uses Coinbase Custody to store crypto assets which are insured for up to $1 million. The platform is also fully registered with FINTRAC and PIPEDA, so you can be certain that the company is legitimate.
Transaction fees are minimal on VirgoCX (up to 0.95%), with specific fees for each type of crypto traded. Fiat deposits and withdrawals do not have fees, but there are minimum values you must have to ensure a proper transaction.
7. Binance
In Canada, users use the global version of Binance, the world's largest crypto trading exchange, by daily trading volume. Binance is available to users in more than 140 countries and does over $2 billion in average daily transactions. To say Binance is the global leader in crypto trading is an understatement.
Binance is registered in the Cayman Islands but was founded in China and was headquartered there before the government banned crypto activities. The founder of Binance is Changpeng Zhao, or CZ for short. As a child, he lived in Vancouver, British Columbia and attended University at McGill in Montreal. CZ is undeniably one of the most powerful figures in the crypto industry.
The crypto selection for Binance is staggering. The platform supports the trading of more than 600 different tokens and even owns its own blockchain called the Binance Smart Chain, which is run by its native token, BNB. The BNB coin is valuable on Binance as it lowers transaction fees on the platform when you use it to pay fees. Like most major exchanges, Binance uses a maker-and-taker system for transaction fees and a proportional system for high-volume traders.
It's hard to bear Binance's support with 24/7 customer service in more than 40 languages. The platform offers all types of investment options from NFTs to staking to futures, derivatives, and liquidity pools. Binance uses state-of-the-art security to store crypto assets in offline cold storage and has real-time site monitoring around the clock.
8. Coinbase
Coinbase is the largest American crypto exchange and is neck and neck with FTX to dominate the US industry. The company is publicly listed and trades on the NASDAQ exchange. The platform has over 103 million registered users in over 100 different countries and offers a wide variety of trading options, including NFTs and staking.
The site has strong customer support, from toll-free phone numbers to direct chats and emails as well. Coinbase uses the maker and taker system rather than a bid-ask spread. The transaction fees are lowered the more you trade on the platform.
Since Coinbase is a US-based company, it does not accept Canadian deposit methods like Interac e-Transfer. Fiat currency withdrawals have associated fees, as do crypto transactions with potential network gas fees. You can trade more than 100 tokens on Coinbase, including BTC, ETH, SHIB, and DOGE.
Coinbase has the Coinbase Custody security system where it holds most of its crypto assets in cold storage and is insured. Cash balances are insured for up to $250,000 with FDIC as well. Coinbase prides itself on never being the victim of a major malicious attack by hackers.
9. Bitbuy
Established in Canada in 2016, Bitbuy is one of the more popular crypto exchanges in the country. It supports the trading of 25 of the largest cryptos, including BTC, ETH, SOL, and ADA. The site has more than 400,000 registered Canadians and is registered with FINTRAC and approved by the Ontario Securities Commission.
Bitbuy has something for everyone, whether you are a beginner or advanced crypto trader. It offers several different tiers of trading accounts, including Express, Pro, Corporate Solutions, and Private Wealth. It uses a bid-ask spread system for transaction fees (0.20% trading fee and other fees for deposits and withdrawals), which varies depending on your account type.
An impressive 99% of Bitbuy's crypto assets are held in cold storage offline and fully covered by insurance. Bitbuy even offers a Bitbuy API to enterprises seeking automated market data and trading activities.
10. NDAX
NDAX is a Canadian crypto exchange that was founded in Calgary, Alberta. The site offers both standard and OTC trading and is one of the only Canadian platforms to allow crypto staking. NDAX supports trading for more than 30 of the largest crypto tokens, including BTC, ETH, and SOL, as well as earning up to 12% when staking cryptos like ETH, ADA, and MATIC.
Rather than using a bid-ask spread, NDAX uses a flat transaction fee of 0.20% whether you are buying or selling. The site does not have any deposit fees, but it does have some restrictions and fees on withdrawals for fiat currency.
The platform is serious about security and holds about $5 billion in offline cold storage. It is also registered as an MSB or Money Service Business and abides by the regulatory framework of FINTRAC in Canada. NDAX offers a direct messaging function for customer support, although you must wait for a team member to reply once they are back in the office.
11. Coinberry
Coinberry is a Canadian crypto platform established in 2017 and already has more than 220,000 customers. The company was recently acquired by the publicly traded company WonderFi Technologies Inc (TSE:WNDR), which is backed by noted Canadian investor Kevin O'Leary and also owns Bitbuy.
The platform targets newer crypto traders, and its goal is to provide access to blockchain investing for everyone. Coinberry supports trading for over 35 different cryptocurrencies, including BTC, ETH, DOT, and ADA.
With a simple trading interface and apps for desktop, iOS, and Android, Coinberry is a registered Canadian brokerage establishing itself as a strong retail brand in the rapidly growing landscape.
12. Crypto.com
Crypto.com is one of the largest crypto exchanges in the world. The company was founded back in 2016 and is based out of Singapore.
As of 2022, the platform has over 50 million registered customers across 90 countries and has been featured in Super Bowl commercials. The company even purchased the naming rights to the home arena of the Los Angeles Lakers and Clippers.
Like its rivals Coinbase and Binance, Crypto.com offers a full platform of trading tools, including margin trading, staking, derivatives, and a Visa Debit payment system. It even has its own native token called CRO, which can be used for staking and other benefits on the site.
Crypto.com offers industry-leading security with 100% of its crypto assets being held offline in cold storage vaults that are insured for up to $750 million. Since it is a global platform, it also offers around the clock live customer support in multiple different languages.
As for fees, Crypto.com uses the typical maker and taker fee system that most larger exchanges use. One unique aspect to Crypto.com's system is that fees are based on the trading volume for the previous 30 days. Fees can also be lowered if you have CRO staked on the platform.
13. MogoCrypto
MogoCrypto is not what you'd refer to as a typical crypto exchange. In fact, the only cryptocurrency you can buy on Mogo is Bitcoin by depositing fiat currencies to your account. There is no staking or earning on the platform, just buying and holding Bitcoin for the long term. Mogo utilizes the crypto exchange Coinsquare to facilitate crypto trades.
The company itself is based in Vancouver, British Columbia and offers a suite of different investment opportunities outside of Bitcoin. You can access fiat loans, mortgages, credit score checks, and even equity investing through Mogo. Perhaps surprisingly, the company has over 1.6 million users in Canada across its various investment products.
Mogo is also focused on being the greenest way to purchase Bitcoin. Every time a transaction is made, Mogo offsets this energy usage by planting trees to absorb carbon emissions. It holds nearly all of its Bitcoin in offline cold storage and has a 1.0% transaction fee whether you are buying or selling Bitcoin.
14. Coinsquare
One of Canada's oldest crypto exchanges, Coinsquare, was founded in 2014 and has over 500,000 Canadian users on its platform. It supports up to 40 different cryptocurrencies for trading. Coinsquare is fully regulated in Canada and is one of the largest exchanges in the country.
As with other crypto exchanges, Coinsquare offers three tiers of accounts: Coinsquare Trade, Coinsquare Pro, and Coinsquare Wealth. Trade is the standard account, Pro is an advanced trading platform for high volume traders, and Wealth is an OTC service for crypto whales.
Coinsquare holds 99% of its crypto assets offline in cold storage and offers 24/7 support for users, which is rare in the Canadian crypto industry. Fees depend on which level of account you hold. The basic Trade account uses a bid-ask spread while the Pro account uses maker and taker fees.
15. Bitvo
The final exchange on my list is Bitvo, an Alberta-based crypto platform recently acquired by American crypto titan, FTX. It currently supports the trading of 11 cryptocurrencies, including BTC, ETH, and DOGE.
Aside from crypto trading, Bitvo does offer several other financial services, including a pre-loaded Visa Debit card called the Bitvo Cash Card. Like the Crypto.com and ShakePay Visa Debit cards, this connects directly to your account and allows you to spend with crypto assets.
Bitvo uses a bid-ask spread for transaction fees, with a 1.0% withdrawal fee for fiat currencies. The site will likely see more robust options and crypto trading once FTX invests some capital into the platform.
Summary of the Best Crypto Trading Apps in Canada
Here is a quick look at my top 5 crypto exchange picks in Canada:
| | | | | |
| --- | --- | --- | --- | --- |
| Exchange | Cryptos Supported | Fee System | Security | Customer Support |
| Coinsmart | 16 | 0.2% for Single Trade 0.3% for Double Trade | Offline cold storage for assets and MFA logins | 24/7 live support for users |
| Wealthsimple Crypto | 57 | Bid-Ask Spread 1.5%-2.0% | Offline cold storage held with GeminiTrust Company LLC | Email or virtual assistant 24/7, and business hours for live support |
| Newton | 70 | Bid-Ask Spread (up to 2%) | Offline cold storage and daily site backups | AI-powered chatbot or social media |
| Shakepay | 2 | Bid-Ask Spread (up to 3%) | Offline cold storage that is insured with multi-party approval access | Live chatbot for registered users |
| Netcoins | 36 | 0.5% per transaction | Limited mention of security. Netcoins is a custodial exchange and not a trading platform. | Email, phone, and live chat within business hours |
Methodology
The Snappy Rates team assesses the best crypto exchanges in Canada based on their coins list, trading tools, trading and transaction fees, security features, customer support, the company's reputation, and many other features. We carefully evaluate each crypto exchange's offerings, and our scoring methodology places more weight on each platform's overall value (50%). Based on our research, these are some of the best crypto exchanges, but they may not be right for you. Always do your own research and make informed financial decisions.
How To Choose The Best Crypto Exchange in Canada
When looking for the best crypto exchange in Canada, you should have a checklist of several things you are looking for:
How many cryptocurrencies are supported? While you may not want too many, you definitely want more than a handful.
How are the fees calculated? In my opinion, percentages and set maker-taker fees are better in the long run than bid-ask spreads.
Does the platform have good security and storage for its assets?
Crypto is a 24/7 market. Is there customer support available around the clock?
As you can see from my comparison table, Coinsmart checks off all of the boxes and is a great Canadian crypto exchange for both beginners and advanced crypto traders.
Is Crypto Trading Legal in Canada?
Yes! If you want to dabble in investing in cryptocurrencies, it is completely legal in Canada.
The CRA recognizes it as an alternative investment asset, so you do have to report any capital gains or losses on your income tax each year.
How Are Crypto Exchanges Regulated in Canada?
In Canada, crypto exchanges are required by law to register with FINTRAC, which stands for the Financial Transactions and Reports Analysis Centre of Canada.
They also need to abide by the regulations of the Canadian Securities Administrators and IIROC or the Investment Industry Regulatory Organization of Canada.
Cryptos are also considered a security asset, so any capital gains or losses will need to be reported to the CRA.
Pros and Cons of Crypto Exchanges
The first thing that any investor looking into cryptocurrencies needs to know is that cryptos are extremely volatile. As with any investment, do your due diligence and only invest what you can afford to lose.
Canadian crypto exchanges are typically easy to use with a number of different methods to deposit money, including Interac eTransfer and crypto transfers.
Since cryptos are completely digital, most trading is done through a desktop or mobile application.
Even crypto exchanges that advertise zero commission trading take a percentage of each trade from the bid-ask spread. Depending on how much you trade, you might be better off with a fixed transaction fee.
With that being said, this article should not be any sort of financial advice for investing in cryptos. It is simply an introduction to some of our choices for the best crypto trading platforms in Canada.
Conclusion
Despite their volatility, cryptocurrencies are now a part of the mainstream financial world, especially Bitcoin and Ethereum.
Crypto trading has grown beyond just buying and selling tokens. Now there is staking to earn interest and even buying NFTs on some of the larger exchanges.
There are plenty of choices for Canadian crypto investors. Our top choice from this article is Coinsmart because of its fixed transaction fee system, strong security, around-the-clock support, and variety of tokens supported for trading.
FAQ
What is the best platform in Canada to buy and sell cryptocurrency? 
Our top choice is Coinsmart because it checks off all of my boxes. It has transparent trading fees, plenty of options for trading, and great security and customer support.
Which crypto exchanges are not available in Canada? 
There are not many crypto exchanges not available in Canada. Some platforms like eToro, Venmo, and Cash App are currently unavailable in Canada. 
Which crypto exchanges have the lowest fees? 
Some exchanges will lower their fees if you have a high trading volume. This is why Pro traders and Whales receive lower trading fees than retail traders. Wealthsimple Crypto and Newton have no trading fees but do charge a bid-ask spread for each transaction. 
What is the best app to get crypto in Canada?
There are crypto trading exchanges and custodial exchanges which you can only use to buy cryptos and not trade them. There are plenty of apps for crypto trading in Canada, but my top 5 are Coinsmart, Wealthsimple Crypto, Newton, Netcoins, and Shakepay.