Wealthsimple Invest is a top robo-advisor in Canada that offers managed investment services. It allows investors to automate their investment activities and achieve their long-term investment goals with expertly designed, diversified portfolios.
Other Robo-advisors in Canada include QuestWealth, Justwealth, RBC InvestEase, and Modern Advisor, among others.
Unlike traditional wealth managers and advisers that offer manual investment advice at high fees, Robo-advisors automate the investment process to help investors put their money on autopilot at low fees, helping them to save time and cut fees.
You may be asking: Is Wealthsimple legit?
In this Wealthsimple Invest review, I cover how this robo-advisor works, its top features, investment products/accounts, other Wealthsimple products, pros and cons, and whether it is legit and safe.
What is Wealthsimple?
Wealthsimple Canada is a Toronto-based wealth management company that offers online investment services in Canada. It is owned by the Power Financial Corporation and has been in operation since 2014.
Currently, Wealthsimple Canada has over $15 billion in assets under management, and over 3 million Canadians use its services.
Top Wealthsimple products and services include:
Wealthsimple Invest
Wealthsimple Trade
Wealthsimple Crypto
Wealthsimple Cash
Wealthsimple Invest is great for hands-off investors who want to grow their money with a diversified portfolio to minimize risk and maximize rewards without getting involved in the everyday management of their investment accounts.
If you sign up for a Wealthsimple Invest account and deposit $500 or more, you get a $50 cash bonus.
How Does Wealthsimple Invest Work?
Wealthsimple Invest automates the investing process by allowing you to invest with a personalized portfolio of low-cost ETFs.
To start investing, you'll first need to open a Wealthsimple account, set your goals, and choose a risk profile.
Top Wealthsimple accounts to choose from include:
Tax-Free Savings Account (TFSA)
Registered Education Savings Plan (RESP)
Wealthsimple RRSP
Spousal RRSP
Locked-In Retirement Account (LIRA)
Non-registered personal account
Below is a step-by-step guide on how to open a Wealthsimple Invest account.
Click this link to sign up and create a Wealthsimple Invest account.
Once on the sign-up page, select Invest from the listed products/services.
Fill in the required details to complete your Wealthsimple Profile.
Choose a risk profile. You'll get matched with a personalized portfolio consisting of asset allocation that fits your risk category.
Choose an account to open, including TFSA, RRSP, and RESP. You can also transfer your investment account from another firm.
Then, deposit funds or set up regular automated deposits and watch your portfolio grow over time.
And just like that, your Wealthsimple account will be running in under 10 minutes. The dashboard is user-friendly and easy to use, but if you have any queries, you can reach out to their team of financial experts/advisors via phone, email, or Skype.
Wealthsimple Investing Strategy
The Wealthsimple Invest strategy is pretty simple and is designed to help you save time and fees. Instead of a human picking stocks and managing your portfolio, the platform employs powerful financial technology and innovation to automate the investing process.
You tell them about yourself, your financial situation and goals, and risk tolerance by answering simple questions.
Based on your information, they build you a smart, low-cost investing portfolio of ETFs, stocks, and bonds tailored to your financial goals.
Subscribe to our Newsletter!
Subscribe to get the latest personal finance news, offers, and our weekly newsletter. You can unsubscribe at any time.
Since the process is fully automated, it only takes minutes to get your portfolio running. Your portfolio trucks the broader market and is automatically rebalanced as your assets change in value.
The robo-advisor is also backed by in-house Wealthsimple investment experts, just in case you need to speak to a real human.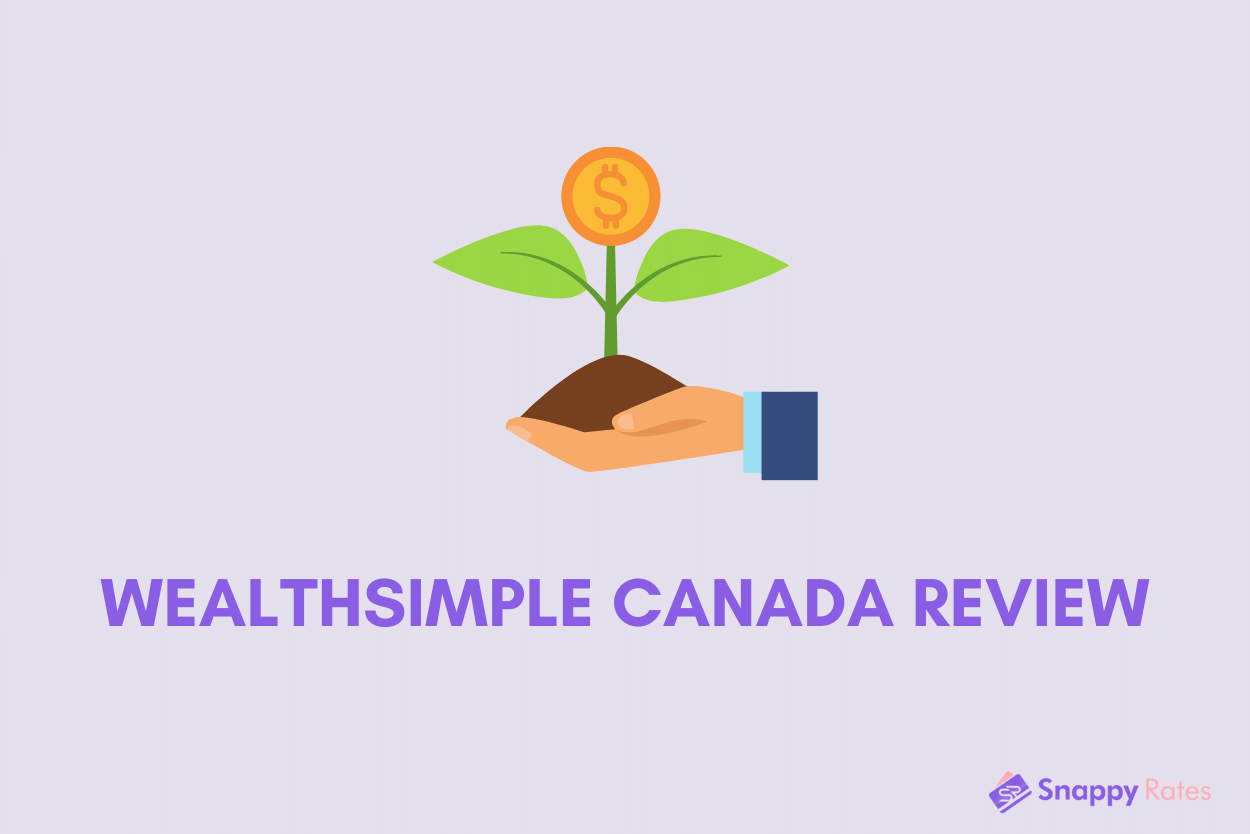 Wealthsimple Invest Top Features
No minimum investment: Start investing with as little as $1 with the basic plan.
Free financial advice: You get free financial advice from in-house Wealthsimple financial advisors via phone, email, or text.
Automatic deposits: Put your contributions on autopilot by scheduling automatic deposits to automate your investing.
Automatic rebalancing: Your account is rebalanced automatically as your assets change in value.
Personalized portfolios: You get matched with a customized investment plan that fits your financial goals and risk tolerance.
Automatic dividend reinvestment: Your dividends are automatically reinvested to continue compounding interest, with no action required on your part.
Socially Responsible Investing (SRI): Offers a portfolio of carefully screened companies for environmental and social impact to allow you to invest in socially responsible companies and build a better world.
Halal investing: This allows you to build wealth with a smart portfolio that aligns with Islamic law.
If you upgrade to the Generation plan, you also enjoy the following benefits:
Tax-Loss Harvesting: Wealthsimple experts help you through tax-loss selling so that you cut tax expenses.
Financial Planning Session: Wealthsimple experts take you through a full-service financial planning session.
Wealthsimple Portfolios and index funds
Wealthsimple Canada offers 3 basic types of managed investment portfolios, including:
Conservative: 30% stocks / 70% bonds
Balanced: 50% stocks / 50% bonds
Growth: 75-95% stocks / 10-25% bonds
To lower the risk, each portfolio type is diversified across index funds across US and Canadian markets.
Canadian portfolios consist of EFTs like VTI, VUS, XIC, ZFM, IEMG, XSH, ZHY, and IEFA, while US portfolios include index funds like VOE, MUB, VGK, VBR, VTI, BND, TIP, and DXJ.
Wealthsimple Invest Fees
Wealthsimple Invest offers a transparent, low-fee schedule, which is posted on their website for everyone to see.
There are no hidden trading or account transfer/admin fees. Their fees are quite low compared to what you'll pay when investing with traditional fund managers.
There are 3 investment plans, including Basic, Black, and Generation.
The fee you pay comes down to the minimum amount you want to invest. The fee is 0.5% for users investing between $1-$100,000, and 0.4% for those investing more than $100,000.
There's also a 0.1% expense ratio on ETFs, which goes into maintaining the EFT itself.
| | | | |
| --- | --- | --- | --- |
| Investment plan | Investment Amount | Annual Fee | Features/benefits |
| Basic | $1-$100,000 | 0.5% | Personalized portfolio, expert financial advice |
| Black | $100,000-$500,000 | 0.4% | Lower fees, health and estate planning benefits. |
| Generation | $500,000 plus | 0.4% | Lower fees, personalized financial reporting, health and estate planning benefits, and a dedicated team of portfolio managers. |
Other Wealthsimple Products
Wealthsimple Invest is a good fit for set-it-and-forget-it investors who want to automate everything, from deposits and rebalancing to dividend reinvestment.
If you are an active, self-directed investor who wants to take control of your investment game, Wealthsimple offers other products that will help you achieve that.
They include:
Wealthsimple Trade
Wealthsimple Trade is a stock trading app that offers commission-free trading of thousands of stocks and ETFs across Canada and US markets.
The platform is accessible via the web and the Wealthsimple app. It offers basic trading features and tools to allow self-directed investors to take control of their investment game.
There are no trading fees or deposit/withdrawal fees, but you will incur 1.5% FX fees on US trades or $10/month when you subscribe to Wealthsimple Plus.
That said, Wealthsimple trade doesn't offer advanced trading features/charting tools. Thus, it only works well for beginners or buy-and-hold investors.
Wealthsimple Crypto
Wealthsimple Crypto is a crypto trading app that offers a simple and secure way to trade cryptocurrencies through a non-registered, personal account.
It was launched in 2020 as part of the Wealthsimple Trade app to allow users to access and trade crypto, stocks, and ETFs in one place. Currently, the platform supports 50+ cryptocurrencies.
Instead of charging extra trading fees, Wealthsimple Crypto applies a bid-ask spread of 1.5%-2% on buy/sell orders when trading crypto on the platform.
Wealthsimple Cash
Wealthsimple Cash is a peer-to-peer mobile payment app that enables you to send/receive money from friends and family. It also enables peers to split bills.
There's also the Wealthsimple Visa card that enables you to spend your funds hassle-free and earn 1% back in stocks, crypto, or cash on eligible in-store, in-app, and online purchases.
Wealthsimple Tax
Wealthsimple Tax is an online tax platform that offers you a quick, simple, and cheap way to file your taxes with a guarantee of getting the maximum refund you're owed.
Is Wealthsimple Legit and Safe?
Yes, Wealthsimple is a legit and safe investment firm in Canada that has been in operation since 2014. It employs bank-grade security measures to safeguard users' funds.
Wealthsimple is regulated by the Investment Industry Regulatory Organization of Canada and is a member of the Canadian Investor Protection Fund (CIPF), which protects your account to specific limits in the event of bankruptcy.
It also employs state-of-the-art data encryption to protect your account details and 2-factor authentication to protect your account from unauthorized access.
Plus, Wealthsimple enjoys powerful backing of $380M in investment from top financial institutions, including the Power Financial Corporation and Allianz.
Pros and Cons of Wealthsimple
Pros:
No minimum investing
Lower fees compared to fund managers
Multiple account types
SRI and Halal portfolios for value investing
Free deposits/withdrawals
Free financial advice
Multiple investing platforms to allow users to invest in stocks, ETFs, and crypto in one place
Managed Investing to put your money on autopilot and invest for the future
Cons:
Doesn't offer advanced trading features/charing tools to active investors
FX fees on US trades
Limited investment products and accounts when using the Wealthsimple Trade app
How Does Wealthsimple Make Money?
Wealthsimple offers commission-free trading and doesn't charge deposit/withdrawal fees or any extra admin/account transfer fees. That leaves many wondering how the platform manages to offer high-quality services at low fees.
There are several ways through which Wealthsimple makes money, including:
1.5% FX fees on US trades or $10/month for Wealthsimple Plus Subscribers on Wealthsimple Trade
1.5%-2% bid-ask crypto spreads on Wealthsimple Crypto
0.4%-0.5% portfolio management fee on Wealthsimple Invest
Wealthsimple promotions
If you sign up for a Wealthsimple Trade account and deposit $150 or more, you get a $25 cash bonus.
If you open a Wealthsimple Invest account and deposit $500, you get a $25 cash bonus.
Wealthsimple vs. Questrade and other Robo-Advisors
The table below compares how Wealthsimple compares with QuestradeWealth and other Robo-Advisors, including RBC InvestEase, ModernAdvisor, JustWealth, and BMO SmartFolio.
| | | | | | | |
| --- | --- | --- | --- | --- | --- | --- |
| | Wealthsimple | QuestWealth | RBC InvestEase | ModernAdvisor | JustWealth | BMO SmartFolio |
| Accounts | TFSA, RRSP, LIRA RESP, RRIF, non-registered accounts (personal, joint, Corporate) | TFSA, RRSP, LIRA, LIF, RRIF, non-registered accounts (Individual, Joint, Corporate) | TFSA, RRSP, non-registered investment account | RRSP, RESP, TFSA, RRIF, LIRA, non-registered accounts | RRSP, RESP, TFSA, LIRA, LIF, RRIF, non-registered accounts | TFSA, RRSP, RESP, RRIF, RDSP, LIRA, LRIF, non-registered accounts, corporate and non-personal accounts. |
| Fees | 0.4%-0.5% | 0.20%-0.25% | 0.5% | 0.35%-0.5% | 0.4%-0.5% | 0.4%-0.7% |
| Minimum investment | None | $1000 | $100 is required to start investing | $1000 balance is required to begin investing | $5,000 | $1,000 |
FAQs
Is Wealthsimple good for beginners?
Yes, Wealthsimple is great for beginners. It offers an easy-to-use interface with basic trading features and a beginner-friendly Wealthsimple Invest dashboard.
How does Wealthsimple make money?
Wealthsimple makes money from FX fees of 1.5% on US trades, up to 2% bid-ask crypto spreads, and Wealthsimple Invest annual management fees of 0.4%-0.5%.
What is the difference between Wealthsimple Invest and Trade?
Wealthsimple Invest is a Robo-Advisor that offers managed Investing services at an annual fee. It is great for conservative, hands-off investors who want to build wealth using the set-it-and-forget-it strategy.
Wealthsimple Trade is a stock trading app that offers commission-free trading. It offers basic trading tools and is great for self-directed investors looking to trade and manage their investment accounts on their own.
How do I deposit money into Wealthsimple?
Below is a step-by-step guide on how to deposit money into Weathsimple using the Wealthsimple app:
– Sign in to the Wealthsimple app 
– Tap the Move tab at the bottom of the screen
– Choose Add funds
– Tap From to select the account to withdraw from
– Tap To and select a Wealthsimple account to deposit to
– Enter the deposit amount and tap Continue
– Review the details and hit Submit deposit
– Then wait for your deposit to clear in five days