Save on travel costs by using Hopper, a free-to-download travel app for iOS and Android that you can use to find the best deals and secure the best prices on flights and hotels.
With its price-tracking functionality, Hopper sends alerts for price drops in flights, compares prices across different airlines, and provides a price calendar showing the best days to fly for the cheapest airfares.
You can also get up to $50 in travel savings through a Hopper app promo code, such as joyf1mjs. Learn more below.
Main Highlights
Sign up at Hopper using Hopper app promo code joyf1mjs to get $25 off flights and hotels.
Get extra Carrot Cash after joining and booking your first hotel or flight.
Earn travel credits whenever someone signs up at Hopper using your promo code.
Earn Carrot Cash when you make bookings and through referrals.
Use the price freeze feature to freeze prices on flights, hotels, and car rentals until you are ready to book.
Hopper Promo Code for September 2023
Hopper Promo Code for September 2023: joyf1mjs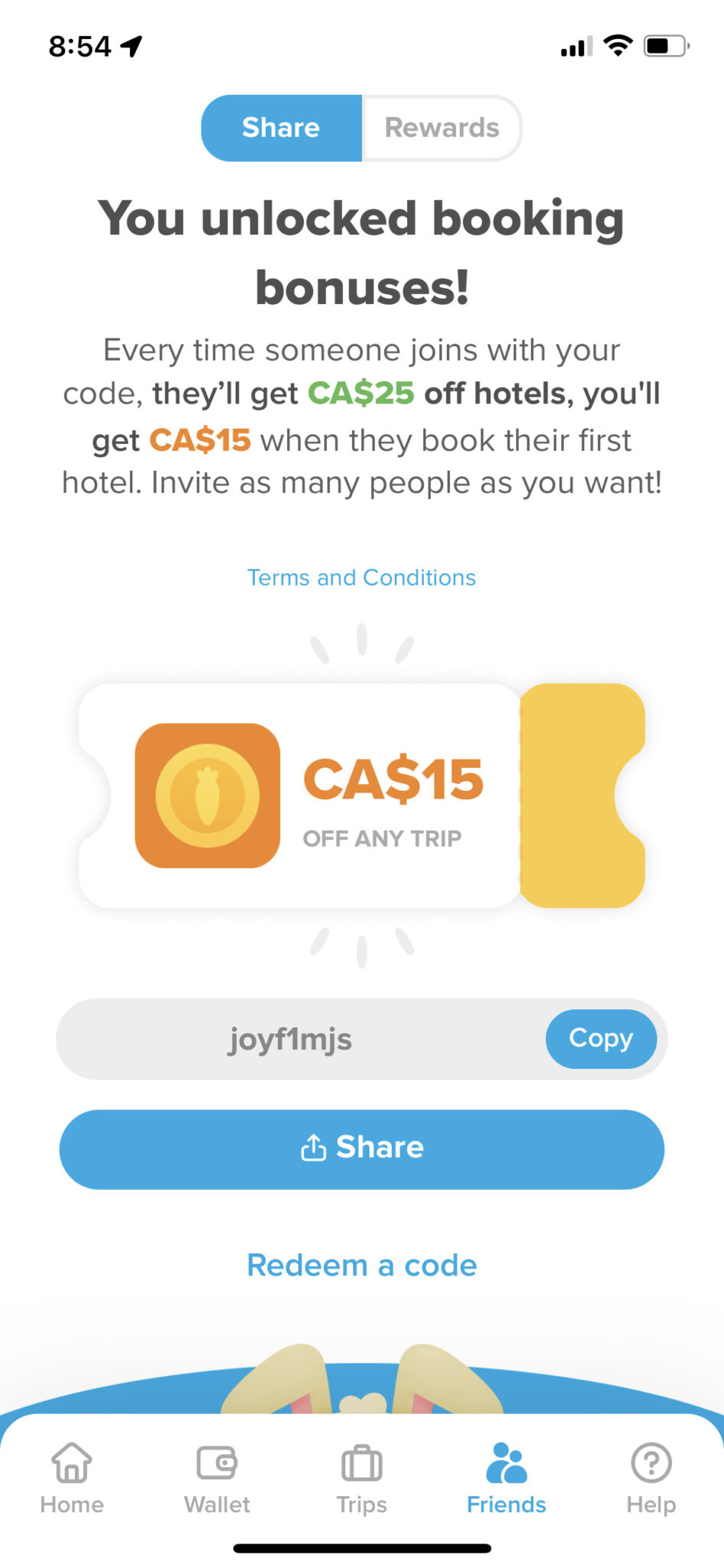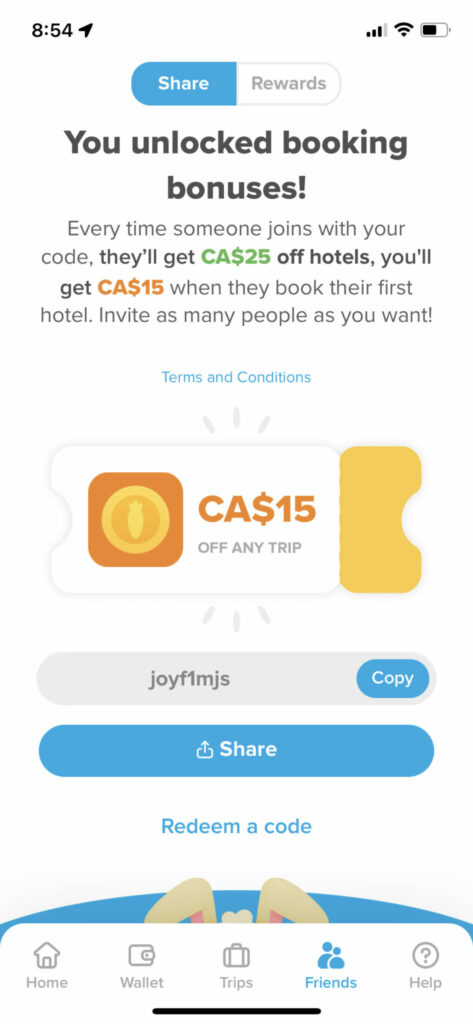 How it Works:
1. Sign up at Hopper and enter the promo code joyf1mjs to get $25 off your next hotel booking (the code applies automatically with the link).
2. Invite family, friends, and contacts to join Hopper.
3. Every time someone signs up with the given Hopper referral code, you get $25 off your hotel bookings.
4. Those who sign up using the promo code also enjoy $25 when they book their first hotel.
How to Use a Hopper Promo Code
To use a Hopper promo code, follow this procedure:
1. Find the promo code you want to use.
2. Click "Copy code."
3. When you are ready to check out, click "Checkout" or "View Cart" to be taken to the payment page.
4. Find the promo code box and paste the code you copied.
5. Click "Apply" to use the discount towards your booking.
What is Carrot Cash?
Carrot Cash is Hopper's in-app travel credit exclusively available in the Hopper app. It is a temporary incentive provided to customers for loyalty and promotional purposes.
You can obtain Carrot Cash when you book hotels, homes, flights, and car rentals. Another way to earn is through other in-app activities like referrals, special offers, etc.
Every Carrot Cash you earn is equivalent to US$1 in travel credit, which you can apply to future Hopper bookings for flights, hotels, homes, and car rentals.
You can redeem Carrot Cash on travel bookings paid in advance on Hopper and towards the base cost of the booking.
When you sign up with Hopper using a unique link, add your referral as your first friend to earn $25 in Carrot Cash, which you can use on hotels, flights, cars, and more.
Is the Hopper Referral Program Legit?
The Hopper Referral Program is a legit program that lets you earn travel credits for your next trip. Over 75 million travellers have downloaded the app on their iOS and Android smartphones.
Subscribe to our Newsletter!
Subscribe to get the latest personal finance news, offers, and our weekly newsletter. You can unsubscribe at any time.
To use the referral program, download the app and follow these steps:
1. Launch the Hopper app.
2. On the menu, find the "Invite" button and tap. On the Hopper home screen in the main menu, it is the envelope-and-coin icon.
3. Share your referral code (or QR code) with your friends by scanning or sending them your code, which they can input into the app.
Hopper Overview
Hopper is an online travel agency that monitors the prices of airline tickets, hotel rooms, and car rentals.
The app assists travellers in finding the best prices on flights and hotels by providing predictions on fares and nightly rates.
Launched in 2014 as a free app that predicted the cheapest time to fly, it now has new features that enable clients to pay an extra fee (typically 10% to 20% of a ticket's price) to freeze the rate of a flight up to 20 days.
Hopper uses and analyzes information their data science team collects and shares it with their customers through intuitive predictions.
The app notifies customers when prices are at their anticipated lowest points so they can make bookings right from their smartphones.
How Does Hopper Work?
Below are the steps when using Hopper to find cheap flights, hotels, and car rentals.
Hopper Flights
1. Open the Hopper app and log in to your account.
2. Click the "Flights" button.
3. Enter the flight details. A calendar with colour-coded dates will appear and show the cheapest times to book a flight.
4. Select the departure and return dates, if applicable. The lowest prices will be shown, with the app providing tips if the rate will increase or decrease in the future.
You can use the "price freeze" feature and pay a deposit.
You can also hold off and wait for a notification for fare drops.
5. If you find the rate suitable, book the flight in the app.
Hopper Hotels
1. Open the Hopper app and log in to your account.
2. Click the "Hotels" button.
3. Enter the requested information and set filters, if applicable. A calendar will appear with dates colour-coded based on the nightly rate.
4. Pick your arrival and departure dates to generate hotel options with matching information, nightly rates, and maps. Hopper will inform you whether to wait to book or to book now.
5. If you want to wait for prices to decrease, choose the "price freeze" feature.
6. If you see a hotel deal you like, book it using the app.
Hopper Car Rentals
1. Log in to the Hopper app.
2. Select "Cars."
3. Enter the required information.
4. Choose rental car pick-up and drop-off dates.
5. Provide pick-up and drop-off times.
6. The results based on the information you provided will be displayed.
7. Using the app, reserve the car you want to rent.
8. If you find a rate you like but do not want to book yet, pay the fee to freeze the rate.
Note: If you use the price freeze feature but do not push through with the booking, the payment you made will be forfeited.
Hopper Price Freeze
If you are not yet ready to book a deal you find on Hopper, it allows you to freeze prices for a small fee. Hopper gives you 20 days to decide if you want to book a deal or not.
Once you set a price freeze on the flight, hotel, or car rate, you only pay for the rate you freeze even when the price increases. But if it decreases, you can take advantage of the lower rate.
In essence, the price freeze fee you pay acts as an initial payment, and once you book the item, it will be as though you froze the rate for free.
Pros and Cons of the Hopper App
Pros:
100% free to use
Highly discounted prices
Easy to use
Saves you time finding the best travel dates and rates
Saves you up to 40% on flights and hotels
Notifications of low prices
The ability to freeze prices (for a small fee)
Offers Hopper referral bonus
Cons:
Hopper is not available on your laptop or desktop computer.
You can book flights or car rentals on the app only.
All booking changes are only doable via Hopper.
Making changes to bookings and cancellations can cause problems.
There are complaints of wrong information added to bookings and reservations.
Customer service may be hard to reach.
Conclusion
Be among the millions of travellers who save money on travel. Find and secure the best prices on flights, hotels, and car rentals with the simple use of the Hopper app.
With Hopper, you do not only get tips on the best times to book. You also get added perks like the price freeze feature and Carrot Cash.
The Hopper referral program also lets you earn travel credits, giving you more chances to save on your travels.
FAQs
Does Hopper have a referral bonus?
Yes. The Hopper referral bonus is available through Hopper's referral program. Every time someone joins Hopper using your referral code or link, you earn travel credits for your next trip.
How is Hopper cheaper?
Hopper is cheaper in that it can collect various data and use it to find the cheapest flights, hotels, and car rentals. Plus, it enables users to freeze the lowest rates they can find on the app.
How can I get the referral code?
Sign up with Hopper to get your unique Hopper referral code. Set up and create an account using a valid mobile phone number. When you finish signing up, find your referral code and link by tapping the "Invite friends, earn cash" banner.
Is booking through Hopper reliable?
Yes. Hopper is an accredited travel agency and has been operating since 2009. Booking through the Hopper app has helped millions of clients connect with airlines, hotels, and car rental companies.
Related: