Canadian Tire's Triangle Mastercard and Triangle World Elite Mastercard make it much more interesting and rewarding to shop at their stores.
They offer Canadian Tire Money when you make eligible purchases and simplify the process for financing these purchases at a 0% rate.
This Triangle Mastercard review covers its benefits, downsides, and how the Triangle Rewards program works.
Triangle Mastercard Features
Annual fee: $0
Up to 4% in CT Money
Interest rates: 19.99% – 27.99%
Interest-free grace period: 21 days (26 days in Quebec)
Foreign currency conversion: 2.5%
Welcome bonus: Not applicable
Minimum income requirement: Not applicable
Triangle Mastercard Benefits
The main benefit of the Triangle Mastercard is that you collect Canadian Tire Money (CT Money) when you pay for purchases using the card.
Purchases at Canadian Tire and its affiliated stores (Sport Chek, Mark's, Atmosphere, Hockey Experts, Party City, etc.) earn a pre-tax 4% cash back.
If your shopping list often brings you to Canadian Tire, the cash back rate is pretty good.
When you buy groceries at any store (excluding Costco and Walmart), you collect 1.5% cash back in CT Money.
For gas purchases at Gas+ and participating Husky stations, you earn 5 cents per litre. For all other purchases, the cash back rate is 0.50%.
Other benefits of this card are:
0% financing for 24 months: When you spend $150 or more on qualifying purchases in-store and online, you can finance it and make 24 equal monthly payments. For example, a pre-tax purchase of $150 can be financed, resulting in 24 monthly payments of $6.25.
No-Receipt Returns: If you paid with your card, you can easily return items even if you have lost your receipt.
Member-Only Offers: Triangle Mastercard cardholders get opportunities throughout the year to earn bonus Canadian Tire Money. Simply activate the offer on the Triangle App to have the CT Money you have earned automatically applied to your account.
Easy Application: This card does not have a minimum income requirement which makes it an entry-level card you can easily qualify for with a good credit score.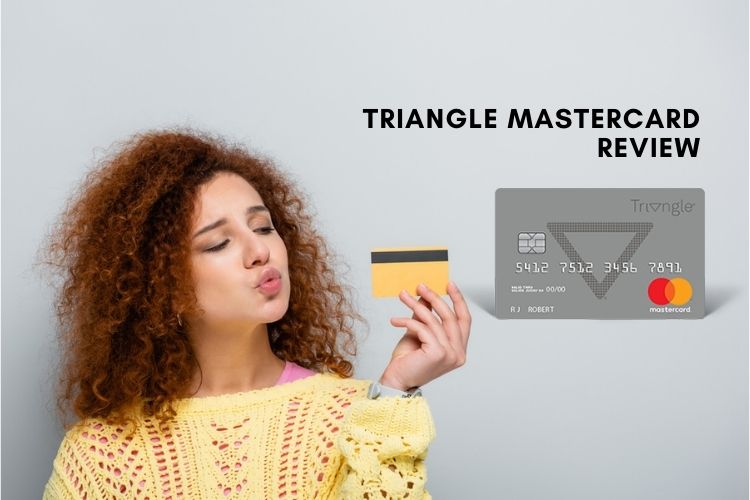 Triangle Mastercard Downsides
The Triangle Mastercard has some downsides that may impact your decision to add it to your wallet.
Low Cash Back Rates Outside Canadian Tire: Other purchases outside of Canadian Tire stores and groceries only earn at a 0.50% rate. If you rarely shop at Canadian Tire or have a better grocery credit card, the Triangle Mastercard may not be worthwhile.
Limited Redemption Options. You can redeem CT Money at only the following stores:
Canadian Tire
Sport Chek
Atmosphere
Sport Rousseau
Hockey Experts
Participating Mark's/L'Equipeur and Sports Experts stores
CT Money can't be redeemed elsewhere.
No Insurance Coverage: This card does not offer basic insurance benefits such as extended warranty or purchase protection coverage.
Triangle Mastercard Fees
The Triangle Mastercard does not have an annual fee.
That said, typical credit card fees may apply depending on how you use the card.
Subscribe to our Newsletter!
Subscribe to get the latest personal finance news, offers, and our weekly newsletter. You can unsubscribe at any time.
Some fees to watch out for include the following:
Cash advance fee: $4
NSF: $25
Copy of a statement: $2
Foreign currency conversion fee: 25%
Interest rate fees also apply when you carry a balance.
The regular purchase rate is 19.99%, and it is 22.99% for cash advances and balance transfers. If you are a resident of Quebec, the rates are 19.99% and 21.99%, respectively.
Applicants who do not qualify for the regular rates may be approved for the Triangle Mastercard, with rates ranging from 25.99% to 27.99%.
Triangle Rewards Program
All shoppers at Canadian Tire stores can earn CT Money by signing up for the Triangle Rewards program.
You don't need to have a Triangle credit card to join.
Using your Triangle Rewards card or by scanning with the app, you earn 0.4% CT Money on purchases at participating stores and 3 cents per litre when you purchase gas at Gas+.
These are the base earn rates. If you pay with a Triangle credit card, you earn the higher cash back rates offered by the card.
$1 in CT Money is equivalent to $1 in free stuff, and you can redeem CT Money in-store.
The Triangle Rewards app is available on the App Store and Google Play Store.
While most purchases at Canadian Tire earn CT Money, the following merchandise are not eligible:
Gift cards
Lottery tickets
Hunting and fishing licenses
Prepaid cards
Tobacco products or alcohol
The list above is not exhaustive. Visit the Canadian Tire website to get more details.
Alternative No-Fee Credit Cards
Depending on your shopping habits and needs, the Tangerine Money-Back Mastercard or PC Financial Mastercard are excellent alternatives.
Both cards do not have annual fees.
The Tangerine Money-Back Credit Card offers up to 2% cash back on purchases and includes extended warranty and purchase protection coverage.
Tangerine Money-Back Credit Card
Rewards: Earn up to 2% unlimited cash back in up to 3 spending categories and 0.50% on all other purchases.
Welcome offer: Get an extra 15% cash back on up to $1,000 in spending in the first 2 months ($150 value).
Interest rates: 19.95% for purchases, balance transfers, and cash advances.
Annual fee: $0
The PC Financial Mastercard pays 10 PC Optimum points per $1 spent at Loblaw stores (25 points at Shoppers Drug Mart), 30 points per litre at Esso/Mobil gas stations, and 10 points per $1 spent everywhere.
Is The Triangle Mastercard Worth It?
The Triangle Mastercard can help maximize your CT Money earnings when you spend at Canadian Tire.
If you usually shop for groceries outside of Costco and Walmart, the 1.50% grocery reward rate is excellent.
If your annual provincial income is $80,000 or more, you could opt for the Triangle World Elite Mastercard instead to increase your overall rewards.
Triangle Mastercard FAQs
What credit score do you need for the Triangle Mastercard?
Canadian Tire Bank does not specify a minimum credit score to qualify for this card. However, your chances of getting approved are better with a good credit score.
Can I use my Triangle Mastercard anywhere?
You can use your card to pay for purchases anywhere Mastercard is accepted.
Can I use my Triangle Mastercard at Costco?
You can pay for purchases at Costco using the Triangle Mastercard. Instead of a 1.5% reward rate for groceries, you earn 0.50% instead.
Related: