Simplii Financial's high-interest savings account rates often beat what's being offered by the big banks.
And, if you take advantage of a Simplii savings account promotional interest rate, you could earn up to 300x what some banks are offering for a limited time.
In this review, we summarize Simplii Savings Account products and where to find the best high-interest savings accounts in Canada right now.
What is Simplii Financial?
Simplii Financial is an online bank backed by the Canadian Imperial Bank of Commerce (CIBC). It was established in 2017 and offers several financial products, including:
Savings Account
Chequing Account
Mortgages
Personal Loans and Lines of Credit
Investment Accounts
As an online bank, Simplii clients can access their accounts via online banking and also have access to over 3,400 free ATMs in Canada.
Simplii Financial High-Interest Savings Account
The Simplii high-interest savings account offers some of the better savings rates in Canada at 0.40% to 5.5% (6.00% promotional).
This account has no monthly fees, and you can deposit as much money as you want, starting at $1. The interest rate is calculated daily on every dollar and paid out monthly.
You can send money from your savings account to other financial institutions by linking them to your Simplii account.
If you also have a free Simplii Chequing account, it is easy to move money from your savings to the chequing account and send unlimited free Interac e-Transfers.
Simplii Promotional Interest Rate 2023
Simplii clients opening their first high-interest savings account can take advantage of the promotional savings rate on offer in 2023.
The current offer pays a 6.00% interest rate on your savings balance for 5 months.
These promotional interest rate offers are often renewed throughout the year (rates and eligibility may differ), so check back if an offer has expired.
Related: Best Free Chequing Accounts in Canada.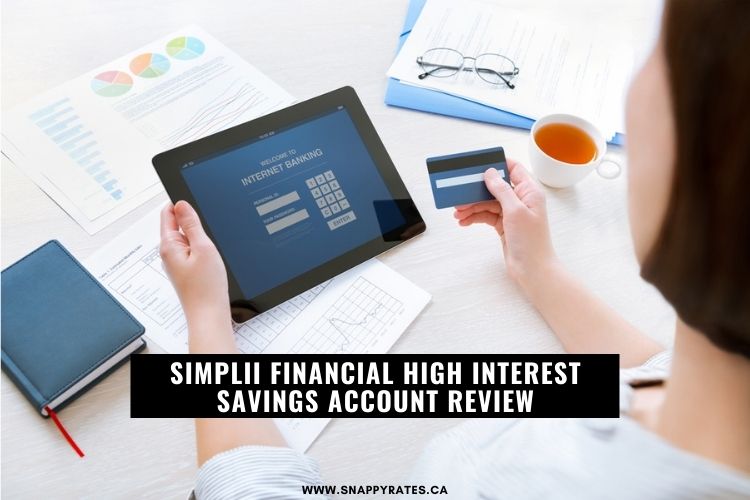 Other Simplii Financial Accounts
The following Simplii Financial accounts are worth checking out if you want to save money on your banking.
Simplii Financial No Fee Chequing Account
Save the monthly chequing fees when you open a Simplii Chequing Account.
It offers:
Unlimited debit purchase, bill payments, Interac e-Transfers, and withdrawals
No monthly fees
No minimum balance
Free withdrawals at CIBC ATMs
Access to international money transfer
CDIC protection
A Simplii chequing account also pays a small interest rate of 0.01% to 0.10% on your account balance.
As of this writing, you could earn a $400 bonus when you open a new Simplii No Fee Chequing Account and add an eligible direct deposit of $100 or more for three consecutive months.
Simplii Financial Cash Back Visa Card
This cash back credit card has no annual fees and offers cash back rewards as follows:
4% cash back when you spend on restaurant, bar, and coffee shop purchases
1.5% cash back on gas, grocery, and drugstore purchases
0.50% cash back on all other purchases with the card
The Simplii Financial Cash Back Visa Card also offers purchase protection and extended warranty coverage.
Subscribe to our Newsletter!
Subscribe to get the latest personal finance news, offers, and our weekly newsletter. You can unsubscribe at any time.
Simplii Financial Mortgages
It offers fixed-rate mortgages with terms ranging from 2 to 10 years. A mortgage pre-approval for 120 days is also available.
In addition to fixed-rate mortgages, Simplii offers a 5-year variable rate mortgage.
Simplii Financial Personal Loans and Lines of Credit
The following credit lines are available at Simplii:
Personal line of credit
Secured line of credit, and
Personal loan
Learn about the best personal loans in Canada.
Simplii Financial Investments
Simplii clients can open various investment accounts (both registered and non-registered).
Investment options include:
Registered Retirement Savings Plan (RRSP)
Tax-Free Savings Account (TFSA)
Guaranteed Investment Certificates (GICs)
Mutual Fund Accounts
High Interest Savings Accounts in Canada
The best savings account rates in Canada right now are offered by online banks.
Another good offer is:
EQ Bank
Owned by Equitable Bank, EQ Bank has more than $7 billion in deposits.
EQ Bank's Savings Plus Account has these features:
No monthly fees
2.50% non-promotional interest rate on every dollar
Unlimited free debits, bill payments, and Interac e-Transfers
No minimum balance
Simplii Savings Account FAQs
Is Simplii Financial Safe?
Yes, Simplii Financial is safe, and it offers a deposit guarantee of up to $100,000 because CIBC is a member of the CDIC.
How do I get $350 from Simplii?
When you open a free Simplii chequing account and meet the eligibility requirements, you get a $350 to $400 bonus.
Related