British Columbia's income assistance program provides a monthly benefit to individuals who need urgent financial help.
In this guide, we cover BC income assistance payment dates, eligibility requirements, benefit amounts, and how to apply.
If you are not yet signed up for direct deposit payments, you will also learn about the income assistance cheque dates in BC.
BC Income Assistance Payment Dates 2023
BC income assistance dates in 2023 fall on the following days:
| | |
| --- | --- |
| Income Assistance Date | Benefit Month |
| December 21, 2022 | January 2023 |
| January 18, 2023 | February 2023 |
| February 15, 2023 | March 2023 |
| March 22, 2023 | April 2023 |
| April 19, 2023 | May 2023 |
| May 17, 2023 | June 2023 |
| June 21, 2023 | July 2023 |
| July 19, 2023 | August 2023 |
| August 23, 2023 | September 2023 |
| September 20, 2023 | October 2023 |
| October 25, 2023 | November 2023 |
| November 22, 2023 | December 2023 |
| December 20, 2023 | January 2024 |
As you may have noticed, BC income assistance payments are issued a week or two in advance of the benefit month.
Income assistance payments for January are made in December of the previous year. If you qualify for BC PWD benefits, they are paid out on these dates as well.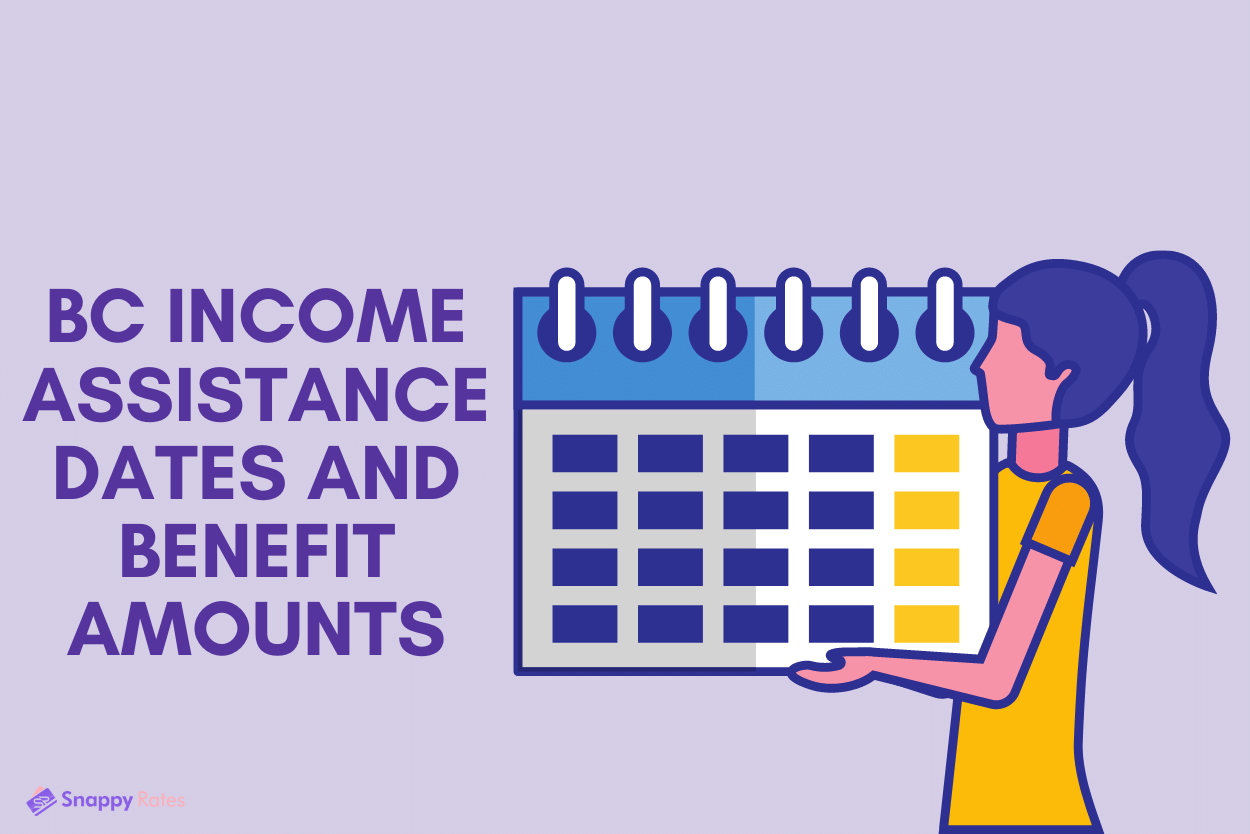 BC Income Assistance Cheque Dates 2023
Generally, income assistance benefits are deposited directly in your bank account on the dates specified above.
If you cannot receive payments by direct deposit, you can collect cheques instead by visiting your local Service BC office.
Income assistance cheques are sent a few days earlier and dated on the same day as direct deposit payments.
The income assistance cheque dates for 2023 (i.e. when you can pick up your cheque from the office) are:
January 16, 2023
February 13, 2023
March 20, 2023
April 17, 2023
May 15, 2023
June 19, 2023
July 17, 2023
August 21, 2023
September 18, 2023
October 23, 2023
November 20, 2023
December 18, 2023
What is BC Income Assistance?
Income assistance programs exist in all provinces, including Manitoba, Nova Scotia, Saskatchewan, etc.
These support programs are designed to provide a financial lifeline to individuals who are out of work or who require financial aid to support their basic needs.
Recipients of income assistance in British Columbia receive monthly income, access to medical and prescription coverage, and more.
They may also receive additional benefits from supplements that include coverage for expenses like clothing, bus passes, service dogs, transportation, and school supplies.
Who is Eligible for BC Income Assistance?
You could qualify for income assistance if you do not have a job or are earning income that is inadequate to meet your basic needs.
If you cannot work, general income assistance is also available, or you could qualify for disability assistance.
Lastly, income assistance is also provided to eligible individuals who need urgent access to food, shelter, or medical care.
While receiving welfare benefits, you will need to actively look for work. You can contact your local Work BC centre for help in finding a job.
A work search is not required in some situations.
For example, when you are fleeing an abusive spouse, are a single parent with a toddler, or aged 65+, have a disability, or can't legally work in Canada.
Subscribe to our Newsletter!
Subscribe to get the latest personal finance news, offers, and our weekly newsletter. You can unsubscribe at any time.
If you don't meet all the requirements for income assistance, but still have an urgent financial need, you may qualify for "hardship assistance". Call 1-866-866-0800 to ask about your options.
How Much is BC Income Assistance in 2023?
The maximum monthly income assistance benefit amounts are as follows:
If you are single: $935
If you and your spouse are both receiving assistance and have no children: $1,525
If you are a single parent with one child: $1,280
If you and your spouse are both on assistance and have one child: $1,720
Financial benefits may also be provided to cover these costs if you are eligible:
Bus pass
Camp fees
Clothing
Co-operative housing share purchase
Crisis supplement
Family maintenance
Funeral costs
Identification card fees
Moving, transportation, and living costs
School start-up
Security deposit, and more
Health coverage, supplements, and supports are available and include:
Alcohol and drug residential treatment
Dental coverage
Special diets and nutritional supplements
Extended medical therapies
Hearing instruments
Infant formula and supplements
Alternative hearing assistance
Medical supplies, and more
You can view the full list of supplements here.
How To Apply For BC Income Assistance in 2023
You can apply for BC Income Assistance online using the My Self Serve platform.
Walk-in applications at local Service BC locations are also available.
These offices are open Monday to Friday from 9 am to 4 pm PST (closed from 12 pm to 1 pm for lunch break).
You will need to provide identification for you and your family members, your social insurance number (SIN), rent and utility expenses, bank account balance, assets, and more.
While on income assistance, recipients need to look for work and complete an employment plan.
They must also complete a monthly report indicating that they are still in need of financial support.
You can continue to receive income assistance while working and earning income, subject to these thresholds:
Single person or couple without children: $500 a month
Families with children: $750 a month
Facilities with a child that has a disability: $900 a month
Single person or families where at least one adult is in the Persons with Persistent Multiple Barriers (PPMB) category: $900 a month
BC Income Assistance Appeals and Reconsideration
If your application for Income Assistance is denied, you can ask for a reconsideration within 20 business days.
Call 1-866-866-0800 or visit your local office to complete the Request for Reconsideration form.
If it is not approved, you can appeal the decision and go to the Employment and Assistance Appeal Tribunal.
Is BC Income Assistance Increasing in 2023?
Income assistance payments increased in 2021 to $935 per month for a single person, with couples and those with kids also seeing increases.
There is no indication that similar increases will occur in 2023.
Related: