EQ Bank has now launched in Quebec!
If you are a Quebec resident, this means you can now access high-interest rates on your savings from one of Canada's best online banks.
Read on to learn what to expect when you bank with EQ Bank.
EQ Bank Quebec
If you visit www.eqbank.ca, you will notice you can now open an EQ Bank account if you live in Quebec.
You also get one of the best rates for general savings and TFSA accounts at 3.00%.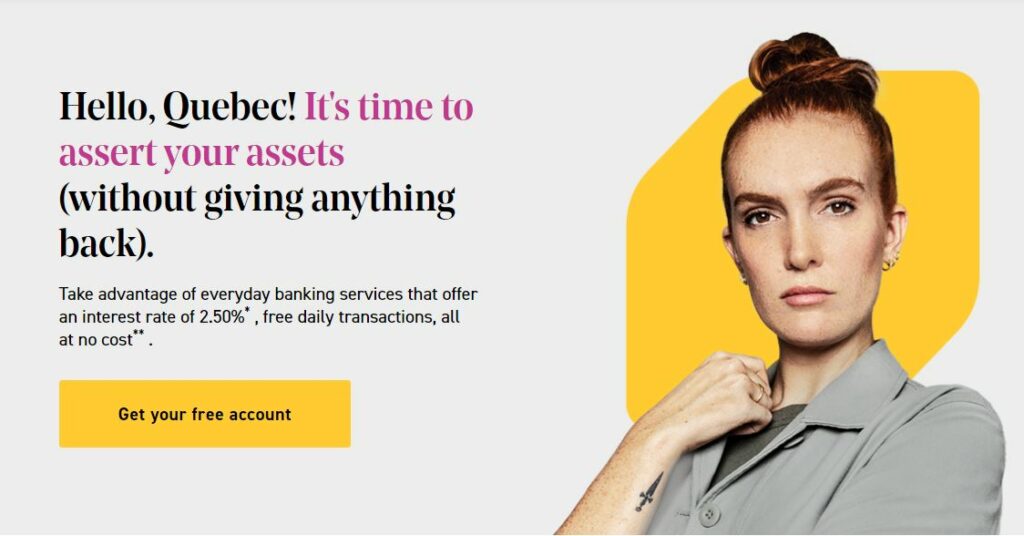 EQ Bank Accounts in Quebec
Here are some financial products you can get from EQ Bank in Quebec.
EQ Bank Savings Plus Account
This savings account combines chequing and savings features and offers one of the highest savings interest rates in Canada at 3.00%.
It does not have monthly account fees, and users get unlimited debit and Interac e-Transfer transactions.
The EQ Bank Savings Plus Account is eligible for CDIC deposit insurance and supports mobile cheque deposits.
You can also open TFSA and RSP EQ Bank Savings Accounts.
Get more details in this EQ Bank review.
EQ Bank TFSA
Use a Tax-Free Savings Account (TFSA) to grow your deposits tax-free. There are no monthly fees or minimum balance, and you earn a rate that's up to 250x what other banks are offering.
The EQ Bank TFSA offers a 3.00% interest rate on every dollar.
EQ Bank GICs
An EQ Bank GIC is a great way to earn guaranteed returns on your deposits.
They are offered with terms ranging from 3 months to 10 years, and the minimum deposit is $100.
The interest rates on EQ Bank GICs are some of the highest in Canada. You can open a personal non-registered account or use a TFSA or RSP account.
Lastly, EQ Bank also offers joint savings and US dollar accounts.
FAQs
Is EQ Bank already in Quebec?
No, EQ Bank is not yet available to Quebec residents.
Which is better: EQ Bank or Tangerine?
EQ Bank and Tangerine are excellent online banks, and either one may meet your needs. EQ Bank usually offers higher non-promotional rates, while Tangerine has excellent no-fee credit cards.
Does EQ Bank have a credit card?
No, EQ Bank does not offer credit cards.