Cash App is one of the most popular mobile payment services in the United States.
Using the Cash App, you can pay anyone instantly, spend using a custom debit card, and even invest.
Is Cash App available in Canada? Learn about the best Cash App Canada alternatives you can use to send money to friends and family.
Does Canada Have Cash App?
No, the Cash App peer-to-peer payment service by Square Inc. is not available in Canada.
It is only available in the U.S. and U.K. and you cannot use it in other countries.
That said, Canadians have access to P2P payment apps that work just like Cash App or Venmo, and some of them are completely free.
What is Cash App?
Cash App is a mobile app you can use to send and receive money. Like its close competitors, Venmo, Zelle, and PayPal, money transfers using Cash App are instant.
In addition to money transfers, Cash App also offers a variety of 'banking' products and services, including:
Debit Card: You can order a personalized Cash Card linked to your account and use it to make payments anywhere Visa cards are accepted.
Early Payroll: Deposit your paychecks in your Cash App account, and you can receive it 2 days early.
Investing: Cash App can be used to buy stocks and bitcoin with only a few clicks. You can even set up automated investing on a schedule.
Cash Boosts: When paying with the Cash Card, you get access to discounts at thousands of stores.
How Does Cash App Work?
It is quite easy to sign up for Cash App.
After downloading the app to your phone, you can enter your name, email address, and ZIP code to create an account.
You will also need to create a unique "cashtag" that looks like this "$Cashtag" and works as your username.
When sending or receiving money, your $Cashtag is how people find you on the app.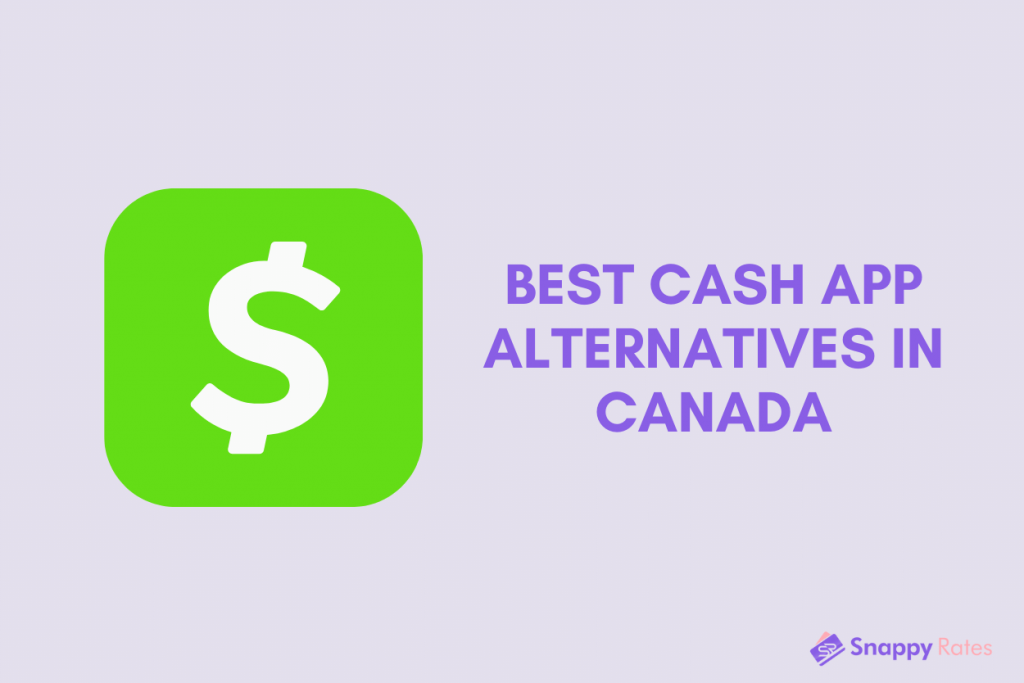 Best Cash App Alternatives in Canada
Below, we cover 7 of the best Cash App alternatives in Canada.
Although Cash App Canada is not available, you can use these alternatives for sending and receiving money fast.
1. KOHO Prepaid Mastercard: Top Cash App Alternative
KOHO is one of the best Cash App alternatives in Canada.
The company's Mastercard prepaid card combines many of the top features enjoyed by users of the Cash App in the U.S.
Subscribe to our Newsletter!
Subscribe to get the latest personal finance news, offers, and our weekly newsletter. You can unsubscribe at any time.
The top benefits include:
No Annual Fees: A regular KOHO account is free and includes unlimited debit transactions, e-transfers, KOHO-to-KOHO transfers, and more.
Earn Cash Back: You earn 1% cash back on grocery purchases and transportation and up to 5% cash back at participating retailers. You can spend your cash back at any time.
Earn Interest: You can earn interest on your KOHO balance.
To send money on KOHO, simply click on the dollar sign ($) and choose a recipient from your contacts list. You can also add a recipient using their name and email address.
KOHO is free to join, and new users get a $20 bonus when they sign up here (use CASHBACK promo code).
Get KOHO ($20 bonus).
2. Wealthsimple Cash: Best Cash App Canada Option #2
Wealthsimple Cash has many similarities to the Cash App.
It is free to join and allows users to send and receive money instantly.
Want to split a bill with a friend, give a tip, or make a donation? You can do so using the Wealthsimple Cash App if the recipient also has an account.
When signing up, you create a unique username that includes the $ sign.
For example, assuming your username is $Jane. Your friends can easily find you on the app using your username on their contacts list.
There are no fees for using the app and sending money, receiving money, adding deposits, or withdrawing funds to your linked bank account.
You can also apply for the Wealthsimple Cash Card and earn 1% cash back on all purchases.
Like Cash App, Wealthsimple also offers stock and crypto trading via its other apps: Wealthsimple Trade and Wealthsimple Crypto.
3. Interac e-Transfer
Interac e-Transfer is a fast and secure way to send money to anyone in Canada via your bank account.
Simply sign into your bank account dashboard and choose Interac e-Transfer. If you haven't sent the recipient money in the past, you will need to add their details which include their name, email address, or mobile phone number.
You also need to add a security question and answer to ensure that whoever accesses the funds is the intended recipient.
Depending on the banking package you have, e-Transfers via Interac should be free. That said, some banks charge a fee.
With an online bank like EQ Bank or Simplii Financial, you get unlimited free Interac e-Transfer transactions.
There may be a limit to how much you can send daily, weekly, or monthly.
4. Wise Money Transfer
Wise (formerly TransferWise) is a global money transfer service that is up to 6x cheaper for sending money internationally than your bank.
It uses the mid-market exchange rates (or real exchange rates), so you are not paying hidden fees and get the best conversions for your currencies.
Unlike Cash App, you can use Wise internationally in 80 countries.
More recently, the company also introduced its multi-currency account.
With this account, you can hold more than 50 currencies and make and receive payments like a local with 10 currency accounts and details you can share with anyone looking to pay you.
Wise also offers a debit card that is linked to these accounts.
Join Wise and send up to $800 CAD free on your first transfer.
5. Simplii Global Money Transfer
Simplii Financial is an online bank in Canada owned by CIBC.
Its Global Money Transfer service makes it easy to send money abroad to friends and family without paying transfer fees.
Simplii GMT is available for transfers to over 130 countries and you can fund your transfer using a free Simplii chequing account, credit card, USD savings account, or line of credit.
You can send up to $50,000 per day (in a 24-hour period).
When you sign up for Simplii and use the promo code GMTEVENT, you get up to a $300 bonus after sending your first transfer.
6. PayPal
PayPal is a top Cash App Canada alternative.
Like Wise, PayPal is available in multiple countries, and Canada to U.S. or U.S. to Canada transfers are fast if the funds are being sent to a friend or family member.
For transfers within Canada that are not commercial, PayPal transfers are free.
Unlike Wise, PayPal does not use mid-market rates when converting currencies, so you may not get the best bang for your buck.
You can create a PayPal account online within minutes and begin sending money to recipients that also have an account.
You will need to connect a funding source, such as your bank account or a credit card.
7. Xe Money Transfer
Xe is one of the best international money transfer services in the world.
It supports 139 currencies and transfers to over 220 countries and territories.
This company also uses the 'real' exchange rate, and its transfer fees are very competitive.
Cash App Canada FAQs
Do Cash App Canada to U.S. transfers work?
No, you can't use Cash App to send money from Canada to someone in the U.S. The only international transfers possible using Cash App is from U.S. to U.K and vice versa.
What is the best Cash App Canada alternative?
The best Cash App alternative for Canadian users is KOHO followed by Wealthsimple Cash. You can also use Interac e-Transfer directly from your bank account.
Is Venmo available in Canada?
No, Venmo and Cash App are not available in Canada.
Does Cash App work in Canada?
No, Cash App does not work in Canada even if you have previously downloaded the app while in the U.S. or U.K.
Can I send money from Canada to Cash App?
No, it is not possible to send money from Canada to Cash App since both the recipient and the sender must have a Cash App account and U.S. phone numbers.
Is Cash App safe?
Yes, Cash App is safe, and it uses bank-level security to protect your information. That said, funds in your account are not FDIC-insured.
Why is Cash App not available in Canada?
Cash App is not available in Canada because the company has not yet registered to operate in the country. At the moment, Cash App only operates in the U.S. and U.K.
Does Canada have Venmo or Cash App?
No, both Venmo and Cash App are not yet available in Canada.
Which Cash App is best?
KOHO is the best Canadian Cash App payment service for sending and receiving money between friends and family because you can also use it to earn cash back and savings interest.
What is the best way to send money internationally?
You can easily send money abroad and save on fees by using Wise, Simplii GMT, or Xe.
Does Zelle work in Canada?
No, Zelle is not available in Canada, and you can only use it in the U.S.
Which Cash App is best in Canada?
In Canada, the best money apps include KOHO, Wealthsimple Cash, PayPal, Wise, and WorldRemit. In the U.S., Venmo, Cash App, and Zelle work best.
Related: